Thu., Aug. 25, 2011
Canning Post: Dilly Beans!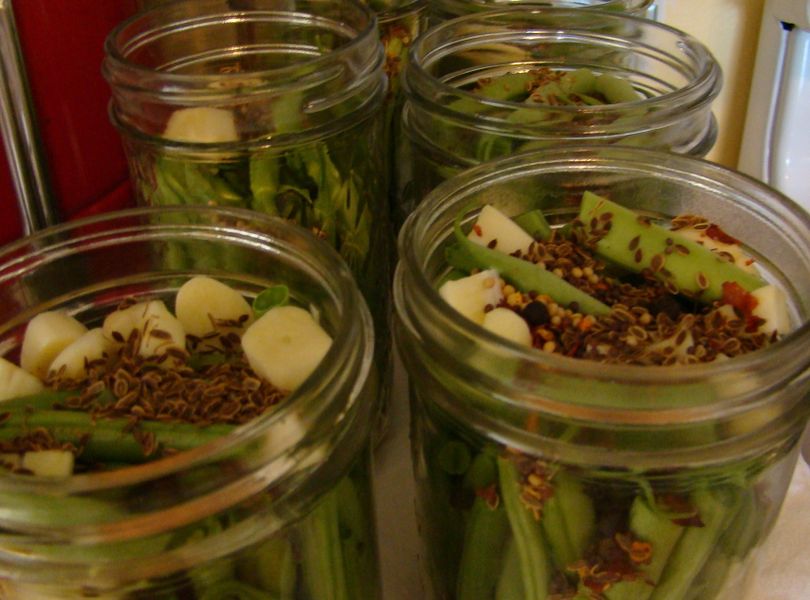 My mom and I have been making dill pickles for nearly as long as I can remember. The recipe we use is one my grandmother handed down (she learned it from her 9th grade home ec teacher in 1936) and is the best dill pickle the world has to offer.
This year I've taken pickling further, filling my pantry with pickled asparagus, garlic scapes, and garlic cloves. It turns out I have a great love for vinegar and crave vehicles for its mouth-watering tartness. I've wanted to make Dilly Beans (pickled green beans) for a few years now, but never quite made time for them…until yesterday.
My garden is not producing as many green beans as I would like, so yesterday I moseyed on down to the Spokane Farmer's Market (the place was buzzing with activity—so nice to see!) with my DTE reusable bag, and supplemented my bean supply. When I got my bag of beans home, I gave them a good wash and dry, then got to pickling.
Pickling is probably the easiest canning task. You don't have to worry about juicing fruit or reaching a set point for jam, you only need to follow a very simple brine recipe and make sure all of your equipment is clean and sanitized. It is always best to pickle vegetables or fruit as soon as the produce is ripe to maintain the integrity and crunch of the pickle.
The key to safe pickling is in the vinegar. Safe pickling MUST use vinegar that has an acidity of at least 5% (which is, thankful standard in your run-of-the-mill vinegars), and the ratio of vinegar to water must not be less than 1 to 1 to keep the acid level safe for a shelf-stable jar. You can use more vinegar than water, just not more water than vinegar in your brine. I used a higher ratio of vinegar to water for my recipe to increase the tang of my beans.
What you can play with in pickling is the spice combination and flavor. There are many varieties of premixed pickling spices you can purchase, or you can make your own. Standard pickling spice can contain any number of spices ranging from peppercorns and mustard seed to cinnamon and allspice. (More about playing with pickling spice next week!)
Check out my Dilly Bean recipe in the extended post.
What are you pickling this year?

Dilly Beans
I adapted this recipe based on several tested recipes and the amount of beans I had to pickle. The vinegar to water ratio is well in the safety zone.
3 lbs. green beans
3 cups distilled, white vinegar (5% acidity)
1/3 cup pickling salt
8-9 cloves garlic, peeled
7 teaspoons dill seed
3 teaspoons brown mustard seed
3 teaspoons yellow mustard seed
black peppercorns
red pepper flakes

Prep your canning pot and fill it with water. Bring to a boil to sterilize your jars while you prepare the beans. Place lids in a small pot and gently simmer to soften the sealing compound.
Wash and trim your beans so that they fit in your jars. I trimmed super long beans in half for wide-mouth pint jars and kept smaller beans whole for tall, 12 ounce jelly jars.
Combine vinegar, water and salt in a medium, non-reactive pan and bring to a boil. In the meantime, pack your beans into hot jars, leaving 1/2 inch headspace. To each jar, add a teaspoon of dill seed, ½ a teaspoon of each mustard seed, 1-2 cloves of garlic, 3 peppercorns, and a pinch of red pepper flakes.
Pour boiling brine over the beans in the jars, leaving 1/2 inch headspace. Remove air bubbles from jars (used the handle end of a plastic spoon I keep with my canning supplies just for bubbling jars). Wipe the rims and apply the lids and rings.
Process for 10 minutes in a boiling water canner (don't start timing until the pot has come to a full, rolling boil).
Test seals after 24 hours and place any that don't seal in the refrigerator to use first.
The green beans need to sit for at least to weeks to pickle fully before you open and enjoy.


---
---