Sun., Dec. 11, 2011
12 Days of Holiday Crafts, Day 2: Snowflake Gift Tag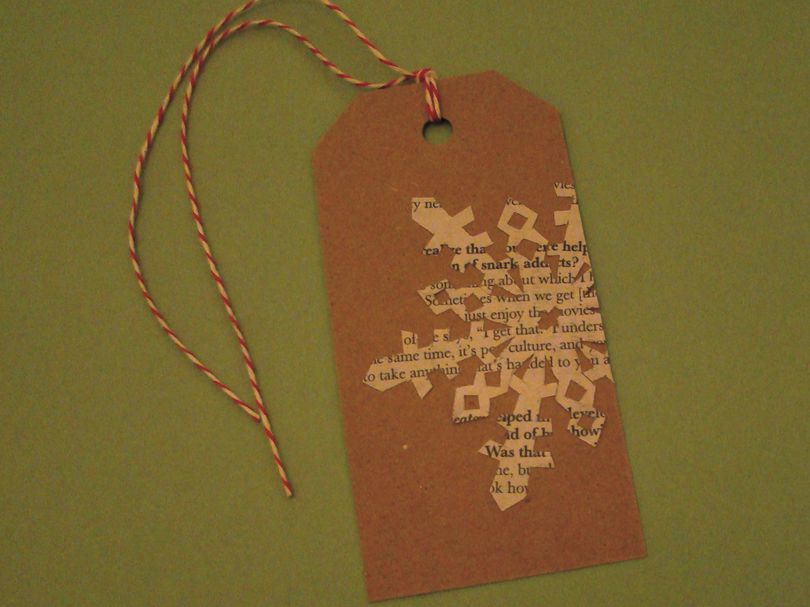 I love a good gift tag; in fact, gift tags were the first item I started making when I decided to become a craft-sale artist. My love for the gift tag developed because they are so simple and still dress up any gift. Giving a bottle of wine? A fun gift tag around the neck of the bottle makes it more than a standard host(ess) gift. You don't have wrapping paper on hand? Use brown package paper (my all time favorite) or newspaper and a fun tag. Giving a bag of homemade delicious? Tie a gift tag around it with a piece of yarn or twine.
To make newspaper snowflake gift tags, you'll need:
newspaper
scissors
plain gift tags or cardstock
glue
a small paintbrush
baker's twine or string for hanging
Cut several snowflakes, using these directions and starting with 3" or 4" square pieces of newspaper. The smaller the square of paper, the more difficult it is to cut the snowflake, but it's not bad. My recommendation is to make small cuts with the tip of the scissors.
Iron the snowflake with a low iron setting to take the creases out, then use an old paintbrush to add a thin layer of glue to the back of the snowflake. You don't need to cover the entire surface, just enough that the points all stick to the tag.
Place on your tag base and allow to dry. Add some string and tie around a gift. I like this red and white baker's twine and am using it a lot this season.
---
---