Sat., Dec. 17, 2011
12 Days of Holiday Crafts, Day 8: Christmas Card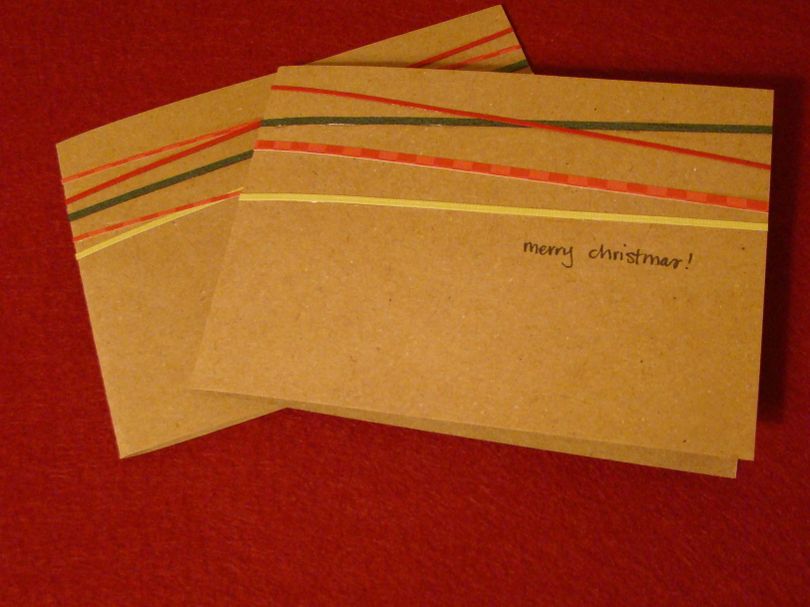 I make cards a lot, but have never made my own Christmas cards to send during the holidays. I think I resist because the task of making enough cards for my list is daunting. My answer is to simplify the card. One of my wedding colors was kraft brown (I like to call it paper bag brown), and since then I haven't been able to stay away from kraft brown cardstock with simple color.

You will need:
Kraft brown cardstock
scrap paper in holiday colorsglue stick
paper cutter

scissors
Cut the brown cardstock to your desired card size and fold.
Cut thin strips of red and green paper; I like using a variety of shades and textures to give the card more interest. This is easier if you have a paper cutter, but still possible with scissors. The strips should be longer than the width of the base; you'll trim them later.
Use glue stick on the back of the strips and place them on the cardstock at different angles, overlapping some. When the glue is dry, trim the strips and add a greeting to the front of the card.
This card is very quick and easy to make in bulk—addressing envelopes might take longer, actually.
Do you make your cards? Is it at daunting as it seems?

---
---