Fri., Nov. 11, 2011
Forcing Paper White Bulbs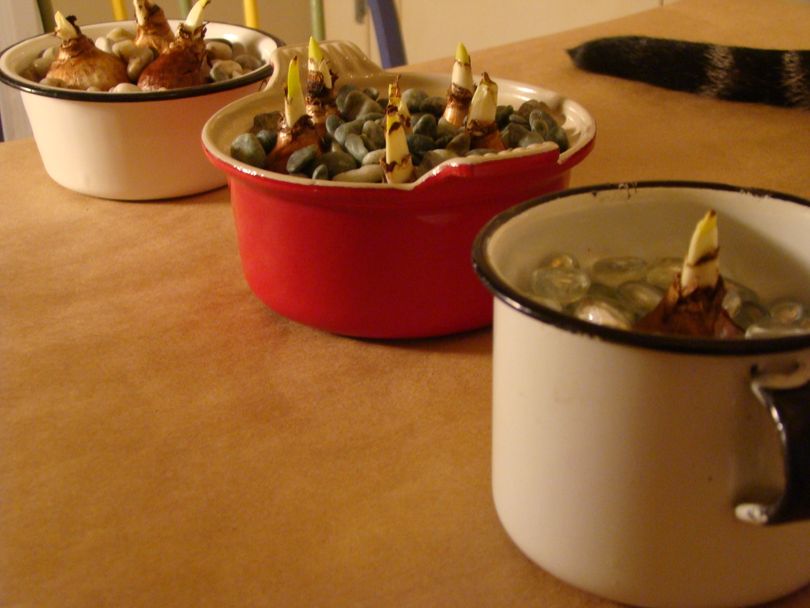 Fresh flowers in the middle of winter are a rare and welcome sight. If you plan ahead (and you don't even have to plan much in advance, really), you can bring spring into the house as early as you wish. Forcing bulbs indoors is quite simple if you use Paper Whites, a variety of Narcissus (they look like tiny, delicate daffodils).
Even tulips can be forced, but they are more fussy and need refrigerator space for chilling. Paper whites don't need to be chilled and will bloom approximately three to five weeks after moisture is introduced.
To force bulbs, you'll need a shallow dish or pot without drainage holes. Fill the bottom of your containers with clean stones or glass vase filler. Place the bulbs, root-end down and close together, and add more filler to stabilize them, about 2/3 up the bulbs.
Place your containers in a cool, dark place until about a month before you'd like your flowers to bloom. When you're ready for signs of spring, add water to the container. You don't want to drown the bulbs, just add enough moisture to reach the base of the bulbs and encourage the roots to begin growing.
When roots begin to grow, bring your containers into light—indirect light will actually make the flowers last longer than direct sunlight.
Soon your flowers should be blooming. I plan to force my bulbs to bloom toward the end of January, when I'm finally tired of the grey, dirty snow lining my neighborhood.

---
---