Tue., Nov. 15, 2011
A Fall Table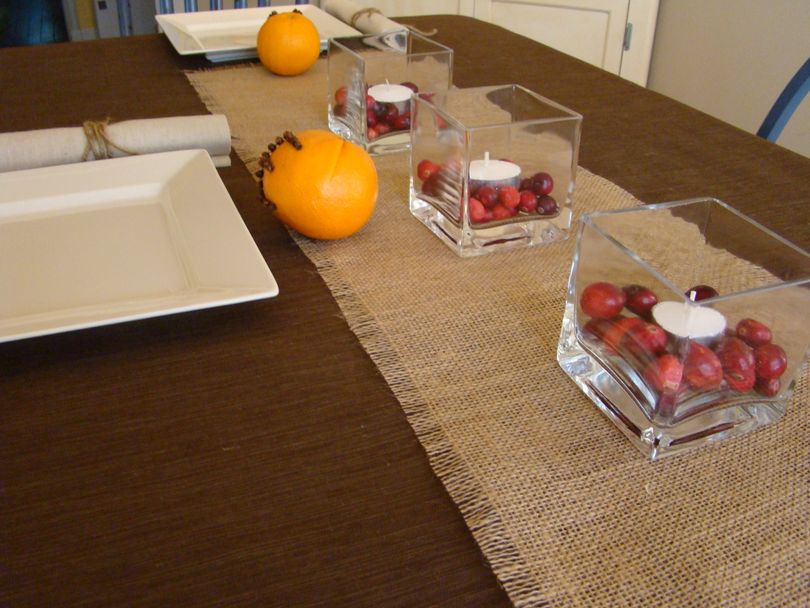 My dining room table is not always clear…to be honest, it often becomes cluttered with school papers, and for several months the whole room was given over to wedding storage. It feels good to have a dining room again, so I am celebrating.
Table settings are rarely elaborate in my house, and this one is no different, but it does make me think of the warmth of fall, and repurposes things from around the house.
I made a quick runner from a piece of burlap. If you have a burlap bag on hand, cut it open and fray the edges by pulling on the threads on each side. Give it a good iron before placing it on the table.
Centerpieces tend to get in the way on small dining tables, but small vases seem to be a bit less troublesome. For this setting, I chose three small square vases I've picked up on sale and in thrift stores, filled them with a few fresh cranberries (left over from the jam pictured here), and tea lights.
Instead of formal place cards, I made clove-studded oranges with guests' initials: sustainable, edible décor. Use a pencil to mark the initial on the surface and poke the cloves in so they touch. I also added two cloves to the bottom of each orange to stabilize them.
I don't own any napkin rings, but found a simple solution on my toolbox: a length of jute.
Table decorations don't need to be fancy to look good. What do you have stashed away in a cupboard or on a workbench that could be repurposed for a dinner party?

---
---