Fri., Nov. 18, 2011
Weekend Project: Making Pomanders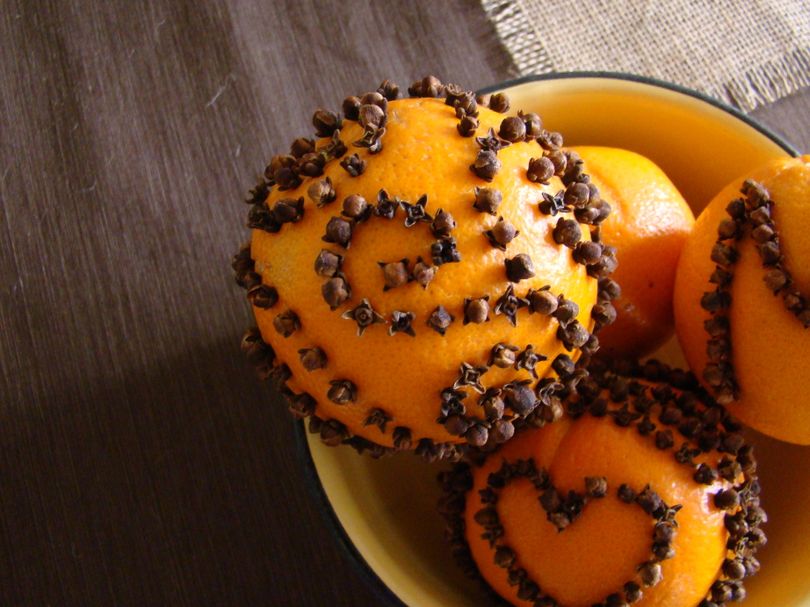 I haven't made pomanders (clove-studded citrus) since I was a kid. I don't know what inspired me this week, but I feel a pomander kick. I mentioned making place cards by studding oranges with cloves in guests' initials in this post. After that project, I kept going.
Pomanders were originally used to mask odors (think Middle Ages); now they are more decorative, but their function as a natural air freshener is still quite valid—they smell great. I often find clove too overpowering in foods, but as an aromatic combined with orange, it smells like all that is warm and wonderful.
You can also make pomanders with apples, lemons, and limes. For a pomander that lasts for years, you'll need to stud the fruit fairly heavily (bulk cloves make this possible and affordable) and allow it time to cure.
To make pomanders, you'll need citrus fruits, plenty of whole cloves, and a toothpick or nail.
Use the toothpick or nail to poke holes in the skin of the fruit. You can just use the clove, but your fingers will start to hurt without the pilot holes—cloves can be kind of pokey. Place cloves in whatever pattern you desire. You can stick to geometric patterns, swirls, dots, and monograms, or get more creative and make faces or intricate designs. For a pomander that will cure and dry fully, the cloves will need to cover most of the orange. Rolling the fruit in Orris Root (I found some at Huckleberry's—try your local natural food store) will help preserve them. Place the fruit in a cool, dry place (even if that's a basket on the table) for a couple of weeks and the cloves will help preserve the fruit naturally.
You can also toss pomanders in a spice mix to add to the natural scent, but it will color the orange dark brown. I prefer pomanders without the extra coating of ground spices, but you might like to give it a try. If so, here's a good base.
Spice Mix:
1 Tbs. ground cinnamon
1 Tbs. ground cloves
1 Tbs. ground nutmeg
1 Tbs. ground ginger

---
---