Tue., Nov. 29, 2011
Advent Garland, Part 2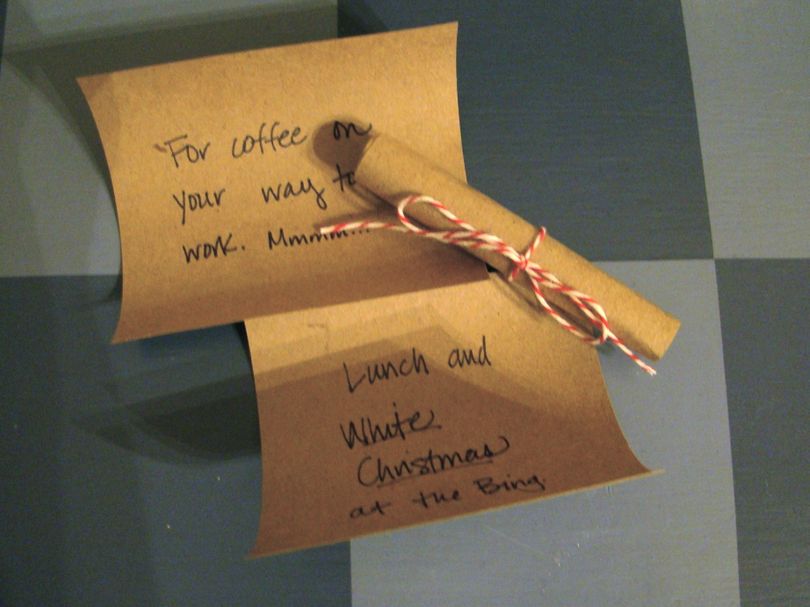 The next step for the advent calendar is filling the stockings. Most advent calendars are filled with chocolates or other candy treats; the joy of making your own calendar is in personalizing the insides.
Whether the one who checks the stockings is an adult or a child, the treats can be chosen to match the person. If there are two of you in the house, one person can open odd days, while the other opens even days; kids can also take turns (to avoid hurt feelings or multiple calendars).
The calendar is also a great opportunity to make some new holiday traditions. I'm looking forward to seeing which of the treats in our calendar this year become favorites—a few of the best will likely become yearly additions to the advent calendar. The option of changing some of the treats every year will keep the countdown to Christmas that much more exciting.
This year, I am filling the garland for my new husband (he doesn't know this yet). Most will be notes, jokes, and simple dates for time we can spend together during a busy season, but a few will be special treats just for him to enjoy.
Here are some of the ideas I have for filling the stockings:

For adults:
movie tickets
notes or favorite quotations
a coupon to watch favorite Christmas movies together
a fine cigar
a gift certificate to a favorite drink at a coffee stand
a note to look in the refrigerator for a favorite dessert (just make sure it's there)
a new pair of knitting needles or other favorite craft supply
a favorite chap stick or lip gloss
fun shaped paperclips
gift certificate for a favorite bookstore
a couple packets of Starbuck's Via instant coffee
a sample bottle of a favorite liqueur
a note for walk downtown to see Christmas lights and window shop

For kids:
jokes
coupons for time set aside for a favorite craft or cookie baking
small figurines or toys
a special ornament or two for the tree
a few coins for the piggy bank
candy canes
a book mark
a bundle of pipe cleaners to be used in a craft project
a dollar bill to put in the Salvation Army kettle next time you pass
old-fashioned candy stick
---
---