Thu., Oct. 13, 2011
Paper Flower Classes at aNeMonE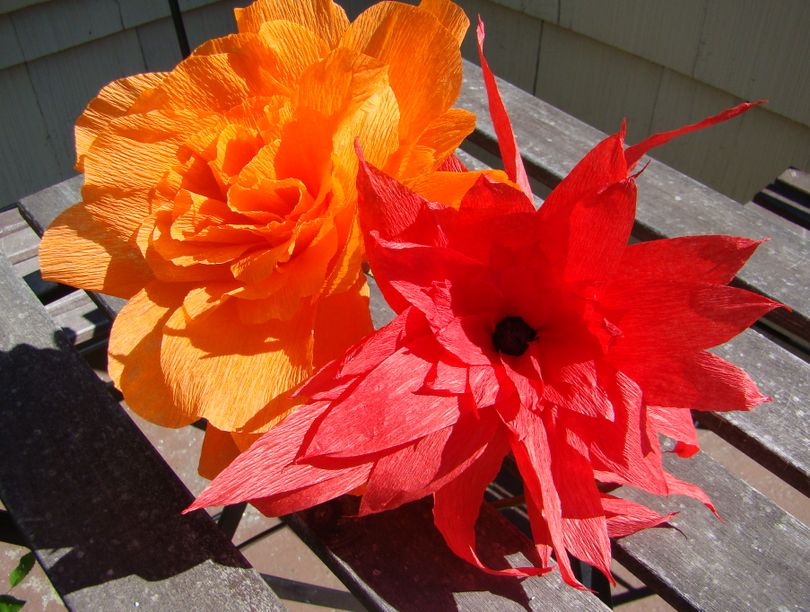 This summer I treated myself to a paper flower making class at aNeMoneE. I've been making my own paper flowers for years, but have always admired their work. The detail of their flowers is incredible. (Their creations actually look like real garden flowers, where mine all look the same and not quite like they were picked from the garden). I'm glad I took the class; it was nice to see how someone else works with paper.
Mary Eberle, who owns aNeMoneE with her husband Nathan, was the teacher that night. She is exactly the kind of person you would expect to make flowers for a living: bright, cheerful, and friendly. She and her husband began the business after making flowers for their wedding in 2002 (something I didn't know, but also did for my wedding--on a much smaller scale).
Most of the paper used by the company is handmade, sustainable-source paper. aNeMoneE, in fact, makes an effort to use sustainable supplies whenever possible. These flowers are not farmed or soaked in chemicals, and they last a whole lot longer than flowers grown for most retailers.
Paper flower making classes are $35 per person and include all of the supplies needed to make a rose and a dahlia. The night I participated, we made flowers from crepe paper rather than cardstock and handmade papers, but the skills learned apply to all paper.
The disappointment with crepe paper is that the colors are limited, and so I likely won't display my flowers where I was hoping to, but I do think they'll make excellent package decorations on friends' birthday gifts.
aNeMoneE is offering classes on Thursdays and Saturdays in October. Check their website and call 838-7037 to sign up for a class--not a bad way to spend a rainy Saturday afternoon.


---
---