Sun., Oct. 23, 2011
Etched Glass Jack-o-lantern Jar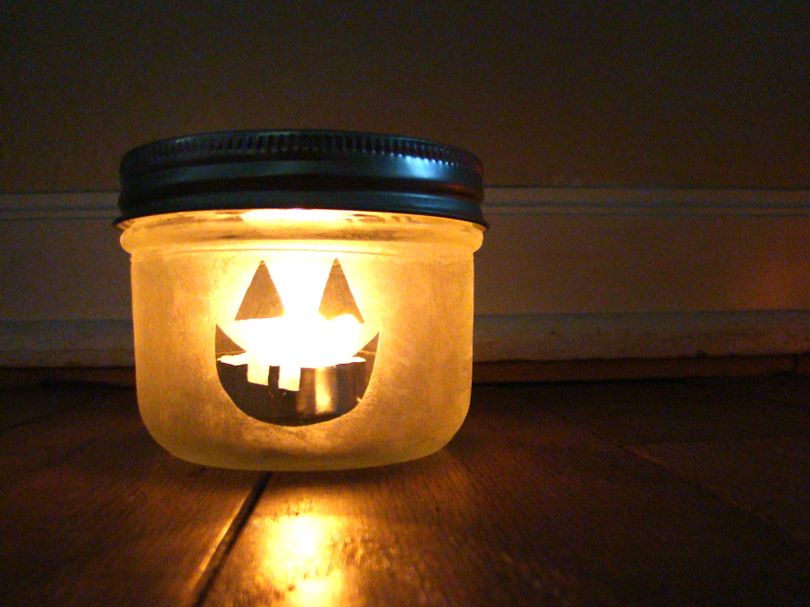 This week marks the one-year anniversary of my writing on Dwell Well. I love this work; I find myself paying more attention to the world around me as I think of ideas, projects, and events to write about—which is always good.
To celebrate a year of Dwell Well, I'll be posting Halloween and fall-inspired projects all week. I hope you make a few! First up: Halloween jars!
You will need:
a clean, dry mason jar
rubbing alcohol
self-adhesive contact paper
a pen
scissors
a dry foam brush
glass etching cream
Cut pieces of contact paper to make a jack-o-lantern face. I used simple triangles for eyes and a goofy grin.
Wash and dry your jar well, then wipe it down with rubbing alcohol. This step is key if you want your etching to be even.
Remove the paper backing from the contact paper and place your face pieces it on the glass. Make sure there are no bubbles in the contact paper and all edges and securely adhered. Apply pressure to the edges of the design a few times to ensure a good seal, otherwise your design won't be crisp when you pull off the paper, then give the jar another quick wipe with rubbing alcohol.
Following etching cream instructions, apply with a clean, dry sponge brush and let sit. I find that a very thick layer of etching cream is best, and I let mine sit for about 30 minutes.
Rinse off etching cream with warm water, peel off the contact paper, and check out the results.
To use your jar with a tea light (as pictured), put some sand in the bottom to insulate the glass from the heat of the candle. You could also fill the jar with candy corn--add a lid and it would be a great gift for a friend or teacher.
Next up: another easy jar turned jack-o-lantern.
---
---