Mon., Sept. 5, 2011
Jar Scrambles!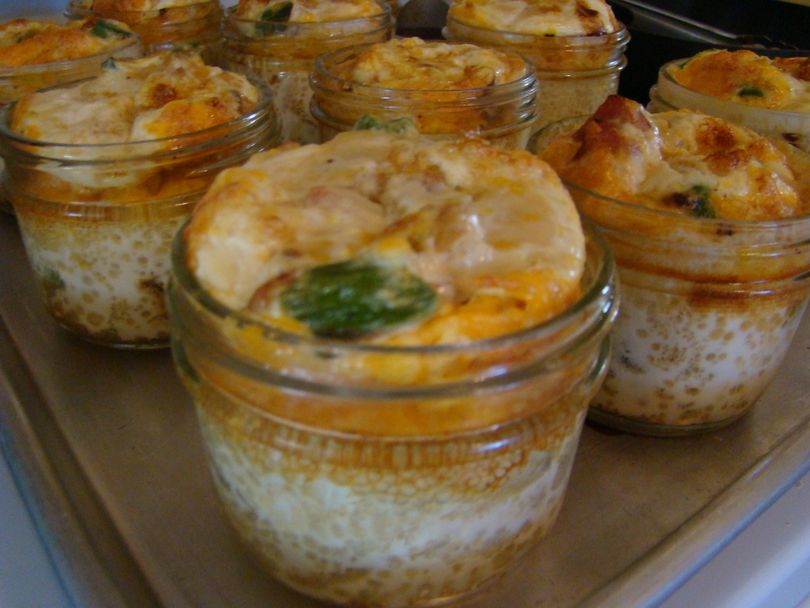 I have a busy couple of weeks in front of me (and am also trying to eat well), so I just (as in they just came out of the oven) whipped up a batch of what I call Jar Scrambles, inspired by a post on Food in Jars.
As it is Back to School time, I know many of you must be just as busy, and need a little help in the morning. What I love about these is that they make a good, solid breakfast very quickly in the morning. Just take off the lid, and pop them in the toaster oven or microwave until they're warm. I even plan on grabbing them to go in the morning to eat at my desk at work.
Jar Scrambles are also an excellent way to use up leftover bits of vegetables, cheese, etc. in the fridge, which is exactly what I did today. I bake mine in half-pint wide-mouth jars (my favorite jar!). They are easy to fill, can be used to reheat in, and eat from. They make a one-jar meal.
The recipe is adaptable and depends on what you have available. For this batch, I used mostly egg whites (leftover from a baking project), the ends of a bunch of asparagus (leftover from canning pickled asparagus—these were the bits that made the veggies too tall for the jar), zucchini from the garden, a lone spicy turkey sausage, some ham, and a bit of whatever cheese was in the drawer (gouda). I've used broccoli, feta and other leftovers in the past, and never been disappointed.
I like to start by caramelizing plenty of onion, adding garlic, and sautéing the other veggies with a little olive oil. I also add a few shakes of Tabasco to the egg mixture to add some flavor.
Make a batch and let me know how they turn out! My adapted recipe is in the extended post.
Jar Scrambles!
makes 7-8 jars
1 tablespoon olive oil
1 large onion
1-2 cloves garlic
about a pound of leftover veggies
½ cup or so of diced ham or crumbled sausage (if desired)
12 eggs
½ cup grated cheese
salt and pepper
a few shakes of Tabasco

Preheat oven to 375 degrees.
Slice onions and chop veggies.
Heat oil in a large skillet and add onions. Cook until soft and caramelized. Add garlic and other vegetables and cook until tender, but still firm. Add the meat, if desired. Season with salt and pepper and set aside.
Grease jars with olive oil or butter and place them on a cookie sheet. Place a hefty spoonful or two of the sautéed vegetables in each jar, so they are about ½ full.
Beat eggs, add cheese, salt, and pepper to taste. Pour over the vegetable/meat mixture in cups about ¾" from the top of the jar (I always seem to overfill mine).
Bake for 25-30 minutes, or until tops are slightly browned and the house smells delicious. The eggs do puff as they cook, but when cooling, the tops will shrink a bit.
Remove from oven and let cool. Place lids on jars and store your Jar Scrambles in the refrigerator. They should keep for up to a week.
---
---