Tue., Sept. 6, 2011
Pickling Spices Unveiled!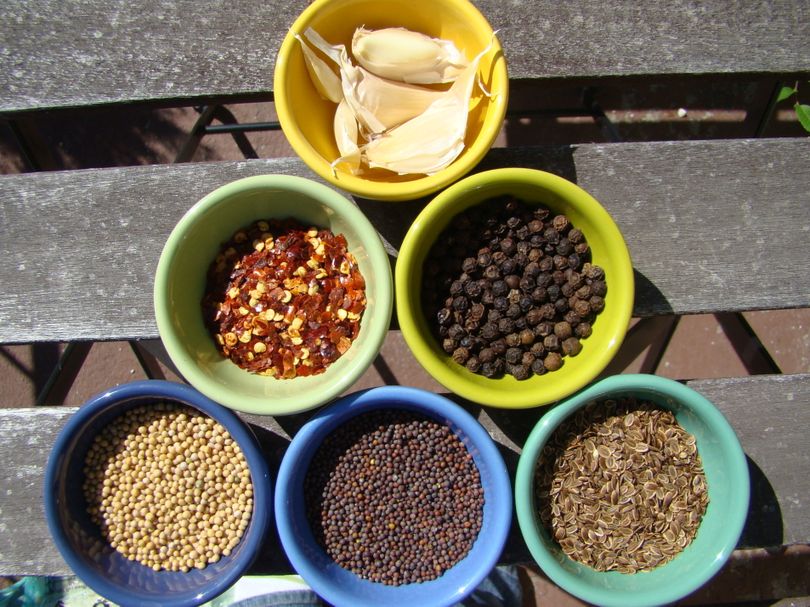 I promised a post about pickling spices in this post and here it is.
Again, pickling is easy to do safely as long as you follow the USDA standard formula for the brine ratio (equal parts 5% acidity vinegar and water) and process according to a tested recipe.
The fun of pickling comes in the spice blend you choose. There are many pickling spice mixes available where canning supplies are sold, but mixing your own is almost as easy, especially with the availability of bulk aisles at the grocery store. No more need to purchase ingredients for $8 a piece in the spice aisle! Huckleberries is my favorite bulk center in town—their variety is fantastic.
I like to vary my combinations of spice (sometimes even in the same batch of pickles) depending on what I'm pickling and, let's face it, what I have on hand in the pantry.
My standard mix for a pint of pickled vegetables:
1 – 2 cloves garlic (or more)
a pinch or two of red pepper flakes
3-6 black peppercorns
½ teaspoon yellow mustard seed
½ teaspoon brown mustard seed
1 teaspoon dill seed or one head fresh dill
You can also add or substitute oregano, bay leaf, celery seed, fresh dill, fresh ginger, or a lemon slice.
For some less savory recipes, you might add a cinnamon stick, whole cloves, or allspice berries.
I find that about six or seven ingredients are plenty when making pickles. Overdoing the spice makes them all taste the same to me, but use ingredients that appeal to you. What tastes good to you in non-pickled food will be good in pickles.
Instead of mixing my spices together before starting a batch of pickles, I like to put the separate ingredients into small prep bowls (like those seen above from Fishs Eddy) and add them one at a time to each jar. This makes varying the spices easier. Just make sure to label your jars so you can replicate what you liked best. Sometimes I forget that step.
What do you add to your pickles?
---
---