Sat., Dec. 15, 2012
12 Days of Holiday Crafts, Day 1: Twig Reindeer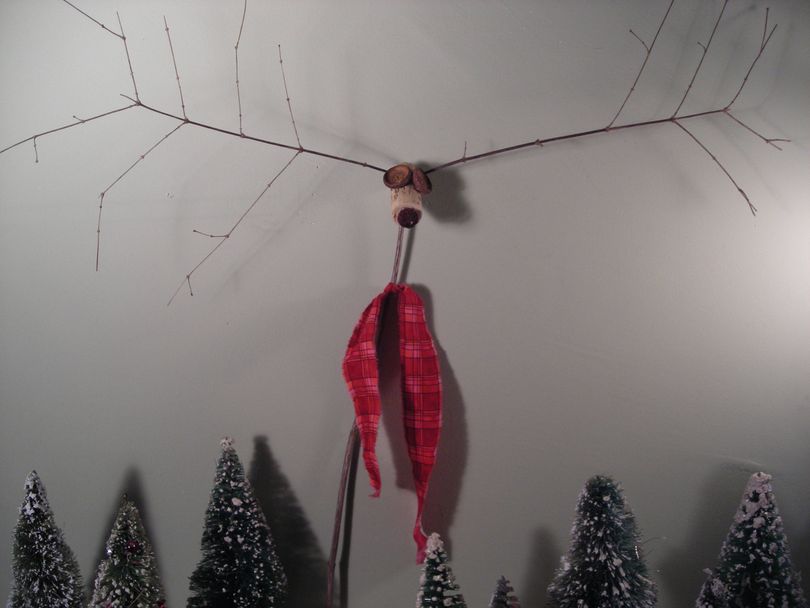 I love this reindeer; there is something so simple and cheerful about the decoration. In our house he hangs above a small table in the dining room, and I seem to smile every time I pass.
All of the material for this project is fairly easy to find around the house or yard, thought I found my acorn caps at the park. This is even a good project to do with kids. They will need assistance with the glue, but they can help hunt for the pieces and decide on placement.
You will need:
two small, antler-like branches
a straight stick, about ¼" in diameter
an old cork
two acorn caps
a rosehip or red wooden bead
a small fabric scrap
hot glue
Poke two holes in each side of the cork near one end with the sticks you've found or an awl (even the points of scissors would work). Make another hole on the underside of the cork for the straight stick. Use a bit of hot glue to secure the twigs if needed, mine stayed quite well on their own.
Glue on the acorn cap eyes and rosehip or red wooden bead for a nose (I like the rose hip better for this project, it looks more natural). When the glue dries, tie on the fabric scrap scarf, and he's ready to hang on the door or above the mantle. The one is simple and unique.


---
---