Mon., Dec. 17, 2012
12 Days of Holiday Crafts, Day 3: Paper Polka Dot Ornaments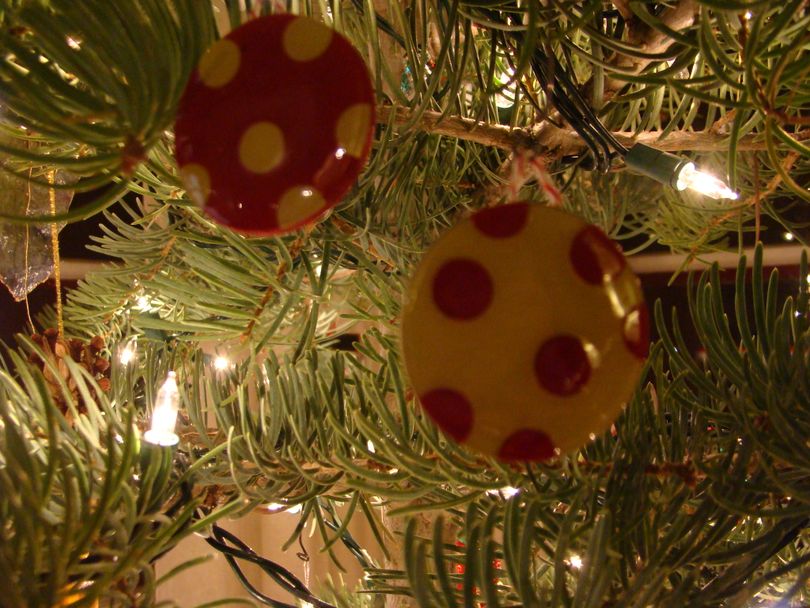 These ornaments are made of paper and string with some glue and dimensional sealant. They don't look like they are made of paper, but they are really kind of fun.
I used a 1 ¼" circle paper punch for the ornament base and a smaller, regular hole punch for the added polka dots.
Begin with your base color of cardstock (I used all scraps for these ornaments) and punch about 10 large circles. Glue the circles together in a stack, making sure the glue gets to the edges, but doesn't warp the cardstock. About ½ way through, add a small loop of bakers twine or any thin string. Allow the stack to dry.
Add the polka dots in contrasting colors. Be creative with colors here—I was kind of predicable with my choices, but a light and dark shade of the same color would be fun, as would a neutral background with multiple colors.
When everything is dry, add a layer of Modge Podge Dimensional Magic. It will be milky when you apply it, but dries to a shiny, clear layer of epoxy that is hard and glasslike. The perfect finish for an ornament.
If you're looking for an easy, but fun, ornament to make for gifts this year, this one is great.
Next, I'm tackling stripes, then trees and snowmen for the middle of mine.
---
---