Thu., Dec. 20, 2012
12 Days of Holiday Crafts, Day 5: Peppermint Bark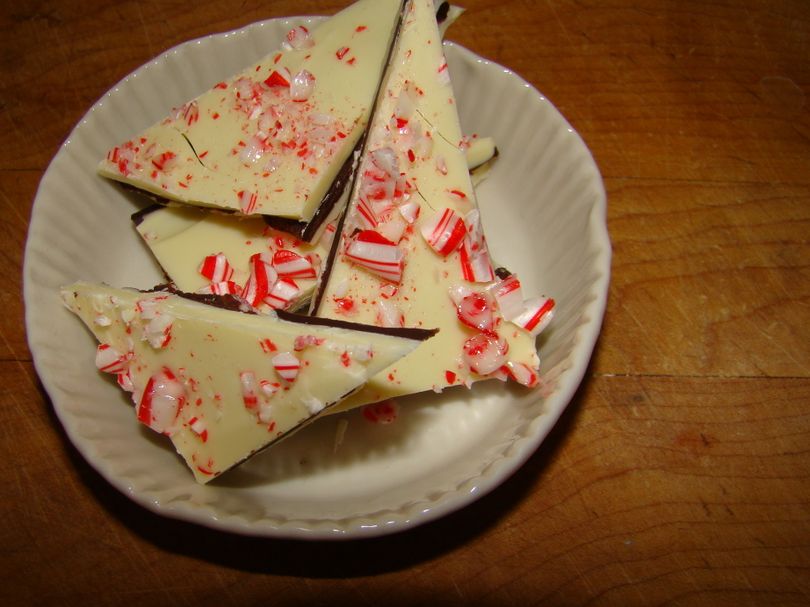 Before this afternoon, I had never made peppermint bark, though I've eaten the bark of others. When I was searching for a recipe, I found dozens. Most were either white chocolate only barks with candy cane pieces either mixed in or sprinkled on top; those recipes didn't do it for me. I am not the biggest fan of white chocolate on its own, and really wanted a mix of white and dark chocolate. My other issue with peppermint bark is a general lack of strong peppermint flavor. So many recipes depend on a sprinkling of candy to provide all of the flavor—that's just not good enough, really.
I found a recipe from Bon Appétit and made a few changes. It is great—it has all of the mintyness a good bark requires and has three layers of chocolate. The key is to make sure you're using the best quality chocolate you can find—don't skimp. I used Callebaut—their white chocolate is mostly cocoa butter (that's what you want) and it actually has flavor.
Peppermint Bark
(adapted from Bon Appétit)
18 ounces good-quality white chocolate, finely chopped
½ cup crushed candy canes
8 ounces bittersweet chocolate, finely chopped
6 tablespoons whipping cream
3/4 teaspoon peppermint extract

Turn large baking sheet bottom side up and cover with foil. Mark 12 x 9-inch rectangle on foil (I used a Sharpie for this).
Stir white chocolate in a heat proof bowl set over saucepan of barely simmering water (do not allow bottom of bowl to touch water) until chocolate is melted and smooth Remove from over water.
Pour 3/4 to 1 cup melted white chocolate onto rectangle on foil. Using an offset spatula, spread chocolate to fill rectangle. Sprinkle with 1/4 cup crushed candy canes. Chill until set, about 15 minutes.
Stir bittersweet chocolate, cream and peppermint extract in heavy medium saucepan over medium-low heat until just melted and smooth. Cool to barely lukewarm, about 5 minutes. Pour bittersweet chocolate mixture in long lines over white chocolate rectangle. Using offset spatula, spread bittersweet chocolate in even layer. Refrigerate until very cold and firm, about 25 minutes.
Rewarm remaining white chocolate in bowl until smooth and workable. Working quickly, pour white chocolate over bittersweet chocolate layer; spread to cover. Immediately sprinkle with remaining crushed peppermints. Chill just until firm, about 20 minutes. I forgot about mine and left it in the refrigerator for too long—when I cut my bark the edges shattered a bit and it didn't cut as cleanly as it would have if it was just to the point of being firm. My recommendation: set a timer.
Lift foil with bark onto work surface and trim edges (cook's helping). Cut the bark into squares, then diagonally into triangles. Store in an airtight container in the refrigerator until serving.
This stuff is dangerous, I tell you.
---
---