Sat., Dec. 29, 2012
12 Days of Holiday Crafts, Day 12: New Year's Glasses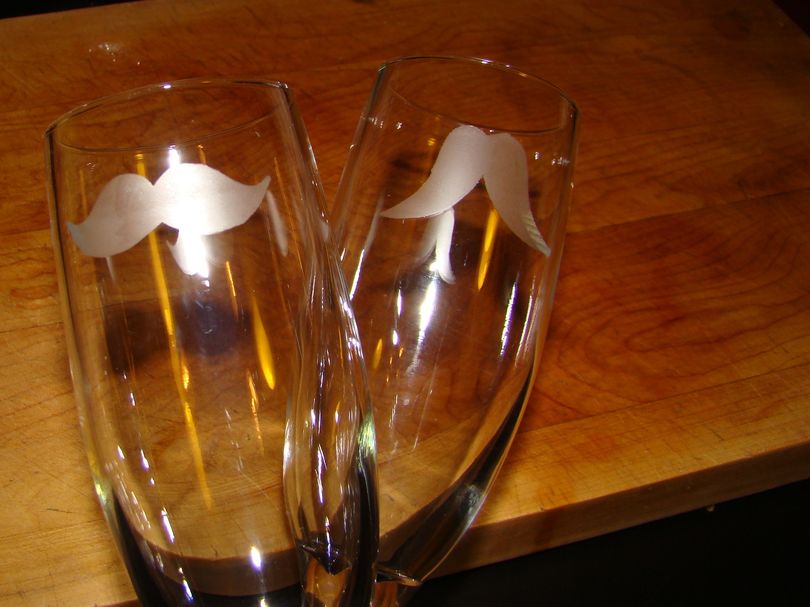 Last year Ethan and I were on our honeymoon, sipping champagne on the banks of the Seine, on New Year's Eve; this year, we'll be celebrating with a few friends, a jig saw puzzle, and newly etched mustache champagne glasses—two very different celebrations, both perfect in their own way.
These glasses are fun, not fancy or elegant, but simple and smile-inducing. Even making them, I couldn't help but smile. I love them.
You will need:
clean, dry champagne glasses
rubbing alcohol
self-adhesive contact paper
a pencil
scissors
a dry foam brush
glass etching cream
Do a quick search online for good mustache patterns and size them for your glasses. I used two different shapes (do as many different shapes as you have guests and you won't need glass markers).
Trace your templates on to contact paper and cut out the mustache from the middle of the paper. This isn't as difficult as it first appears.
Wash and dry your glasses well, then wipe them down with rubbing alcohol. This step is key if you want your etching to be even.
Remove the paper backing from the contact paper and place your mustaches on the glass. Make sure there are no bubbles in the contact paper and all edges are securely adhered. Apply pressure to the edges of the design a few times to ensure a good seal, otherwise your design won't be crisp when you pull off the paper, then give the mustache another quick wipe with rubbing alcohol. (If there is any grease from your hands on the glass, it won't etch…I've made this mistake many times).
Following etching cream instructions, apply with a clean, dry sponge brush and let sit. I find that a very thick layer of etching cream is best, and I let mine sit for about 30 minutes—though the instructions recommended only 10.
Rinse off etching cream with warm water, peel off the contact paper, and check out the results.
Fill your glasses with sparkling cider or champagne and ring in the new year.
---
---