Mon., Dec. 31, 2012
New Year's Goals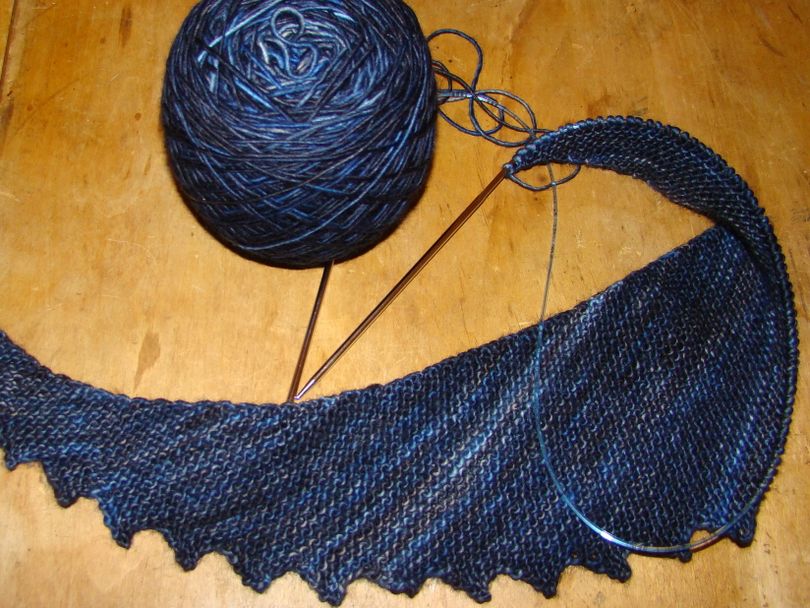 A new year is upon us! I'm not one for grand resolutions (those don't seem to last much beyond January anyway), but I do make a few goals for myself every year. This year I hope to open an Etsy shop and start a new blog (look for details!); I'd like my small business to grow a bit. That goal is a bit grand, but not terribly so.
Every year I make it a goal to read some books that I own, but have never actually read—there are a lot of those on my shelves. I love books, but can never seem to read fast enough. This year I'm shooting for reading eight books I already own…along with those I teach, check out at the library, and read for book group.
2013 is going to be a project year as well. I have knitting projects that need finishing—a blanket for the living room I restarted this year, two scarves, a pair of slippers, and pair of fingerless gloves. (One scarf is pictured here). Those are all on my list of projects to finish (hopefully before any new ones begin).
Ethan and I are finishing a room in our basement, part of which will be my workroom for paper crafts, sewing, painting, and anything else I dream up. That project should be done in the next few months, which should help in the finishing of other projects.
Happy New Year, Dwell Well readers!
What are your New Year's goals?

---
---