Tue., Feb. 14, 2012
A Valentine's Breakfast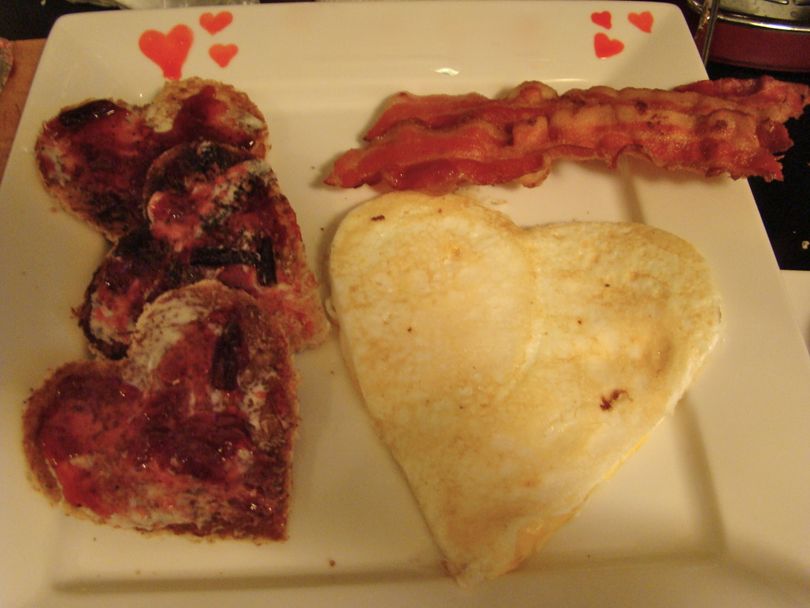 I must say I've had fun with simple, creative Valentine gifts and projects this year—and breakfast this morning was no different. I made breakfast for Ethan this morning as he had to work and I have the day off—I think I enjoyed making it as much as he enjoyed receiving and eating it.
The breakfast itself was simple: eggs, toast, and bacon (after all, what's breakfast without bacon?); the method took a little more care than usual.
Here's what I did:
Put bacon in a skillet to crisp (low heat is always best to render the fat and make a crispy, but still chewy bacon). While the bacon is cooking clean up the kitchen from last night's dinner (if you were too lazy to clean it up last night like I was, but you probably weren't).
Then make some edible paint to decorate the finished plate. The paint is based on a simple recipe for royal icing. It has a paint-like consistency and dries fairly quickly. I used a ratio of about five parts powdered sugar to one part warm water. Mix until smooth then add a healthy dose of food coloring, liquid is best. I used about ¼ teaspoon to make a good, bright red. Use a clean paintbrush (keep one in your kitchen just for food use) to paint a design on the plate and let it dry while you finish cooking.
When the bacon is done, set it aside to drain. Put some slices of bread in the toaster then start the eggs.
To shape the eggs, I used a rather large heart-shaped cookie cutter. It was a bit tricky, but it worked—next time, I'll grease the cookie cutter before using it, that simple step would have helped.
Break two eggs in a bowl. Grease your cookie cutter (learn from my mistakes!) and place it in the bottom of your pan. Hold the cutter down with one hand and pour the eggs into the mold with the other. As the eggs begin to set, you'll need to keep holding the mold down or egg will seep under it and make a mess of the heart. When the bottom is set, you can let go of the mold, but leave it in the pan until the egg is ready to flip. When it is ready, remove the cookie cutter. Using two spatulas, carefully flip your eggs.
While the eggs are finishing, butter the toast and cut hearts out of the center with a medium cookie cutter. Add some favorite jam (plum jam with chai spices is pictured above) and arrange the toast on the plate. (I ate the corners of the toast—not as pretty, but still delicious).
When it is done, pull the egg off the heat (you may need to use the cookie cutter to trim the shape a bit—do this on the cutting board so you don't scratch the pan) and add it to the plate with a few slices of bacon. Serve with a glass of orange juice. If you're me, you'll realize you forgot to make coffee at this point—this is not recommended. In fact, start the coffee up there in step one and have a cup as you pull together the meal.
Any simple shaped cookie cutter can be substituted for the heart. Ethan and I received ninja cookie cutters as part of a wedding gift: Next on my list might just be ninja eggs with some spicy sriracha.
---
---