Fri., Jan. 13, 2012
Got Tulle?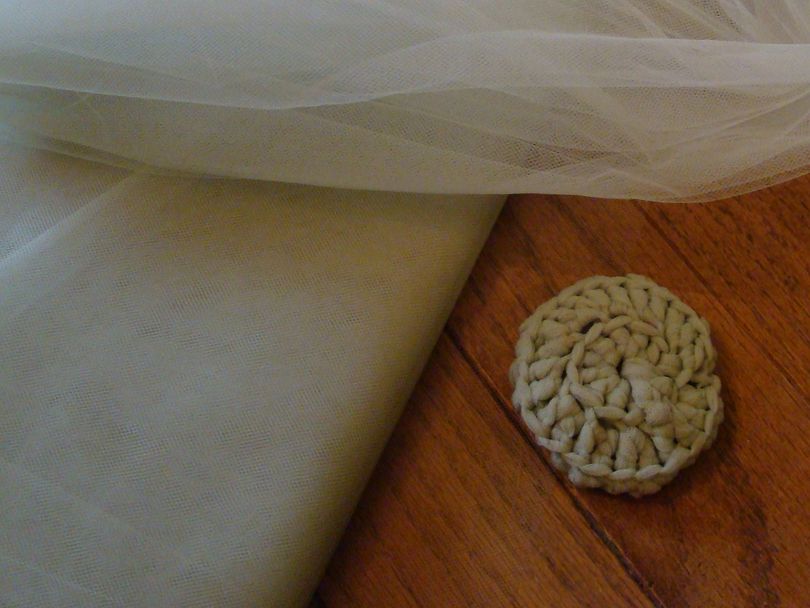 Post wedding, I was left with approximately 17 yards of celery green tulle (we actually only used about ½ of the tulle at the wedding…I'm not a real tulle-y girl, but it did add a necessary softness to the flower garland we made to decorate the reception).
While thinking about what to do with so. much. tulle., I had a brilliant idea! I would learn to crochet and make dish scrubbers out of it! I have seen (and purchased) dish scrubbers in a range of colors at many craft fairs and church sales. They are a staple of just about every home-crocheted goods booth.
Making something useful out of leftover material that would otherwise spend its life shoved to the back of my fabric stash makes me feel accomplished. And, while I'm sure others have done the same thing with their leftover tulle, I still feel pretty good about the idea. Some of the scrubbers I made also became additions to Christmas gifts (two birds, one ball of tulle!).
Crochet stitches are very easy to master (at least the amount of skill you need for this project is simple and quick to learn). I found this pattern on Nadine's Patterns and took it with me on a visit to my personal crochet guru. She taught me how to read the pattern and the few stitches I needed, and I was off. It takes about 15-20 minutes to complete a scrubber (I made the smaller version).
I started with yardage, rather than the strips of tulle mentioned in the pattern (yardage is also MUCH less expensive than the precut stuff). To begin I simply accordion folded a length of tulle (about 1 ½ yards at a time) and cut the accordion into 3" strips.
I found it easier to manage the strips when they were rolled into a ball, just like yarn. Tie the ends of strips together with a regular knot (this will be hidden in the scrubber, so no need to worry about knots in your tulle-yarn). Once you have a ball of tulle (or twelve in my case), you're ready to begin.
I have a few other wedding related posts coming up soon. I've been asked about some of my wedding planning and sustainability/crafting by a readers and friends, so I'm going to provide whatever tips and advice I've retained. Not all of the crafts have to be wedding related (such as this one).
I hope you'll find the information useful!
---
---