Sat., Nov. 24, 2012
Making Bacon—October Urban Farm Challenge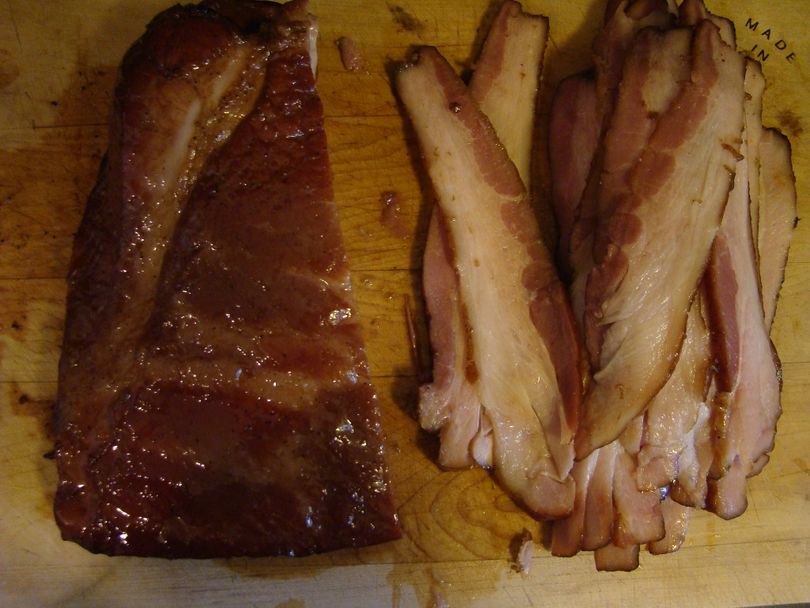 October's Urban Farm Challenge was all about protein. We don't have the space for an urban chicken coop right now, and while I did try growing beans for drying in the garden, they didn't grow well for me.
I took cookbooks off of the shelf and started searching for new things to do with protein to meet (meat?) the challenge. Ethan and I settled on curing and smoking bacon. (What's not to love about good bacon?!)
I had to order pork belly from Egger's Meats (they don't always have it in stock), and the belly I got was perfect. (If you don't shop at Egger's, stop in sometime. The staff knows their meat and they are always willing to trim cuts for you. They also cure and smoke all sorts of jerky and sausage in their own smokehouse). Supporting a local butcher is a bonus.
I started with a 4 ¼ pound slab of pork belly and used the recipe in Karen Solomon's book, Jam It, Pickle It, Cure it, but her recipe and technique have also been published on Food52—along with a picture tutorial.
I used brown sugar instead of white with ours. We let the meat cure for about 1 ½ weeks in the fridge (as our slab was bigger than the recipe called for) and smoked it on our charcoal barbecue, using hickory chips we soaked in water and put in an aluminum foil packed on the coals. We did find that the smoking happened a lot more quickly than stated in the recipe and part of our slab charred a bit, but all turned out well. Next time we'll use fewer coals and watch the grill more closely.
The result is the best bacon we've eaten, and with the belly purchased for just $3.99 per pound, it's actually pretty affordable as bacon goes. Next we're mixing up the flavors: pepper bacon, spicy bacon, maple bacon, the ideas go on.

When life gives you pork belly, make bacon.

---
---