Fri., Nov. 30, 2012
Candlelight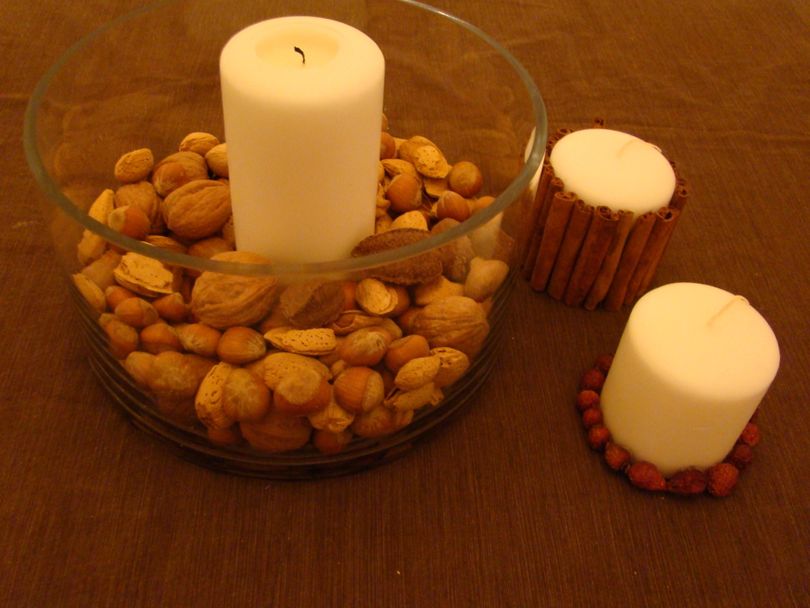 This year I'm trying to decorate for the season with more candles and fewer lights.
I was at a friend's house recently and she had candles of different shapes and sizes in a variety of holders all over the house. Candles were her main lighting in the dining room, on coffee tables, the mantle, and everywhere else a candle could safely sit. The light is softer, warmer, and more welcoming.
Candle craft projects don't have to be complicated, nor do they need to involve dipping your own tapers. I like the idea of purchasing all white and off-white candles and letting your holders bring variety to your décor.
I'm also a fan of using clear vases as holders and filling in at base of the candles with nuts, fresh cranberries, cinnamon sticks, cloves, acorn caps or pinecones. You do have to be careful when pairing regular candles with flammable materials, but you can chose flameless candles to avoid risk altogether.
For a bit more of a project (though not much more time is really involved), hot glue cinnamon sticks all the way around a pillar candle. (I had short cinnamon sticks, purchased in bulk, so I used a short pillar). Dried rosehips also work well glue around the bottom of a pillar.
Simply add hot glue to each cinnamon stick or rose hip and place on the candle. I found that the glue sometimes melts the wax a bit, but holding the cinnamon stick in place for a few seconds solves that problem.
You could also line a long, rectangular tray with a variety of pillars in different heights or shades of a single color as a centerpiece on a long table or counter. (I'm looking for a fun tray for this myself).
Light up the room, save electricity, and welcome the season!


---
---