Fri., Nov. 30, 2012
Easy (and super cute) Knit Scarves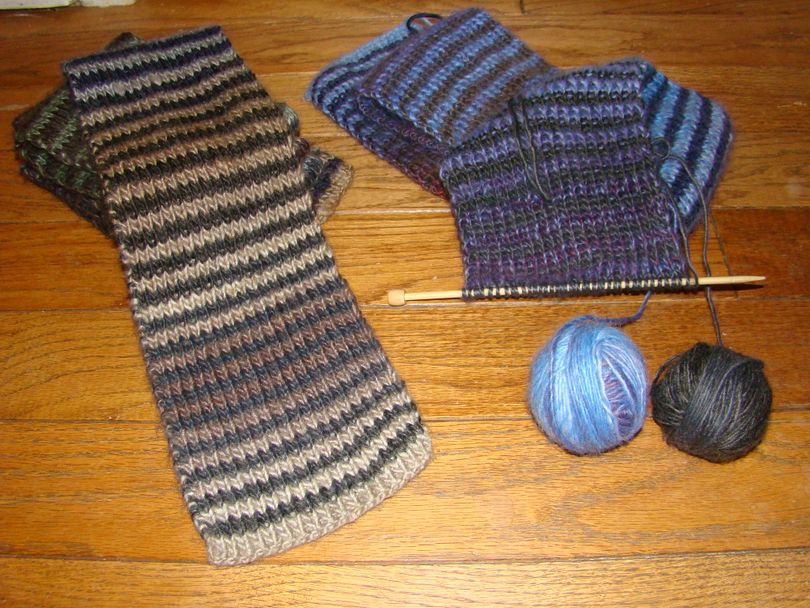 Last year I found this knitting pattern online for a simple striped scarf that uses engineered stripe yarn. I love the way the graduations of color slow down with this pattern. I love striped yarn, but, when knit, the stripes often feel too busy for me.
I found the pattern on Ravelry (for those of you who are knitters, if you haven't explored ravelry.com, you really should. The site catalogs patterns—many of which are available for free), but it is was created and originally posted by Brooklyn Tweed. The original pattern calls for Noro yarn, which comes in amazing colors, but I find it a little scratchy, so I chose another variegated yarn that is super soft. (I don't remember the brand, but I found it in Spokane at Paradise Fibers).
I made the darker scarf for my husband and the light one is mine (and still in progress, as you can see). The darker color way in both scarves is actually the same and moves from navy blue to grey and to greenish tones. I love that the secondary yarns bring out different colors of the yarn the two scarves share.
If you're looking for yarn in Spokane, visit A Grand Yarn or Paradise Fibers. Both stores have great inventory and helpful staff.
The Noro scarf is very simple and easy to finish while you're watching movies or visiting with friends. Despite not finishing my scarf within the year, they are quite fast. I'd like to keep knitting these scarves, but I'm not sure how many striped scarves one household needs.



---
---