Sun., Oct. 21, 2012
Halloween Trick or Treat Bucket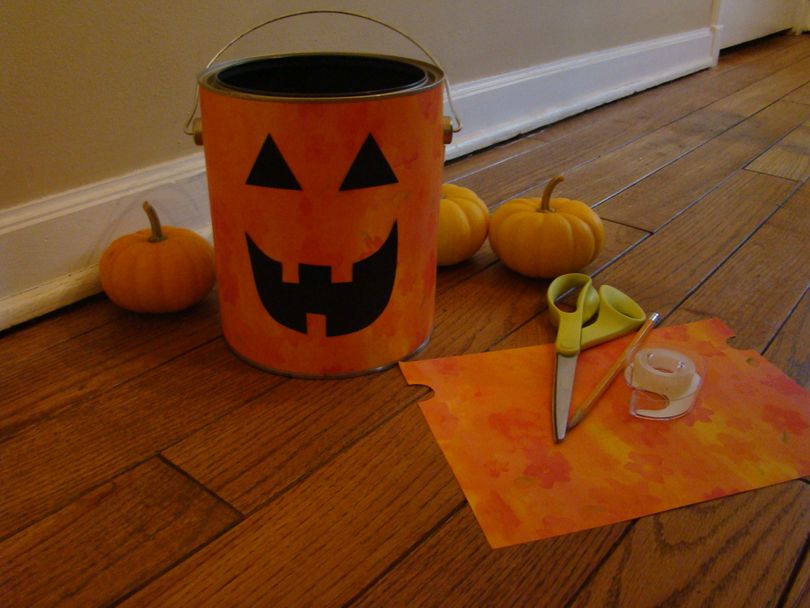 I haven't been trick or treating for years (with reason…I'm too old, it's true), but I do like fun containers, and this one is pretty great. We'll use it to hold candy we're giving out this year. I made it out of a clean paint can, which has a lid, so it can also hold the candy post-Halloween.
You can reuse an empty, clean paint can for this project or purchase an empty paint can from a hardware store (about $5—not bad, actually). All you need is the paint can, some paper, and simple tools.
To make:
Cut two 8 ½" x 11" pieces of scrapbooking paper (or any other paper you have on hand) down to7 5/16" x 10 5/8". You'll need to cut a small semicircle in each of the short ends to put around the can's handle (see picture). Using double-stick tape, tape both pieces to the can; they will overlap a bit at the sides.
Cut out face shape pieces from scraps of black paper and tape to the center. To waterproof your can, you can add two or three coats of Modge Podge, allowing each coat to dry before applying the next.
Add a costume and you (or your children) are set!
If you're looking for additional fall/Halloween projects, don't forget these posts from last fall:
Etched Glass Jack-o-lantern Jars
Paper Covered Jack-o-lantern Jars
---
---