Wed., Dec. 2, 2015
New Spokane schools board members sworn in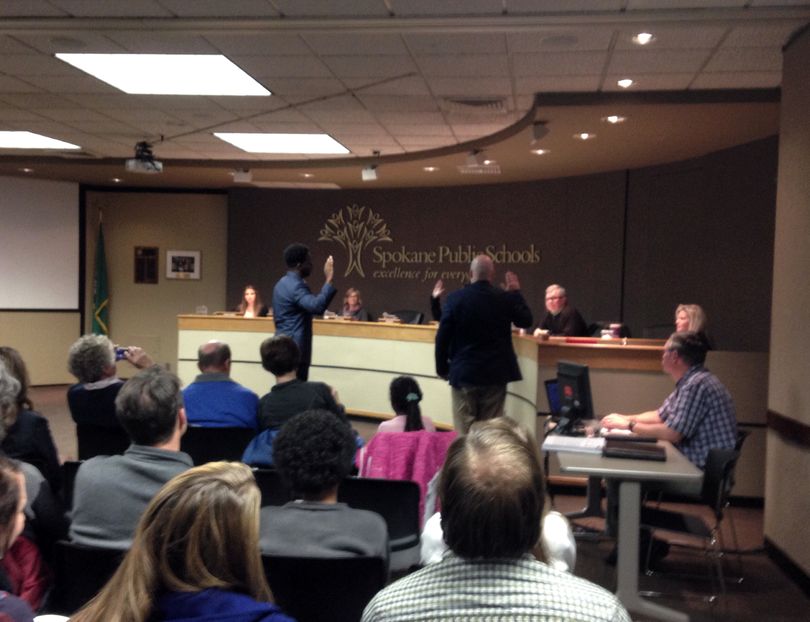 Two new Spokane Public Schools board members, Paul Schneider and Jerrall Haynes, were sworn in Wednesday night.
The pair replaced board members Rocky Treppiedi and Jeffrey Bierman.
Haynes narrowly beat Treppiedi in this year's election. Schneider handily beat Patricia Kienholz.
The board meeting, usually sparsely attended, was packed Wednesday night. Spokane Education Association members attended the meeting to show their support for Schneider and Haynes. Both were endorsed by the union.
As Haynes and Schneider were sworn in they were met with cheers.
Union President Jenny Rose addressed the board during a public comment session. She said she looked forward to working with the board.
"We in the SEA are so excited that you will now be serving on our board of directors," Rose said, adding, "It hasn't always been good standing up here reading a speech or talking to the board members."
Board member Susan Chapin read prepared statements about Treppiedi and Bierman. Chapin praised Bierman's focus on practical, budget-oriented decisions. She's also referenced the length of Treppiedi's service and his connection to, and knowledge of, local government.
Both Treppiedi and Bierman were forces behind implementing full-day kindergarten and extended elementary school days. Bierman pointed out how both these changes gave students extra instructional time.
"I'm really really proud of what our board has done," Bierman said.
Treppiedi has been on the school board since 1996. Bierman has been on the board since 2008.
"I appreciated the opportunity to serve the community more than anyone here can imagine," Treppiedi said. "Again, Paul and Jerrall, I hope you have the same great experience that Jeff and I were able to have."
---
---