Thu., Aug. 2, 2018
Destination: Whidbey Island offers great hiking, artsy historic towns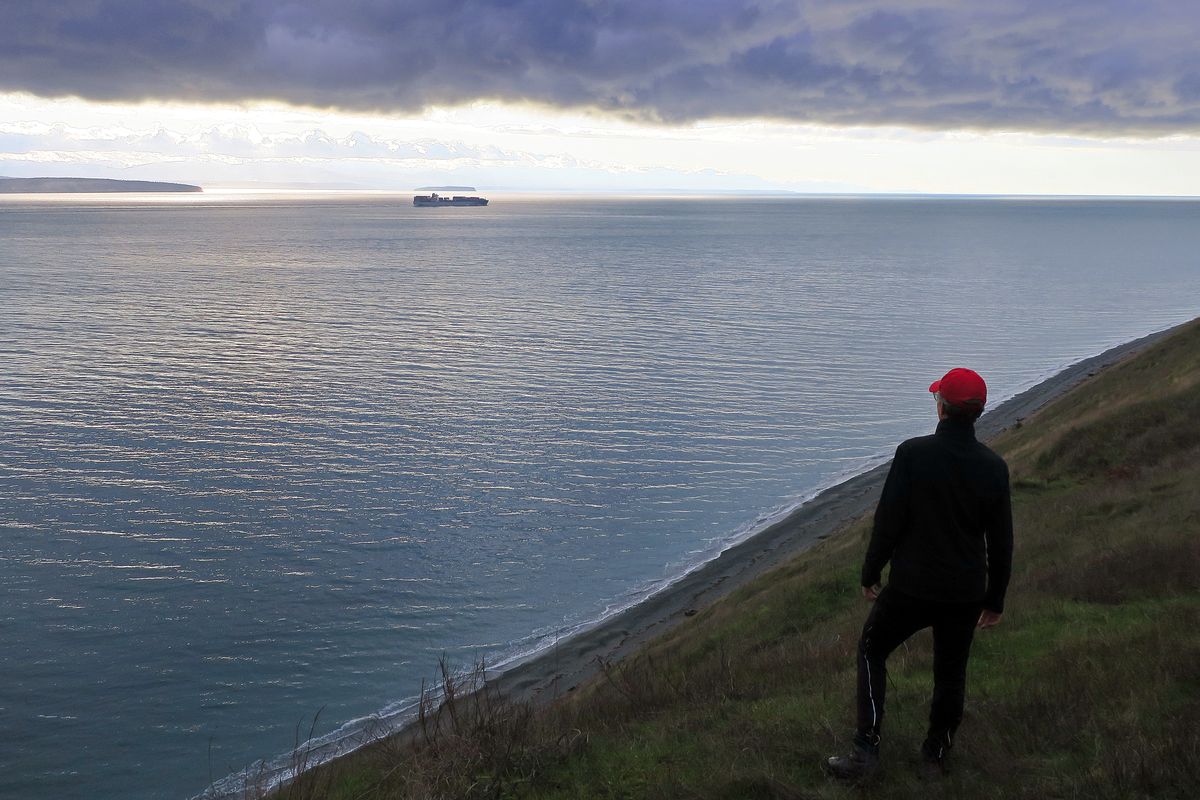 The hike along the bluffs near Ebey's Landing offers fantastic views of Admiralty Inlet. (John Nelson)
Obviously, Joseph Whidbey was onto something.
It was springtime 1792 when Whidbey, a member of the Vancouver Expedition, sailed around the largest island in Puget Sound, rocketing through the currents of Deception Pass. Capt. George Vancouver was ecstatic, naming the island after his intrepid crewman.
Just like old Joe, you should take your own spin around Whidbey Island.
Explore these Whidbey Island parks
Whidbey Island is home to several excellent parks, each offering fine hiking opportunities. Deception Pass State Park at the north end of the island is a must-visit location to see the wild currents and historic bridge arching 180 feet above the water.
Deception Pass sprawls across more than 4,000 acres and offers camping, hiking and seasonal kayak rentals. This is Washington's most visited state park for a reason: Aside from the recreation opportunities, the beaches offer great views of the pass and the Strait of Juan de Fuca to the west.
Two other fantastic state parks are located just south. Fort Casey and Fort Ebey state parks were originally constructed as coastal defense locations on the west coast of the island. Their gun emplacements are still there, an invitation to explore on the bluffs overlooking Admiralty Inlet.
But it's not all about the armaments. Each park offers camping and excellent hiking opportunities along their headlands and beaches.
One of the best day hikes in Washington state starts at the Prairie Overlook Trailhead in
Ebey's Landing National Historical Reserve just west of Coupeville, traveling onto a bluff high above the water. At six miles roundtrip, it offers a lesson in history about the Ebey family, the first white settlers on the island, stunning views of Admiralty Inlet and the opportunity to walk the wildest beaches on Whidbey Island.
Other worthy parks for visits include Joseph Whidbey State Park, South Whidbey State Park and Double Bluff Beach, a county park that offers access to a dog-friendly strand near the town of Freeland.
Coupeville and Langley
Tourism is centered in Coupeville and Langley, both cute-as-a-button historic towns that have restaurants and shopping options for visitors. Coupeville, on Penn Cove, is the mussel capital of Washington state — try them at Toby's Tavern or the Front Street Grill.
Langley on the southern end of the island is just an hour away from Seattle (including the ferry ride), but it feels much farther, with picturesque waterfront shops and restaurants and a small marina. An excellent seafood restaurant, Saltwater Fish House and Oyster Bar is a handsome stop for lunch or dinner.
You'll want to skip Oak Harbor at the north end of the island. The mostly charmless commercial center is also home to Whidbey Island Naval Air Station.
Why visit Whidbey?
Whidbey Island is just a short drive and ferry ride (Mukilteo to Clinton) from Seattle, making it equally appealing as a day trip or overnight destination. A lively arts scene, a welcoming hippie vibe and two attractive tourist towns are worthy of your attention.
But the best part of the island is its beauty, best explored from a number of excellent parks.
---
---