Sun., July 1, 2018
4 great places to camp on B.C.'s hot springs route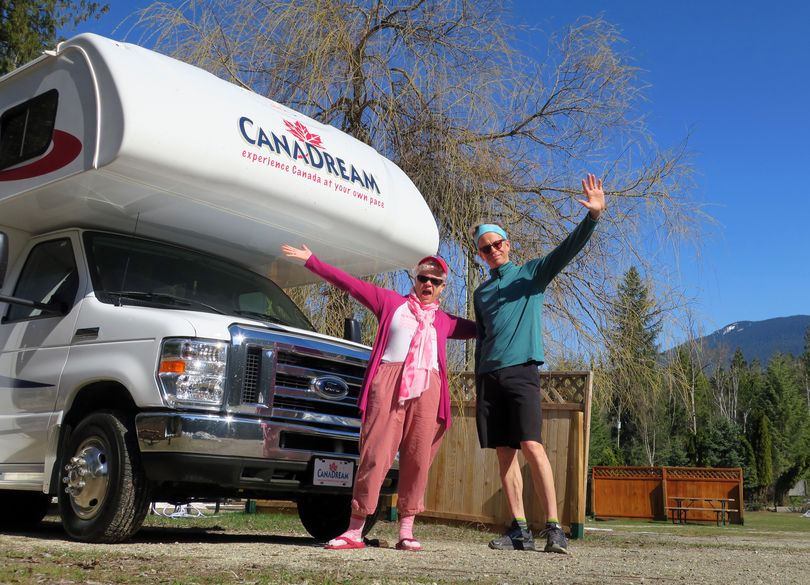 The "Hot Springs Circle Route" in British Columbia is a 500-mile adventure through some of Canada's most gorgeous countryside in the Kootenay Rockies region.
We did it last April in a CanaDream RV, which proved to be a great experience. The Class C 28-footer was super comfortable and warm, which was nice during the early spring. Best of all, it allowed us to camp in some great spots along the way.
When we weren't soaking in British Columbia's hot springs, we explored some very interesting towns, met lots of friendly Canadians and hiked amid the beautiful mountain scenery.
You can read more about the journey on The Spokesman-Review's Outdoors page from July 1.
Here's a look at four excellent spots for full-service RV camping along the route:
1. Williamson Lake Campground, Revelstoke
Just outside of Revy, as everyone calls it, is this clean and scenic full-service campground. The heavy winter snows were still melting, but the campground was up and running to a hardy group of travelers. Info: williamsonlakecampground.com
2. Nakusp Hot Springs Campground
High in the mountains about 25 minutes away from the town of Nakusp, this campground felt very remote. We were the only people camping at the snowy site, which offered easy walking-distance access to the beautiful Nakusp Hot Springs. Info: www.nakusphotsprings.com
3. Kokanee Creek Provincial Park
On the shores of Kootenay Lake about 20 minutes away from Nelson, British Columbia, this campsite was another full-service affair, and it offered fantastic hiking through the park. The nearby picnic tables were perfect for our sunset dinner. The campground was a short drive from Ainsworth Hot Springs. Info: www.env.gov.bc.ca/bcparks/explore/parkpgs/kokanee_crk
4. Fairmont Hot Springs Resort
This resort is ginormous and has its own set of hiking trails to go along with the expansive pool. Just down the road about 30 minutes is another great place to soak — Radium Hot Springs. Info: www.fairmonthotsprings.com
---
---