Fri., July 20, 2018
Lessons learned about planning ahead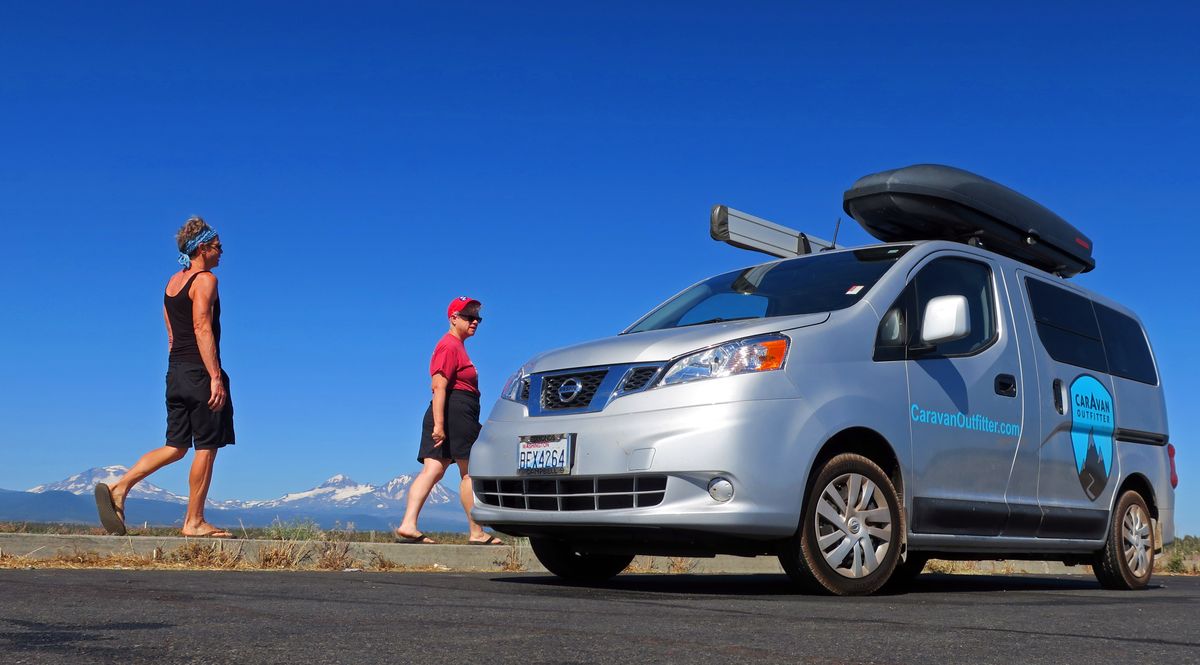 John Nelson and Leslie Kelly on the road during a trip to Central Oregon. ( John Nelson)
It was 95 degrees when we pulled into Sisters, Ore., after a six-hour drive from Mount Rainier, and the traffic was backed up for blocks.
We hadn't realized this was the weekend of Sisters' annual Outdoor Quilt Show, a feel-good event that draws thousands to displays throughout town.
Hmmm. After selling our house in Seattle and moving out, we had hit the road for our first adventure. Was this going to derail our plans to stay near this pretty central Oregon mountain town?
We provisioned at the excellent Rays Food Place -- including grabbing a thick New York steak -- and headed toward Three Creeks Lake Campground, 16 miles south of town. Surely, there would be a site at the first-come, first-served campground.
Well, no. There were dozens of cars lining the dirt road, and when we finally got to the campground, everything had been snagged.
Shut out on a busy weekend. We were tired of being in the car, hot, and hangry, so naturally we jumped in the lake. Ahhh, yes --much better. We drove back to Sisters, discussing how to learn from our mistakes.
Next time, when you face a long drive, rule No.1 is: Make sure you have a reserved campsite waiting for you.
Fortunately, we grabbed one of the last spots at Creekside Campground, a 10-minute walk from downtown. It was packed with RVs and trailers of every shape -- which ended up being interesting for two people shopping for a vehicle.
Our neighbor, Petra Hegger from Moab, Utah, had an adorable Casita travel trailer, small enough to pull with her six-cylinder Kia. Hegger has been solo traveling for the past year and a half, and had lots of suggestions for places to visit. It's so cool to connect with this adventurous community.
Staying in a small-town campground wasn't how we thought this would go, but it's a good lesson in the importance in being flexible. We are learning to roll with adversity.
Now, if we could only remember where we put everything. Next challenge: Getting organized!
Travel trailer fans: Our last column (on July 13) was a look at the very cool Airstream Basecamp trailer. We heard from some other trailer fans in Spokane.
Jack Brooks of Spokane is also in the market for a trailer. He's looked at the Vintage Overland Trailers (vintageoverland.com) and Sherpa Teardrop Trailers (sherpatrailers.com), two tiny alternatives that offer maximum flexibility for off-road outdoors lovers.
"My significant other has had enuf of sleeping on the ground," Brooks wrote. We hear you, Jack.
Myron Molnau of Spokane has an Arrowhead Chalet popup trailer that he takes around on camping adventures. While it's handy, he also knows trailers can be limiting.
"I have what my children call the 'I wonder where that road goes' syndrome. … Just because you can tow a trailer up a road does not mean that you can find a place to turn around when the road ends," he wrote. "When I want to explore, I just park the trailer and go exploring in the pickup."
Today's Going Mobile Question: What's your worst RVing disaster? Send comments to goingmobile@spokesman.com
Want more? Check out our Instagram photos at instagram.com/ourgrandtour
---
---