Fri., July 27, 2018
Six reasons why we love the Freebird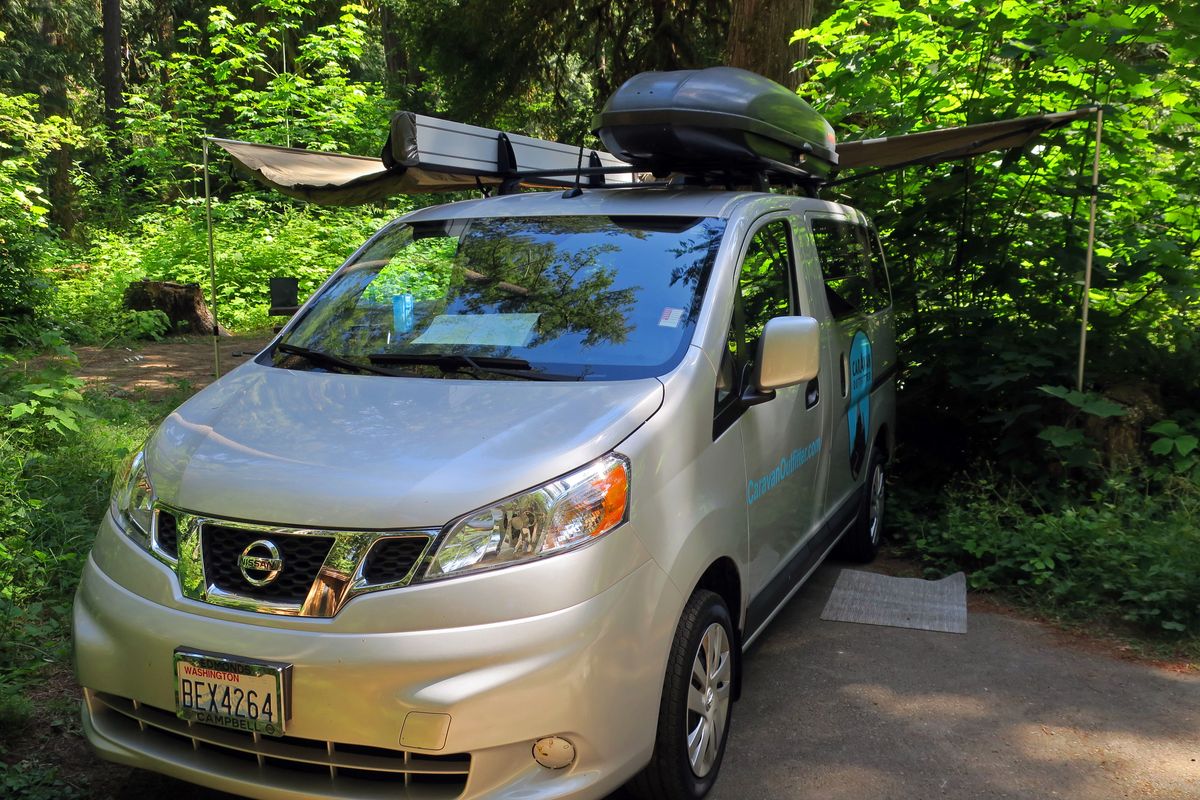 The Freebird is built using the Nissan NV200 chassis and has a large awning for camping set-ups. (John Nelson)
You've gotta love a recreational vehicle that drives like a car.
That's exactly what you get with the Freebird, a product offered by Campbell Nissan of Edmonds, just north of Seattle.
For anyone who wants to keep things simple, the Freebird is fantastic. Built on the compact Nissan NV200 chassis, it offers many advantages over larger RVs. We tried it out on a trip to Central Oregon over five days and had a blast.
First, the basics:The Freebird has two set-ups, one with a seating area and table. This space converts into a queen-sized bed.
From the back of the vehicle, you can access a well-designed kitchen box has a refrigerator, small stove and storage area. A large awning wraps around to extend the Freebird's footprint, effectively giving you an outdoor living room.
Power for the refrigerator, lighting and USB charging outlets is provided by an auxiliary battery that allows you to run things for several days of boondocking, and recharges as soon as you start the engine.
Here are the top six things we loved about the Freebird:
1. Price -- less than $35,000
No other new RV can touch the price point of this vehicle. Kurt Campbell, owner of Campbell Nissan, came up with the idea to build out the cargo van based on the usability -- and affordability -- of the old VW camper vans.
2. Maneuverability
The Freebird is less than 16 feet long, five feet shorter than Sprinter-style vans. That makes it as nimble as a car to drive -- no awkward U-turns or searching for RV parking.
3. The bed is amazingly comfy
We were concerned the bed would feel tight, but once you get tucked in, it feels spacious. During our trip, we camped high in the Cascades near Mt. Bachelor ski resort and had some amazingly restful nights. The Freebird's window shades, screens and a small ceiling fan kept things dark and well-ventilated at night.
4. Fuel economy
With some RVs, you can watch the fuel gauge sink with every mile on the road. Not so with the Freebird -- it gets an astounding 25 MPG.
5. Kitchen box works well
Initially, we were dubious about the refrigerator, a drawer that pulls out of the center of the kitchen box. In use, it was amazing, providing ample storage for a few days of camping. The small butane-powered burner also works efficiently.
6. Storage solutions
The small footprint of the Freebird means you need to make compromises. Storage is fairly tight, but the Freebird addresses this problem by offering a car-top carrier option.
Takeaways: For short, no-frills camping and road trips, the Freebird is a great vehicle. It's well-conceived and you can't beat the fuel economy.
Readers' RV disasters: Last week, we asked readers to share their worst RVing disaster stories. We heard from Vickie Ridgley who told a truly scary story: While traveling through New Mexico in 2013, her motor home caught fire.
"The motor home and tow vehicle were a total loss," she wrote. Passersby helped Ridgley and her husband, who lost his wallet in the fire, get to Albuquerque. "My advice to anyone traveling in an RV make sure your ID is close at hand at all times," she said. "And keep shoes nearby."
Today's Going Mobile question: Have you been to Alaska in an RV? What are your tips? Please send email responses and photos to goingmobile@spokesman.com.
Want more? Check out our Instagram photos at instagram.com/ourgrandtour
---
---