Sat., June 2, 2018
Gear Review: Origami-style kayaks are great for road trips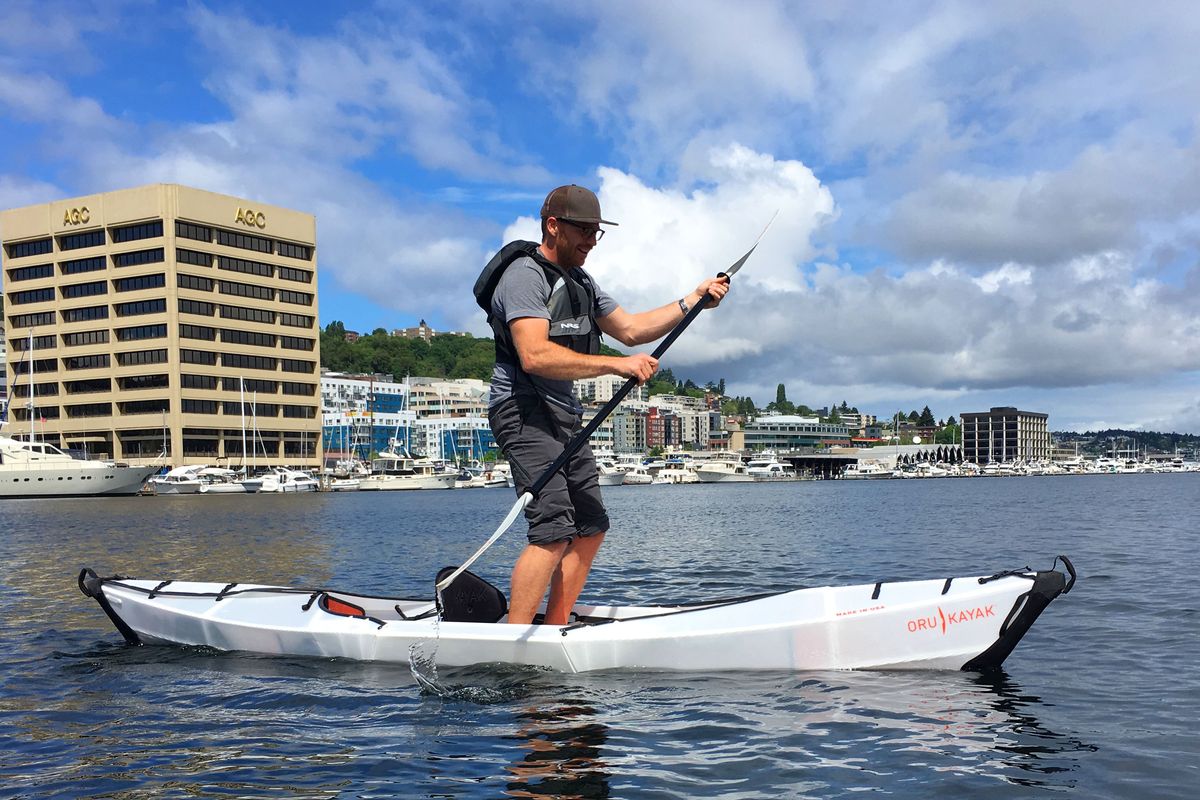 Ben Williams of Oru Kayak demonstrates the boat's stability on Lake Union in Seattle. (John Nelson)
One of the hardest things about RV road-tripping is hauling all of your gear.
Boats are big and bulky, and pretty much must be left at home -- or that's what we thought, anyway.
Then we tried out two folding kayaks made by a San Francisco company. Oru Kayak has created a line of boats that fold up ingeniously into small cases that can be stored and transported easily. Starting at 26 lbs., they're unbelievably light and perform remarkably well.
Origami style
Oru says it has created "The World's First Origami Kayak," and that's exactly what they look like.
"I have two boats and both of them fit under my bed," said Ben Williams, sales manager for Oru Kayak, during a demo on Lake Union in Seattle.
The 5 mm double layered extruded polypropylene skin comes folded up in a carrying case. When you want to use the kayak, you unfold the skin, then you snap and zip it together.
The kayaks
The company offers three models:
The Beach LT: At 12 feet long, it's a stable, open-hulled kayak great for casual day trips. Price: $1,299.
The Bay ST: A more high-performance kayak with a skirt-ready cockpit, deck rigging and bulkheads. This is Oru's most popular boat. Price: $1,599.
The Coast XT: At 16 feet long, this is a full-on expedition style boat with skirt-ready cockpit, deck rigging and bulkheads that can be used in ocean adventures. Still, it's only 34 lbs when assembled. Price: $2,499.
Performance
We tried out The Beach and the The Bay and found them to be fun, lively and ultra-stable. Because they are so light, they move easily with simple paddle strokes.
At the same time, their light weight makes them susceptible to wind. None of the kayaks have rudders, so you need to control all of your navigation by paddling.
As for durability, the skin, while fairly thin, won't break if you hit a rock, Williams said. The company recommends you treat them as if they are a fiberglass boat, but Williams said, "You don't need to baby them."
---
---