Tue., June 12, 2018
Discover the World's Most Awesome RV Park in Malibu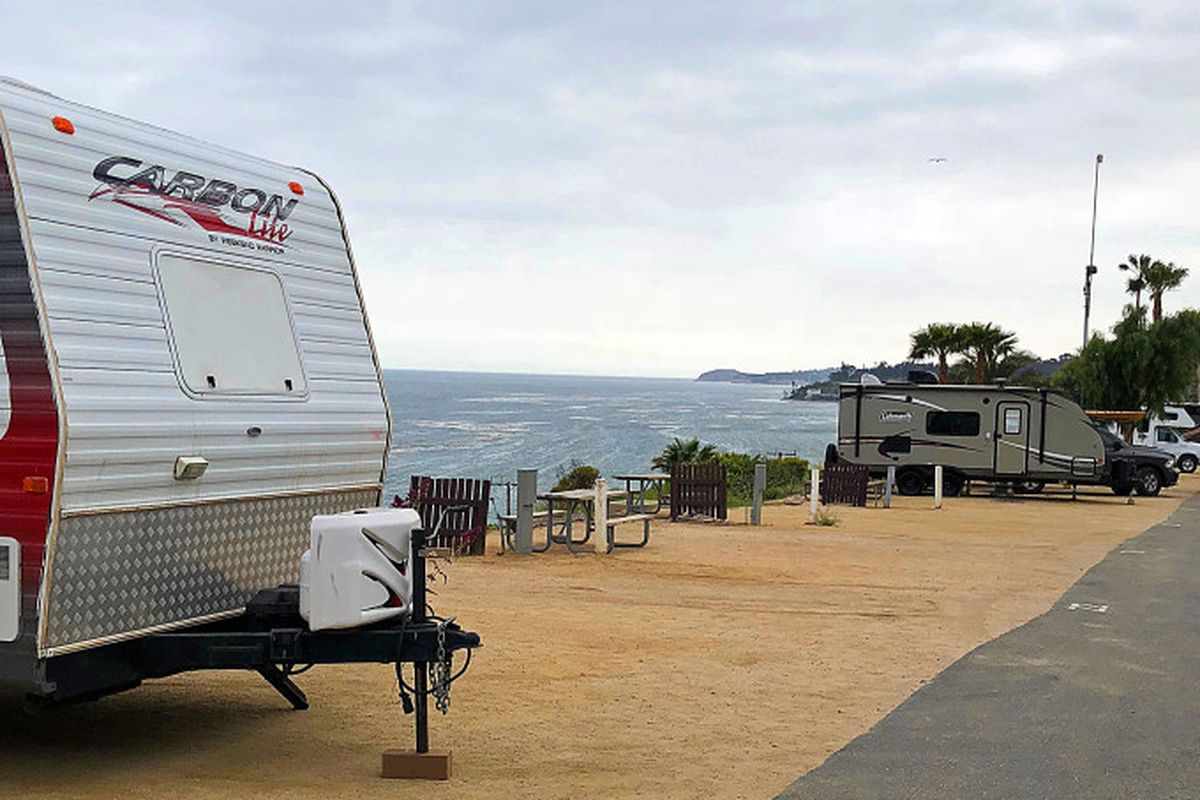 The spaces are skinny, but the views are stunning at this old school RV resort in Malibu. (Leslie Kelly)
Surprise! Malibu, California, is home to one of the best spots in the world to park an RV.
There's a good reason the rich and famous have gobbled up the available land and built homes on the spectacular waterfront in this part of the world. It's absolutely gorgeous. Long stretches of golden sand punctuated by dramatic rock formations. Sure, the weekend traffic can be a drag on the PCH (Pacific Coast Highway), but the scenery's a calming distraction. Smack in the middle of all this beauty sits Malibu RV Park, high on a hill, with views that cannot truly be described in words. Well, except maybe awwwwwesome.
Retro Cool
This rambling park has been around for 50 years, owned by the same family, and the attention to detail shows great care. When I called to make a reservation, a live person answered, and was so friendly and helpful. Got the same treatment when we checked in at the adorable office/corner store. Coffee's on at 8 in the morning, and it's just $1 a cup!
The place is laid out on a series of terraces, with tent camping available up top. Spaces are tight, but, fortunately for us, we parked next to Gordon, a friendly guy from Red Deer, Alberta.
Amazing Amenities
The well-stocked market carries a little bit of everything. It's possible to put together a meal, or buy beach toys. No live fires are allowed, but they do sell a propane-fueled camp stove, if that's what gets your motor running. There are two, large, very clean bathrooms, with free showers, and a laundry room. Each site has a sturdy picnic table, and hook ups. Some of the fat camps we spotted had created living rooms in their outdoor space. Very cool.
Perfect Place to Picnic
I was visiting our daughter, Claire (a Spokane native), and we rented a van to make a one-day trip to this incredible destination. We hiked at Point Dume, spent some time on the beach, tried unsuccessfully to get into the Getty Villa (reservations to park on site are a must, and entry is free, so plan ahead). We shopped at the Malibu Farmers Market, and picked up supplies for a picnic. Once you're settled into a site, it's kind of hard to get motivated to do anything else but sit and watch the water. We even spotted a pod of dolphins. It's not exactly cheap to stay there -- $50 a night in the off season for an ocean view site, nearly double that in high season -- but it's so worth it for that million dollar view.
Please check out Our Grand Tour on Instagram.
---
---