Thu., June 14, 2018
Tiny Kitchen Cooking Challenge: Making Pizza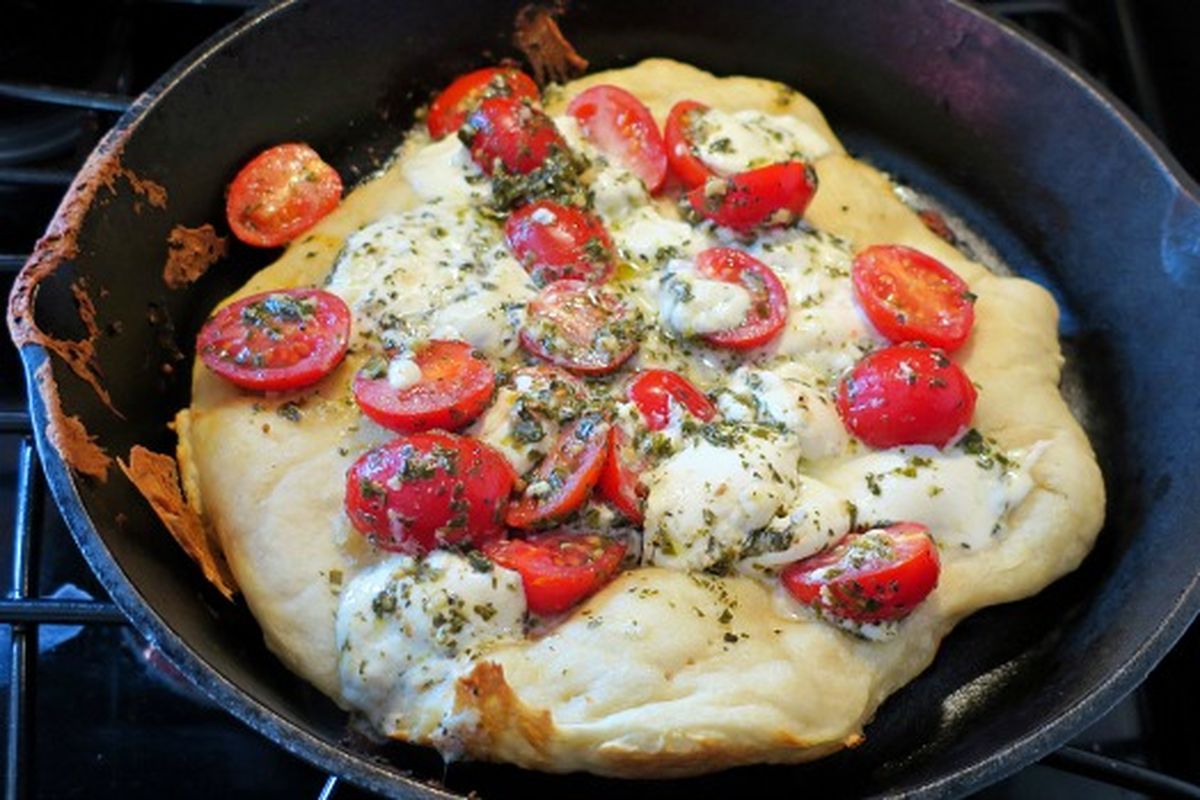 A cast iron skillet is the key to making awesome homemade pizza. (Leslie Kelly)
I really love the challenge of cooking in a tiny kitchen. On a recent hot springs tour around British Columbia, I used the excellent setup in our comfy CanaDream Class C RV to grill steak, stir smoked salmon into risotto, and, my biggest triumph yet, make pizza!
Prepping is Key
Before we hit the road, I spent a few hours in my home kitchen, getting some dishes dialed in. Even when you're traveling, though, that's such an essential part of putting together meals in a flash. Plastic containers and ziplock baggies are perfect for keeping ingredients sorted. Even if it seems obvi, label and date everything. A little trick I picked up years ago, working as an apprentice in Tom Douglas restaurants.
Making Some Dough
Adapted from my favorite pizza dough recipe from the awesome Sara Moulton, I added the dry ingredients to a plastic bag and planned on finishing the dough on Pizza Day. That special dinner came at the end of a long day on the road and a relaxing soak at Fairmont Hot Springs, with the Rocky Mountains in the background. The kind of breathtaking, Instagram-worthy setting that reinforces this kinda crazy journey we're taking. Before hitting the pool, I added water and some olive oil and put the wet dough in a sealed container, covered in the filtered afternoon sun. Two hours later, it had doubled, and was ready to go.
Crank Up The Heat
A blazing fire is best for creating the pleasantly blistered on the bottom, yet still soft inside crust and we had hoped to try this over bunch of crackling wood, but the weather turned drizzly. So, I tried the next best thing and heated my trusty Lodge Cast Iron grill pan in the teeny oven. Ten minutes in, the smoke detector started shrieking. Not an uncommon experience when I'm in the kitchen. Johnny removed the battery — temporarily — and we were back in business.
Getting the Dough in the Red Hot Pan
This took some team work, and while my first attempt to fill up the skillet wasn't spot on, it convinced me to go smaller on the second round. While Johnny propped open the oven door, I transferred the dough from one of those floppy cutting boards. There were many ways it could have gone wrong, but it worked. I added the toppings — fresh mozzarella, pesto, chopped cherry tomatoes — after about 10 minutes, and let it bake another five. Probably could have cooked a little longer, but I was pretty happy with the results.
Wine Pairing
You think reds when it comes to pizza, but instead I poured my current obsession, an Oregon Pinot blanc from Elk Cove Vineyards. I love how this crisp, fruity white has the backbone to stand up to strong flavors like the pesto. It balanced the richness of the creamy cheese and brightened up the dreary spring evening in beautiful Canadian mountains. Of course, because we were in British Columbia, we followed that up with a glass of excellent merlot from Tinhorn Creek.
Please check out more photos from Our Grand Tour on Instagram.
---
---