Sat., June 23, 2018
Test Drive: Free Bird is Tight, but Soars on Fuel Economy, Thoughtful Touches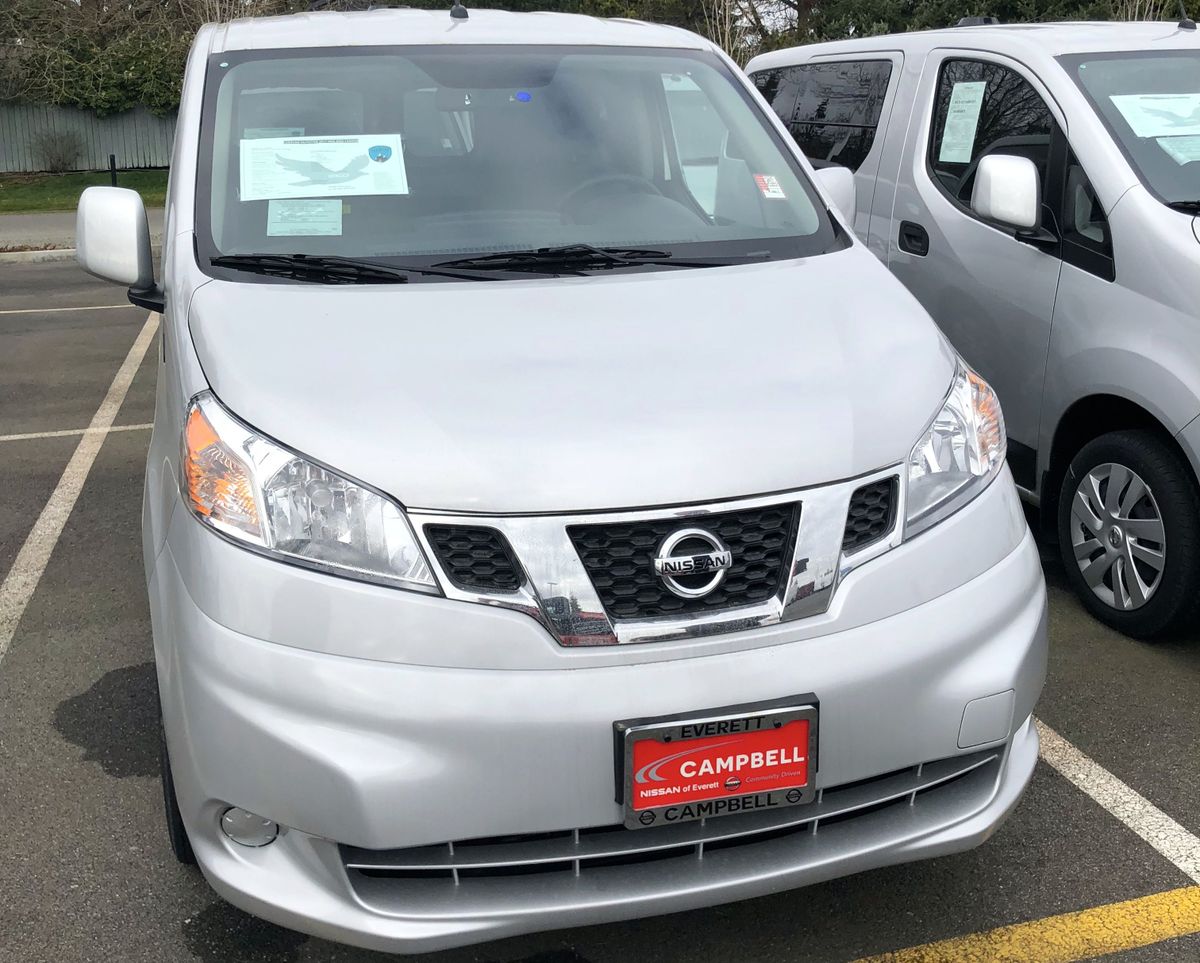 The Free Bird is a Nissan NV, converted to a tiny home on the road. (Leslie Kelly)
We first spotted this custom-designed rig at an RV show, and it left a lasting impression. It's a Nissan NV200 that a Seattle dealership created, inspired by the owners' love of classic VW camper vans. So, it's a passion project for brothers, Kurt and Craig Campbell, who own Campbell Nissan. You can tell there's a lot of thought and care that went into creating this vehicle.
"We worked with a couple of engineers on the design and two years later, we had a multi-purpose van," said Kurt Campbell, describing the project that's been branded Caravan Outfitters. The combo bed-turned-dining table can be easily removed to turn the vehicle into a straight-up cargo van.
Taking Free Bird Out for a Spin
We recently took the vehicle out for a test drive and we were impressed by its solid feel on the road. It drives like a car, and gets incredible gas mileage. (Around 25 MPG, versus most van conversions that get about 15 miles to the gallon.) That's what keeps this rig at the top of our wish list. Before we take the leap, though, there are some issues to consider.
Space is tight: The table breaks down and becomes the roomy, very comfy bed, but where does ALL our stuff go? There are some interior storage bins and the option for a rocket box on top, but this van almost feels more like a weekender than a viable housing alternative.
But wait! There's also the option to add on a fairly large awning. AND vertical panels can be added to that setup, effectively creating another "room." Very cool.
Cooking challenge: The kitchen setup is out the back end, and it includes a one-burner setup heated by butane. Not as efficient as propane, and lots of waste because those cartridges are not refillable. So, you'd probably need to get that portable Coleman stove, or bring the trusty Jet Boil into the equation.
Powering up: You can pull into an RV spot and plug in to power up the auxiliary battery, which runs the "fridge" (which is a small drawer, so you'd probably need an additional cooler, too), and a couple USB outlets.
No riders: This is a two-person vehicle, period.
We Like These Extra Special Features
Screens on windows
Custom-made privacy curtains
A ceiling fan
The table has cup holders
It's compact; we could park this in a teeny garage
Again, that gas mileage is a real plus
Sticker price? Around $36,000. That's a third the price of the Hymer, which we've also been considering.
5 year/100,000 mile bumper to bumper warranty
The Big Takeaway on This Small Van
While we're still weighing the direction we're going -- small, medium, medium-plus -- the discussion keeps coming back around to this central mission: We want to spend more time out in the world, appreciating nature. Having a small vehicle forces this issue. The great outdoors becomes your living space. We'll keep you posted!
Here's a short video overview of the custom camper:
---
---