Mon., June 25, 2018
5 Must-Visit Spots on a Kelowna, B.C. Wine Tour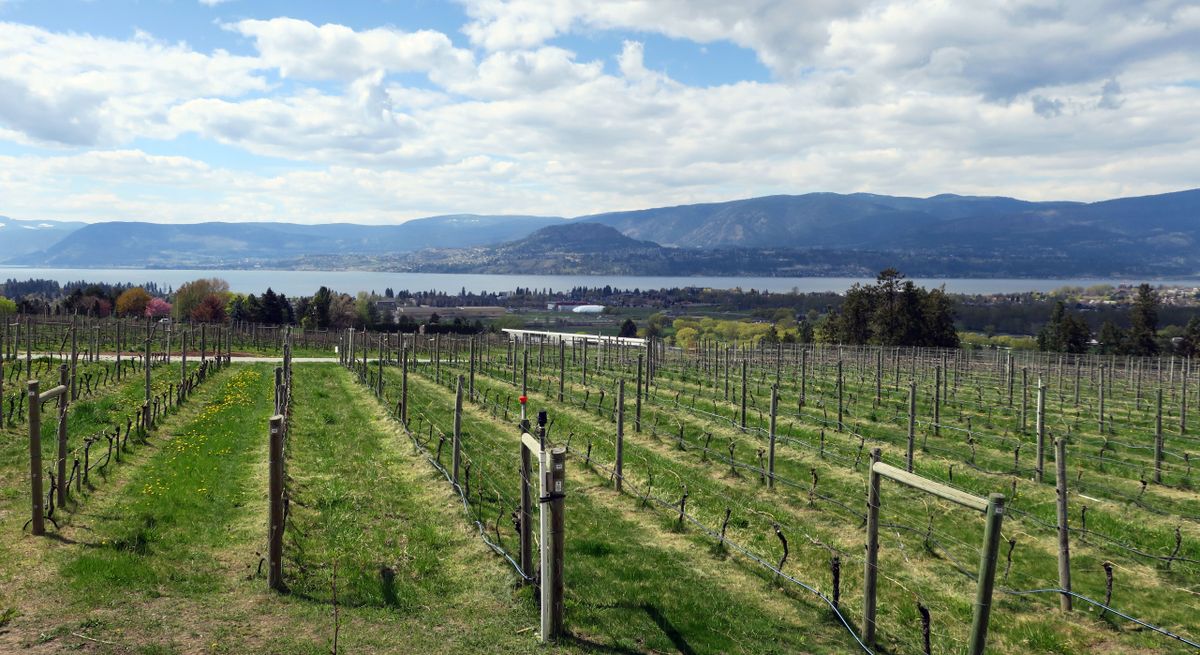 There are loads of Instagram-worthy photo opportunities when touring this gorgeous wine country. This is the view from Tantalus Vineyards in Kelowna, B.C. (Leslie Kelly)
We recently spent a week exploring the amazing hot springs of British Columbia -- more on that tour soon -- and the final leg of this reeeeeeelaxing road trip included one action-packed day wine touring around Kelowna. This fast-growing lake-centric city has some of the most spectacular tasting rooms we've ever visited. Here's a few places you shouldn't miss if you're fortunate enough to be in that part of the world.
First, though... a word about the gorgeous RV Resort where we parked the Class C vehicle from CanaDream we'd been driving. A flock of chickens greet guests pulling into Canyon Farms RV Park. Tall pines surround this peaceful place, which has an excellent community book exchange, showers and laundry facilities. We got settled into our sweet site, before a friend picked us up to take us tasting. (Thanks for being the designated driver, Jennifer!)
In an absolutely stunning setting, surrounded by rolling vineyards and orchards, this winery's tasting room is a tribute to the agricultural past... and present. Operations are housed in a vintage apple packing plant that dates back to the 1920s. Inside, though, winemaker Mike Anderson takes a state-of-the-art approach to turning grapes into something sublime, especially the intriguing Ehrenfelser varietal. Be sure and ask what's new and cool. We were treated to a taste of an experimental cider/rose mashup that screamed "summer's here!"
You're going to want to hang out all day in this magnificent environmentally friendly tasting room, overlooking the extensive vineyards, the shimmering lake as an Instagram-worthy backdrop. Taste through the lineup, guided by the stellar staff, and you'll definitely get a "sense of place." That's exactly what the mission is at this single-vineyard operation that's got a laser focus on Pinot noir, Riesling and Chardonnay. The sparkling Riesling is exceptional, elegant and balanced, with fruit and acid coming together in perfect harmony.
Bravo to Robert Louie, former chief of the Westbank First Nation, and his wife, Bernice, for launching a venture dedicated to celebrating nature, the land, and the rich history and traditions of the Okanagan Syilx people. Current releases include Pinot noir, Chardonnay, Pinot Gris, Muscat as well as red and white blends. Spend some time sipping on the patio, with a sweeping valley view, and order snacks from the on-site restaurant, the Red Fox Club, featuring preparations of indigenous foods.
A wildly popular spot built with reclaimed materials, this clever collection of various wine projects feels like the coolest tasting rooms on the planet. That's especially true if you get one of the team "talking story" about the exceptional and vast lineup created by rock star vintner, Jason Parkes. Take the Hobo series, for instance. This small group of wines bearing beautiful labels designed by artist Paul Morstad showcases varietals such as Cabernet Franc, grapes that don't typically get a lot of love in this region. Check the winery's Facebook page to find out if there are any special events.
Make this your final stop of the day, so you can wrap up with an excellent dinner at Old Vines Restaurant. (Reservations are recommended!) High on a hill overlooking Okanagan Lake, this winery and its friendly crew do a fantastic job of telling the interesting history of the region, while you taste through the impressive lineup that includes several releases of Pinot noir and Chardonnay, as well as its signature ice wine. Even if you don't stay for dinner, plan on spending a bit of time in the picnic area, drinking in the magical views.
For more wine touring tips, check out this helpful guide from Tourism Kelowna.
---
---