Fri., Nov. 9, 2018
A dozen reasons to love New Mexico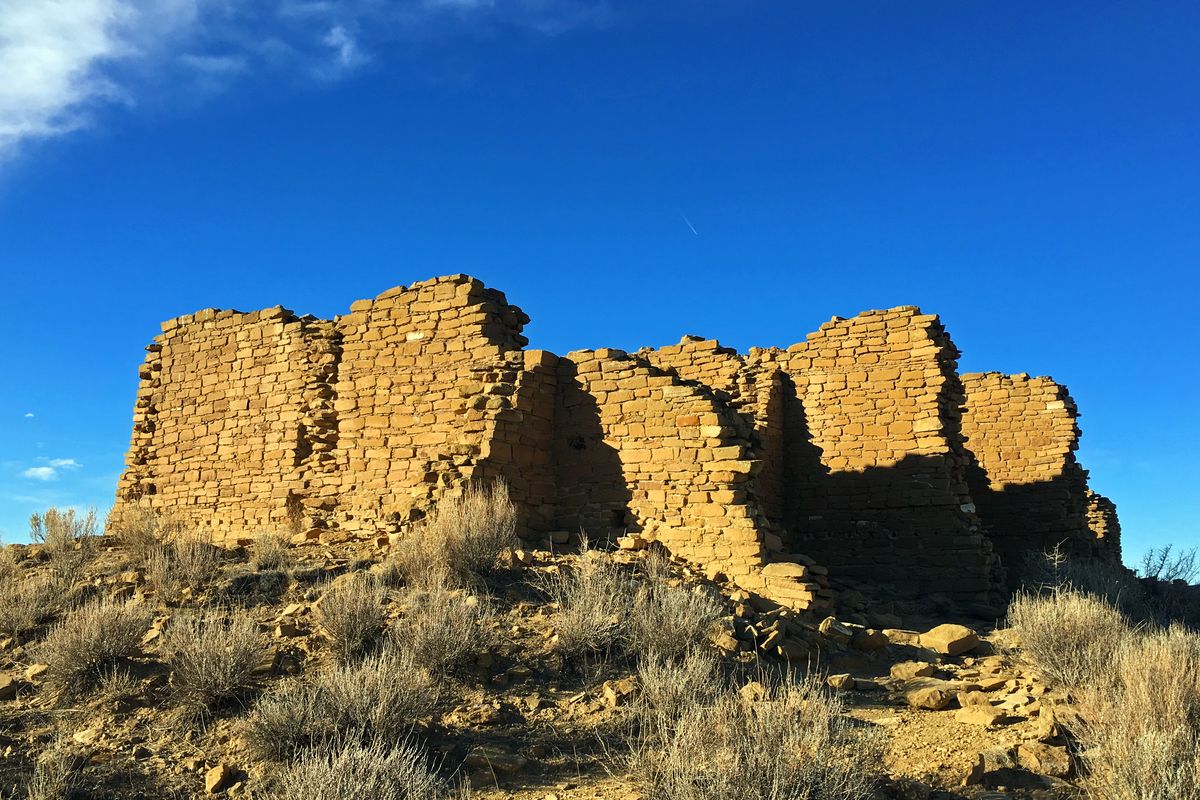 The Alto Pueblo stands on a plateau above Chaco Canyon in New Mexico. Photo by John Nelson (John Nelson)
As we travel around the West in our new RV, it's easy to have a crush on the newest, coolest locations we visit.
After spending two weeks in New Mexico, our crush on the Land of Enchantment feels like something more serious. Dare we say it -- could it be love?
Maybe so. Let's count the ways that we love New Mexico:
The color: New Mexico has its own palate, anchored by red rocks, azure skies and green pinyon trees. Each vista, it seems, is filled with jaw-dropping, wide-open views.
The sunsets: In "Crazy Heart,", in which Jeff Bridges won the Best Actor Oscar for his performance, you might remember the gorgeous Santa Fe sunset captured at the end of the film. It's real -- we've seen a dozen just like it, particularly at the excellent Taos Monte Bello RV Park where we stayed for three days.
The art: We explored many of Santa Fe's world-class museums and enjoyed a special Dia de los Muertos (Day of the Dead) exhibit at Poeh Cultural Center.
The people: New Mexico is without a doubt one of the friendliest places we've ever been. From the tiny town of Raton to sprawling Albuquerque, we've had lovely experiences. "You're a long way from home," we've heard, followed by suggestions on what to see and do, ending with "Enjoy your visit!"
The lack of people: New Mexico has just 2 million residents, less than half the population of the Phoenix metro area. On many drives, we've seen no traffic -- just the open road stretching toward a rugged horizon.
Inclusiveness: 47 percent of New Mexico is Hispanic and 10 percent is Native American. Caucasians are a minority group. No one we've met is screaming about building a wall. "We are definitely a sanctuary city," one Santa Fe resident told us proudly.
Food: Which do you prefer -- sauce made with red or green chilis? Leslie couldn't decide, so she is now opting to order "Christmas" when asked -- which is a little of both. We've had excellent meals at Orlando's in Taos, Duran's in Albuquerque and Tomasita's in Santa Fe.
The soaking: Leslie had a blissful float in a super-heated waters of Ojo Caliente, one of North America's oldest hot springs resorts.
The hiking: There have been many fine hikes. One of the best followed a Halloween day snowstorm, when John climbed the foothills of Santa Fe for views of the city.
The beer: After all of this thirsty exploring, we've always found an exceptional brewery. Two of our favorites are Colfax Ale Cellar in Raton and Taos Mesa Brewing, especially the "Mothership" which attracts an appealing assortment of touring acts.
The riding: New Mexico's vistas and wide-open roads are made for road biking. John took a 30-mile ride northwest of Raton and saw more deer than cars.
The history: Santa Fe, founded in 1610, is one of the oldest cities in the United States. Much older are the Pueblo Indian ruins throughout the northern portion of the state.
Chaco Culture National Historical Park: This place is special. Chaco Canyon in its heyday 1,000 years ago was bigger than San Francisco. The multistory Pueblo Indian ruins still stand amid the canyon's dramatic cliffs walls, providing thrilling hiking and learning opportunities.
Will our love last? We've had many conversations about whether we could eventually live in New Mexico. As we continue our travels, let's see whether it's meant to be.
---
---