Wed., Nov. 28, 2018
Getting nostalgic in Telluride, Colo.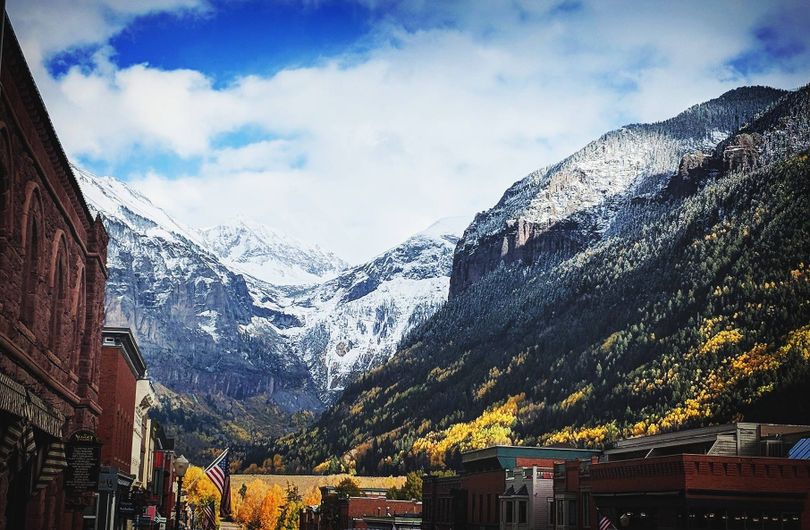 When we lived in Colorado in the 1980s, there's no place we loved visiting more than Telluride. Whether it was to ski, go to a festival or admire the breathtaking beauty of this historic mining town at the end of a box canyon.
We arrived smack in the middle of shoulder season, which means some businesses were closed, but there was still so much to explore, both old favorites and new venues. But first, we decided it was time to get out of the rig for a few days, so we checked into the beautiful Hotel Telluride. This comfy property is dog-friendly, has a welcoming lobby with a roaring fire, plush couches, coffee, tea and cookies in the evening. We loved our spacious suite -- at least three times the space as our RV -- and appreciated the thoughtful touches for road weary travelers such as a fridge and microwave.
After settling in, we headed down Main Street to the Floradora Saloon, a lively watering that's been around four decades. Yup, still the best burger in the region, and a friendly vibe you get in a community where everyone seems to know each other. Other culinary highlights: The green chili-topped Southwest pizza at Baked in Telluride, creamy good wild mushroom toast at Smuggler Union Restaurant and Brewery and the rotisserie chicken at Clark's Market.
It was during one of those meals that our discussion turned to the obvious question: When are we going to return to this slice of paradise? The ski season is looking very promising this year. That's the beauty of rambling around in a tiny home on wheels, isn't it? You can always double back to some of those spots that are extra special.
---
---