Fri., Nov. 30, 2018
Loving the vibe of Sedona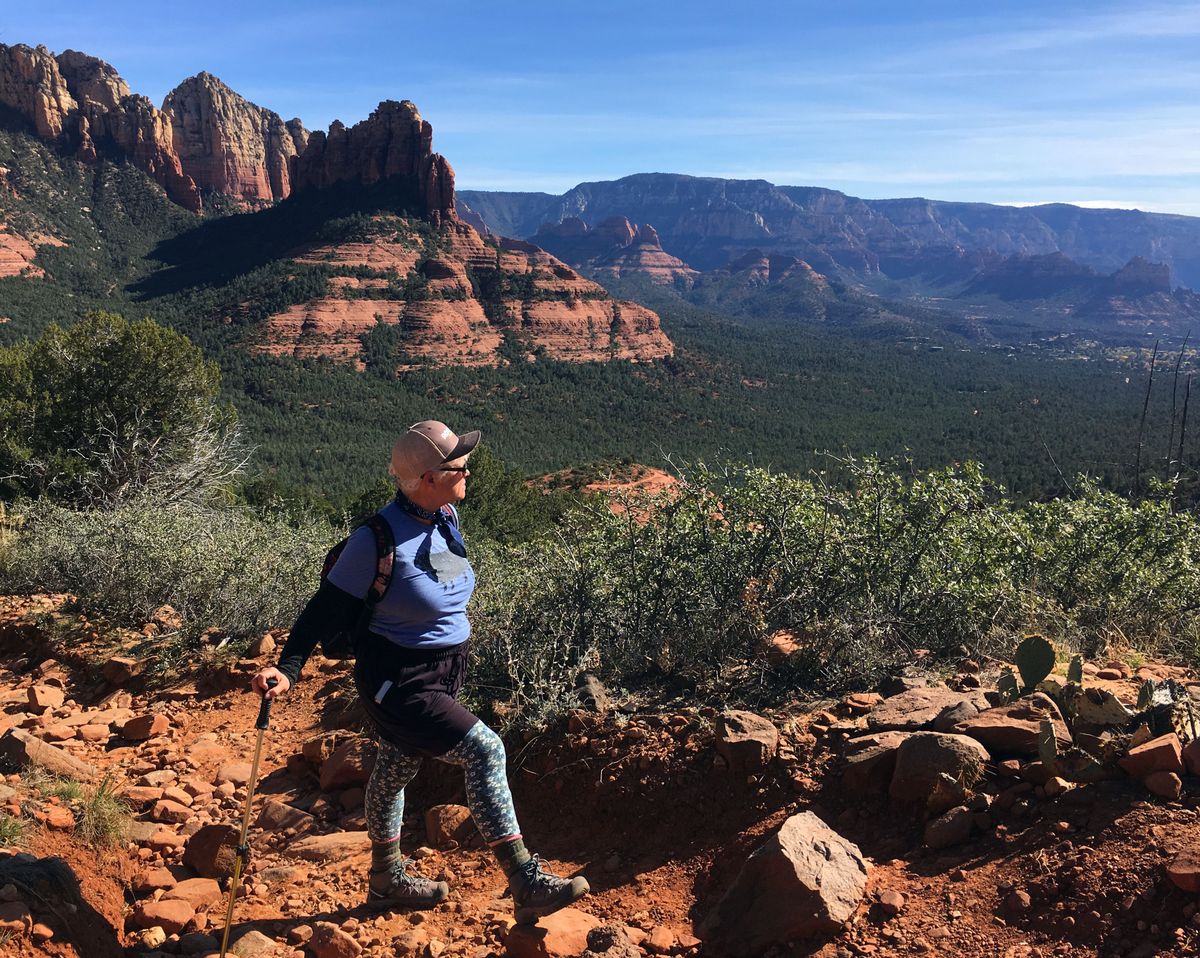 Many of Sedona's best hikes are right in town, such as the Airport Mesa Loop. (John Nelson)
The snowbirds have started to arrive in Arizona. Parks and resorts are filling up with rigs bearing out-of-state plates, settling in for a winter of catching golden rays.
After a week soaking up the sunshine in beautiful Sedona, Ariz., we can certainly see the allure of this nomadic lifestyle. Here are five reasons Sedona has moved to the top of the list of places where we'd love to return and spend more time:
The Vortex vibe
Drive into this busy city and you're immediately plunged into a world of shops selling healing crystals and offering psychic readings. For $20, you can have a photo taken of your aura. Chalk that up to the Sedona Vortex, centers of energy that promote feelings of peace and harmony. Whether you feel it or not, this vortex vibe means there are a whole lot of spots to get a relaxing massage or a invigorating facial. Leslie had a wonderful experience at Namti, which proudly touts its affordability. (Though $74 for an hour might not seem like a screaming deal, it was definitely worth it.)
Incredible hiking
One reason Leslie needed that massage was the miles we put in exploring the stunning red rocks surrounding this striking city an hour south of Flagstaff, two hours-plus from the Grand Canyon. There were easily accessible -- and well-used -- trails just a short walk from our stellar RV park. These challenging climbs led to dazzling views that stretched for hundreds of miles. The distinctive red rocks bear names that make you smile: Snoopy, Coffee Pot, Bell. It's essential to try to find an alternative to driving your RV to trailheads because most lots are congested and tight. Check out the door-to-door drop-off service options at the Sedona Visitors Center.
Fantastic shopping
Old Town is packed with tempting, upscale retail therapy opportunities, but if you want to score some bargains, head toward West Sedona on Arizona Route 89A for quirky boutiques and excellent thrifting (Twice Nice donates to a local shelter for abused women and children, so there's an extra feel-good quality to spending money there). This part of town is also home to major supermarkets where you can stock the pantry. We made a few trips to Whole Foods, and also made an effort to support local grocery stores such as Bashas'.
Delicious Dining
No matter what you're craving, there's a restaurant, cafe, bar or diner to satisfy those hunger pangs. We loved hanging at the lively bar at The Hudson for happy hour. Don't miss the smoked salmon bruschetta. And we followed a hot tip to lunch at Los Rosales, where we were richly rewarded. It's the first time we've ever bellied up to a buffet at a Mexican restaurant, and it was almost impossible not to overeat. Good thing we put in some trail miles earlier in the day.
Superstar RV resort
Rancho Sedona RV Park is the best resort we've stayed in on our epic road trip. We felt fortunate to snag a spot at this gorgeous location right in town alongside Oak Creek. Besides all the amenities, it is walking distance to Old Town and beyond. The friendly front desk staff seemed to be constantly fielding reservation requests on the telephone, often turning down the callers. If you choose to stay, book this one way in advance. Maybe we'll see you there!
This week's Going Mobile question: Where's your favorite beach community in California for an RV stay? Send your answers to goingmobile@spokesman.com.
---
---