Fri., Oct. 19, 2018
John Denver celebration a perfect reason to visit Aspen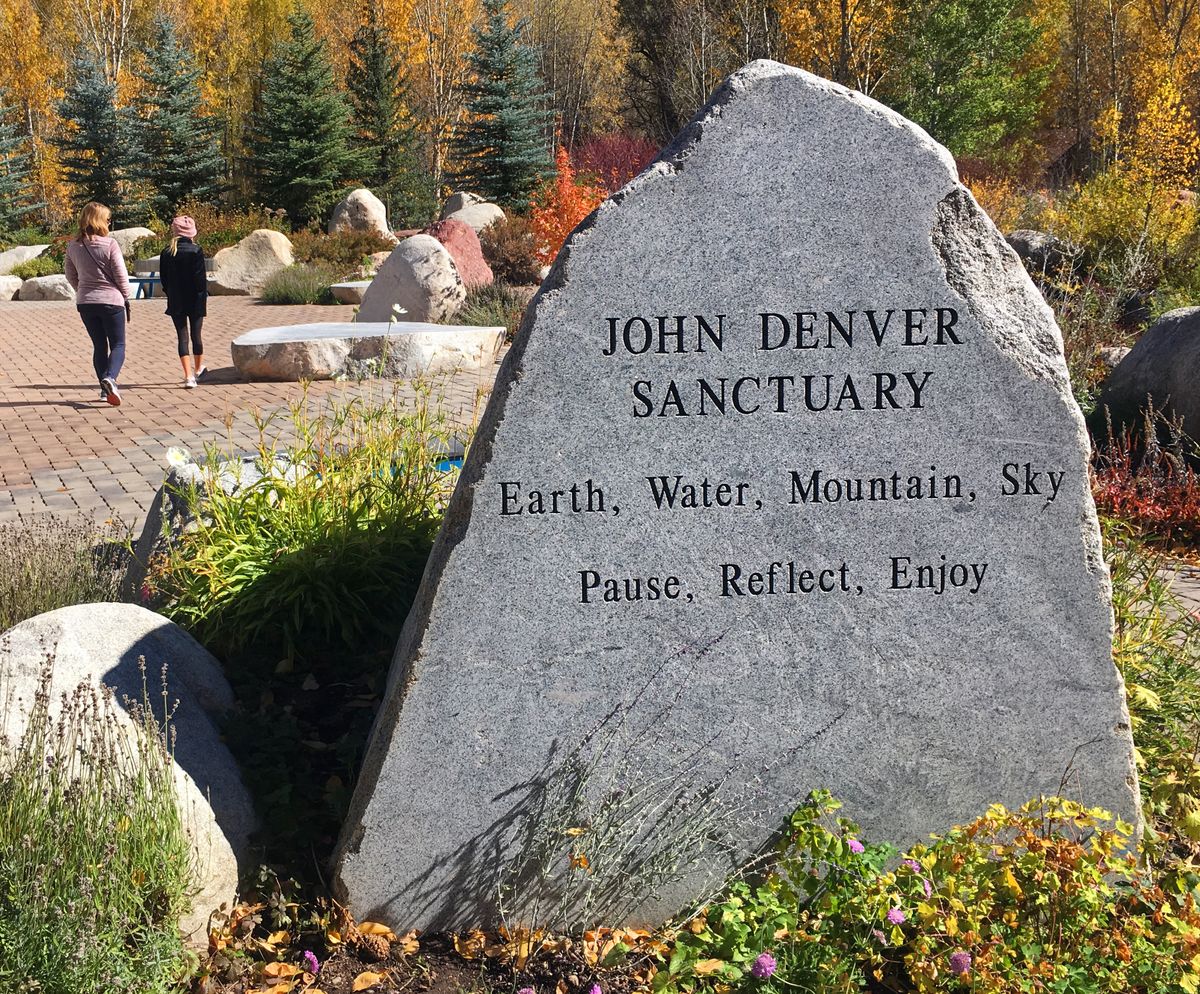 The John Denver Sanctuary is part of Rio Grande Park in Aspen, honoring the legacy of the folk singer.
ASPEN, Colo. -- When you hit the road, you never know what kind of festival you might find.
Take the recent John Denver Celebration, for instance.
In Aspen, John Denver's legacy looms large. The folk singer died in 1997 in a plane crash, but every October, the city hosts a week of concerts and remembrances honoring the man who wrote "Rocky Mountain High," among many other iconic songs.
We hit town in time to see people filing into the Wheeler Opera House for a showing of "Oh God!", the 1977 movie that starred Denver and George Burns. It is a reminder that while Aspen is a playground for the rich and famous, it's also as sentimental as any place in America.
If you walk through the John Denver Sanctuary in Rio Grande Park, you'll see evidence of just how much Aspen loves its adopted son. The beautiful setting has the feeling of being in a Zen retreat, with the songwriter's lyrics etched in rocks artfully arranged along the Roaring Fork River as it tumbles through town.
We attended a concert featuring Chris Collins and the Boulder Canyon Band playing all of Denver's hits. Collins is a dead-ringer for Denver (that has to be a wig he's wearing) and his band's musicianship was impressive in a sold-out sing-along. More than a few tears were shed and there were lots of laughs throughout the memorable evening.
Sure, John Denver is not everyone's cup of tea. His songs are hopelessly mushy, for one thing. But when you're in Aspen, you find yourself going with it, singing along to "Take Me Home, Country Roads" with everyone else.
"The thing about John -- he was just a good person," said Collins during the performance. And it's true, Denver sang about environmental causes long before it was popular.
The John Denver Celebration was a great reason to be in Aspen in the shoulder season. Here are five more things we loved about being here:
Maroon Bells: This pair of 14,000-foot slabs of granite just outside of Aspen could be the most iconic peaks in the Rockies. "They're our Eiffel Tower," said our server at dinner one night. We hit them just after a snowfall, the golden fall colors popping out of a canvas of white.
Fantastic cycling: Several roads around Aspen lead into the high mountains, including State Route 82 which tops out at 12,095-foot Independence Pass. Lower down, the Rio Grande Trail follows the Roaring Fork River 42 miles from Aspen to Glenwood Springs, a path that's even more gorgeous than Spokane's Centennial Trail.
Spectacular accommodations: We've loved camping in the area during summer months, but the campgrounds near the Maroon Bells were closed for the season, so we splurged on a cozy fireplace suite at The Limelight. This comfy spot has a year-round outdoor swimming pool and is located in the heart of the walkable downtown.
History: Like the Silver Valley in Idaho, precious metal was Aspen's original reason for being. The town -- founded as a mining camp in 1879 -- boomed and busted, then remade itself as a ski town starting in the 1930s. Several very cool historic buildings are part of the Aspen's allure, including the Wheeler Opera House and the Hotel Jerome both built in 1889.
Flights of fancy: We don't shop in Gucci or Prada, but it's kind of thrilling to see these fancy stores alongside the humble T-shirt and ski shops around town. Who's that celebrity walking into Dior? Jessica Biel? It just might be.
Check us out on Instagram: Our adventures across the West continue. We have dozens of photos and videos at instagram.com/ourgrandtour.
Today's Going Mobile question: What are your tips and tricks for winterizing your RV? Hit us up with an email at goingmobile@spokesman.com.
---
---