Fri., April 26, 2019
New folding bike means more freedom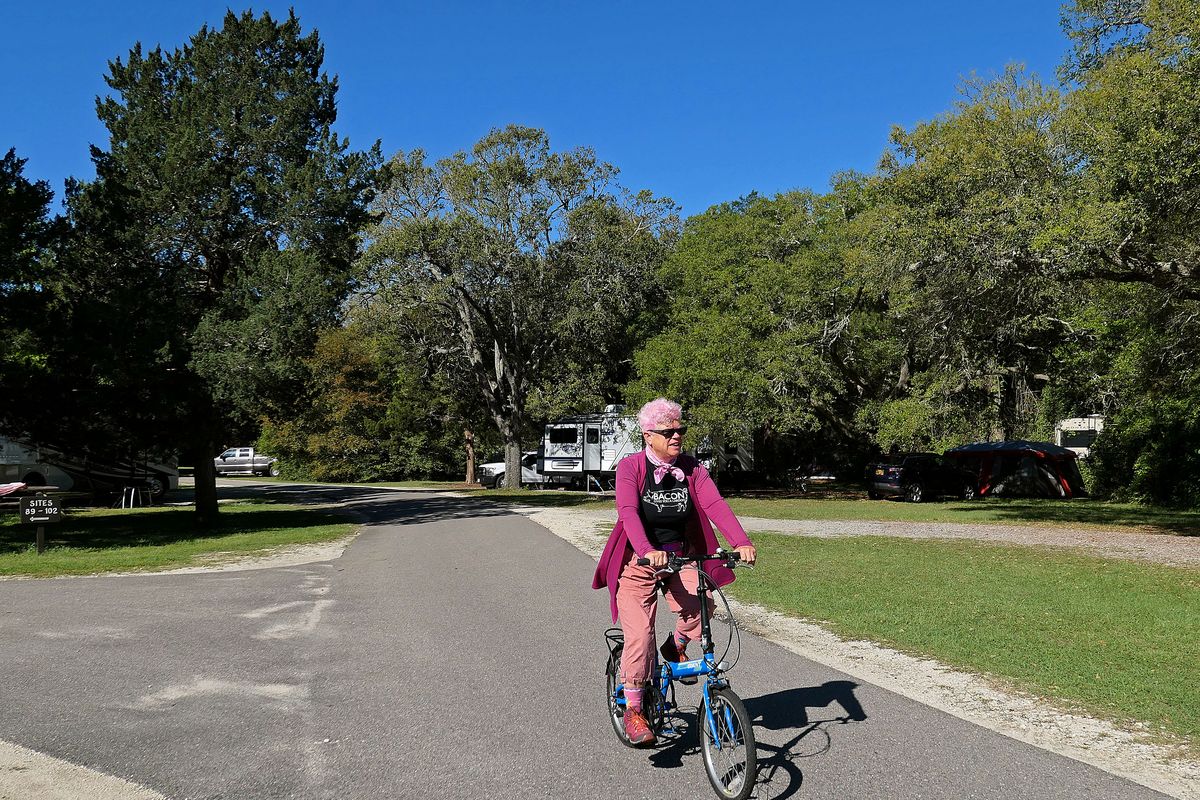 Leslie Kelly rides her new folding bike in Huntington Beach State Park in South Carolina. (John Nelson)
Going mobile is so much more than logging miles between destinations. It's about getting out of the rig and exploring.
We don't tow a vehicle, so getting around typically involves a whole bunch of walking for Leslie -- or Lyft rides -- and miles and miles of cycling for John. That all changed recently with the addition of a new folding bike for Leslie to ride.
Biking 'feels like freedom'
Leslie writes: I feel like a kid again. No, really, where are my training wheels?
When I climbed onto my new folding bike, it felt wobbly as I tried to avoid crashing. They say you never forget how to ride a bike, but it had been years since I last pedaled and I felt as unsteady as my 5-year-old self.
As I careened down the driveway, John yelled: "Don't forget to pedal when you shift!"
Yet, after a couple trips around the block, I started to remember why I used to love biking. It feels like freedom.
Whizzing down the path, I got swept up in a bout of nostalgia, recalling the 10-speed my father gave me when I turned 14. I rode that Huffy hundreds of miles and even got grounded for taking it on a busy road.
Many years later, when we moved to Seattle, I wimped out on the hilly streets. It was easier to walk, and I left the bike in the garage for 12 years. Now, I'm back on board.
I'm not quite ready for long road rides with the hardcore road-riding cyclist in the family, but my new Giant is handy for going short distances, especially for cruising around some sprawling campgrounds.
Walking is and will always be my favorite way to go from point A to B, detouring when something looks interesting. Over the course of two days in Charleston, I logged 15 miles on my feet, and saw so many famous places. I loved the stunning waterfront park and watching fellow tourists snap photos nearby along Rainbow Row, a block of colorful Georgian-style mansions from the 1800s. By the end of the day, though, my dogs were barked.
Biking gives me a new transportation option -- and will make getting around a lot easier.
Golf-cart crazy
Speaking of getting around, we've just wrapped up our tour of South Carolina, and golf carts are everywhere. Not just on the links, but on city streets and campgrounds. It's truly a thing.
People seem to get a kick out of driving carts, especially the teens we witnessed zooming around the ginormous Ocean Lake Family Campground in Myrtle Beach. There's even a fairly long list of rules that prohibit cruising and "loud and lewd" music.
Maybe they should add a rule about limiting the number of riders because we spotted at least one cart with eight girls on board, all singing along to Cardi B. Cute, but please don't run us over, y'all.
Canada recommendations
Last week, we asked for recommendations on where to go in Eastern Canada. We heard from reader Anita Eaton, who gave rave reviews to Quebec, New Brunswick, Prince Edward Island and Nova Scotia, which she visited in a trailer years ago.
"Your travels bring back so many fond memories. Wonderful times with some mishaps along the way but even those turned into interesting encounters," Eaton writes. "People who stay in hotels for all their travels miss half the fun!"
We also heard from reader Howard Braham who says we should visit ... "Ottawa!! I was there in winter, magnificent; locals told me spring-summer will knock your sox off."
Thanks Anita and Howard!
---
---