Why Mt. Rainier ranks high as a wonderful destination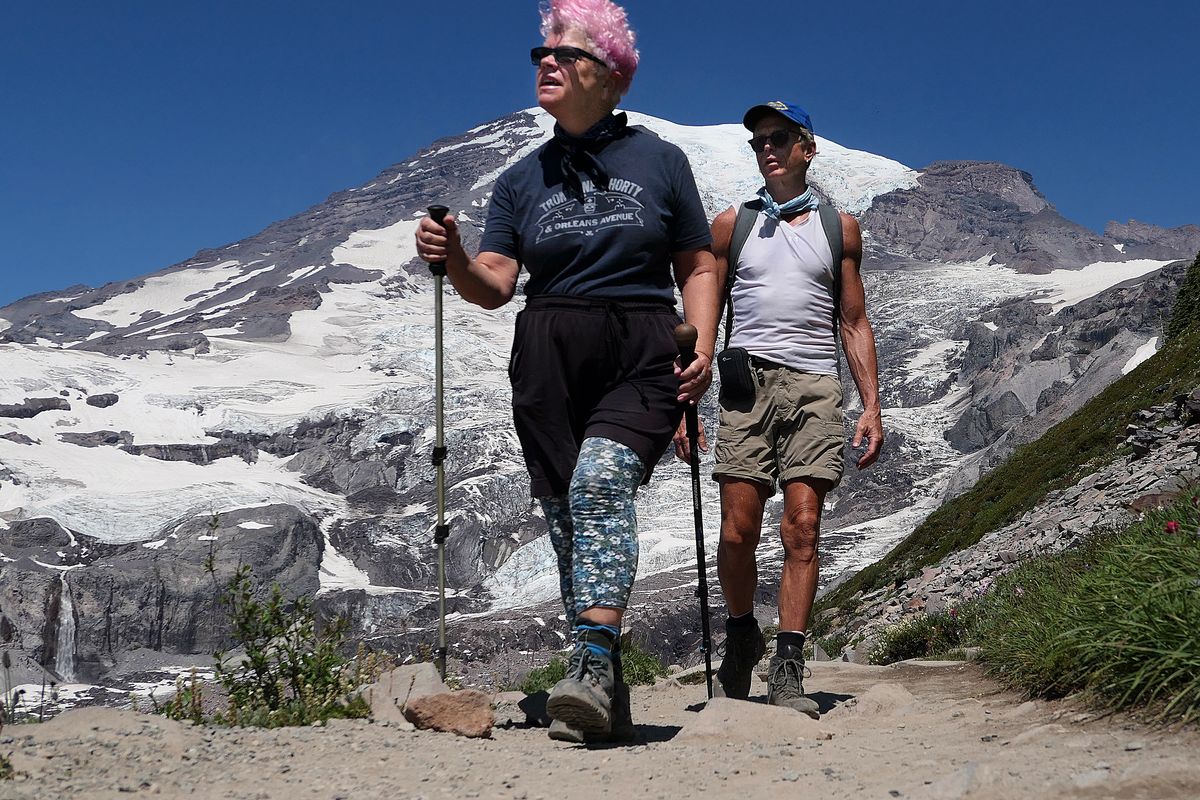 PARADISE – Sometimes your favorite place is hiding in plain sight.
That's the case with Mount Rainier National Park. In all the traveling we've done in the last year, we've been to gorgeous national parks such as Arches, the Grand Canyon and Death Valley. Through it all, we still love Rainier best of all.
Maybe we love it because we see it so often, a 14,411-foot force of nature towering over the state. Maybe we love it for all the fantastic recreation it provides. Or maybe we love it simply because it's beautiful.
No matter – you owe it to yourself to camp in this spectacular place.
We recently stayed at Cougar Rock near Longmire in our 23-foot Thor Gemini, and it confirmed for us how truly special Rainier is. Even in the vacation-crazy days of August, we had a wonderful camping and hiking experience.
On the trails near Paradise on the mountain's south side, you're immediately struck by Rainier's immensity. The six-mile Skyline Trail takes you high onto the mountain's southern flank, yet oddly, the higher you climb, the smaller you feel.
It's a beautiful hike, snaking through wildflowers, alpine meadows and then finally onto Panorama Point, the sound of intermittent rockfall filling the air, reminding you that this mountain is alive and constantly changing.
If you visit in summer, you will share your views with hundreds of other hikers. You may get tired of the conga lines, and if so, other fantastic trails nearby are much less traveled: Comet Falls, Paradise Glacier and Pinnacle Peak, to name a few.
The Cougar Rock Campground is exceptional -- our favorite at the park. No hookups are available, but plenty of sites accommodate RVs. We even managed to score a pull-through (at just $10 with an America the Beautiful Senior Pass) in a first-come, first-served loop. Reserved sites also are available.
Other campgrounds surround Rainier. White River sits on Rainier's northeast side, and Ohanapecosh on the southeast side. Of the two, White River offers better hiking, with the Glacier Basin Trail leaving right from campground. At nearby Sunrise, the Burroughs Mountain Trail is fantastic, bringing you to nearly 8,000 feet on Rainier's shoulder.
If you're hoping to get to Rainier this year, the clock is ticking. Sunrise typically closes in late September, as do the campgrounds. Check the Mount Rainier website for the latest conditions at nps.gov/mora.
L.C. grad goes vanlife
Scott Watson, a 1983 graduate of Lewis and Clark High School, has jumped into the vanlife world full time.
He's traveling the country in a 2019 Winnebago Travato 59GL, working remotely for his day job at Lextech Global Services in Chicago. Last week, he returned to Spokane to visit friends and family and even scored his first Big R burger in a while from Ron's Drive In.
Watson, 54, is hoping to turn his travels into his full-time gig through a website and YouTube channel, Go Small. Live Large! So far, he has 3,000 subscribers with his videos on vanlife, offering tips, tricks and travel observations.
"I'm having a ball doing this," he said. When he's not staying in RV parks, he's often stealth camping on city streets in the towns he visits. His hope is to continue traveling in North America and eventually see Europe from a van.
This week's Going Mobile question
What's the best RV park in the Spokane-Coeur d'Alene area? We'd love to hear your suggestions – email us at goingmobile@spokesman.com and we'll pass them along next week.
---
---