Sunsets are what we most enjoy about our journeys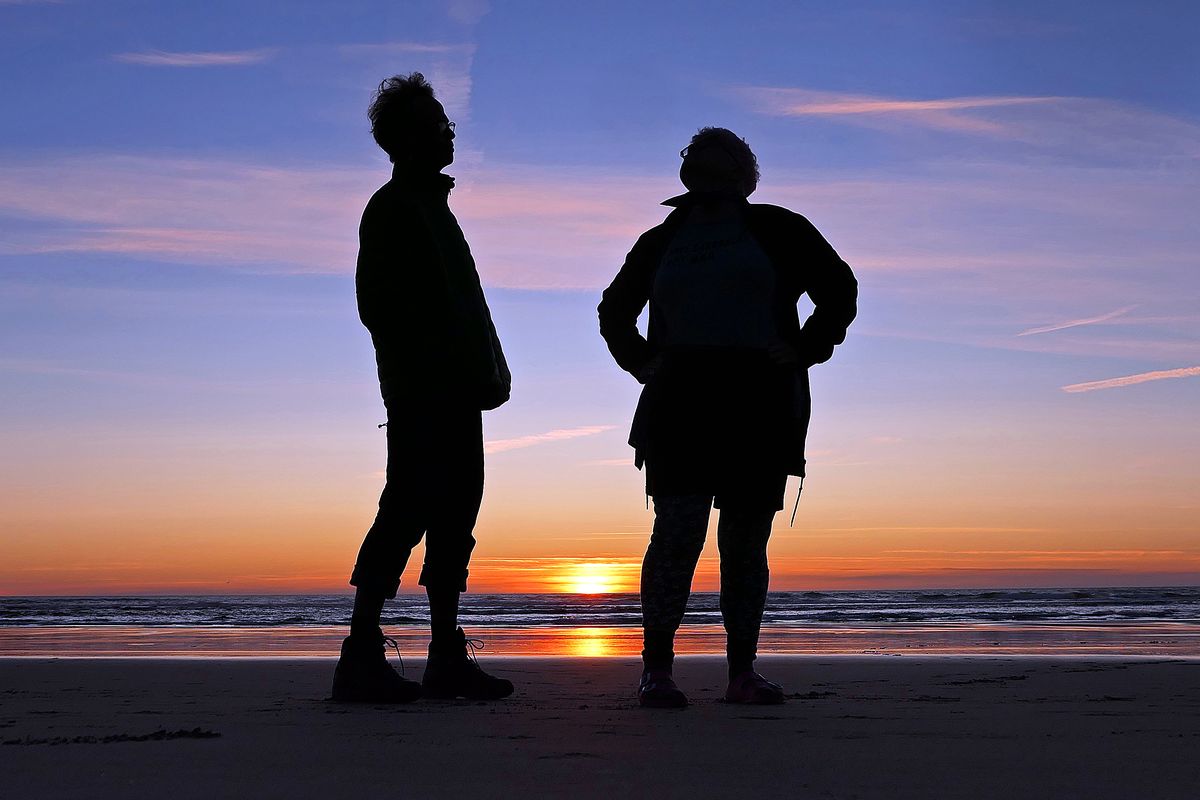 We have many fantastic reasons to travel down the West Coast in our RV, perhaps the best one of all can be summed up in two words: the sunsets.
It sounds frivolous — isn't a sunset just another moment during a day on the road? But of course, they're much more than that, taking on special meaning as they reaffirm for us what makes RV travel so wonderful.
Over the last year, we've seen sunsets from every angle imaginable — the Grand Canyon, the high desert of New Mexico, the bayous of Louisiana — but you really can't beat the West Coast for a sunset.
We can safely say that, having traveled more than 1,000 miles down the coast from Washington this fall. Nothing tops seeing that big orange globe drop into the ocean.
And yes, the green flash is real — we've seen it!
No offense to our friends on the East Coast, but it's just not the same there. As we traveled last spring along the beaches of North Carolina, we thoroughly enjoyed our exploration except for one thing: Sunset felt like an anticlimax, turning the sky pink behind our heads as we gazed out at the cold gray sea.
Now as we head along the Southern California coast, we're taking every opportunity to enjoy them. Besides being beautiful, sunsets serve as a reset. No matter how bad our day is going, a sunset reminds us of how lucky we are to be on this adventure.
Some of our favorites: Our first sunset from Benson Beach at Cape Disappointment State Park in Washington, our sunset dinner overlooking the coast at Beachside State Recreation Site near Waldport, Ore., and a multitude of beautiful sunsets in California, from Gold Bluffs Beach in Redwood National and State Park to Half Moon Bay near San Francisco.
While they're all different, they all have one thing in common: They take you out of the vehicle and into the natural world, no matter how cold or raw the day might be.
Sometimes, the last thing you want to do is to step outside into the cold. But being in beautiful places with the outdoors as our living room is why we chose this route. A sunset, along with a glass of wine and a roaring fire, is the perfect end to the day.
RV show season
Thinking of getting in the RV game, or perhaps upgrading? Mark these dates on your 2020 calendar: Jan. 16-20 for the National RV Show at the Spokane Convention Center and Jan. 23-26 for the Inland Northwest RV Show at the Spokane County Fair and Expo Center. And if you feel like traveling, the Seattle RV Show is Feb. 6-9 at CenturyLink Field Event Center.
What's hot? Besides the ubiquitous Sprinter vans, we're seeing a lot of small trailers on the road as we travel south. Of course, a lot of the appeal of RV shows is to check out what you can't afford, and there also will be plenty of eye candy, from massive class As to loaded fifth wheels.
This week's Going Mobile question
We just bought some Christmas lights to spruce up our 2017 Thor Gemini for the holidays. How do you like to decorate your RV for Christmas? Send us a photo and tell us all about it at goingmobile@spokesman.com.
---
---