Fri., Feb. 1, 2019
Disneyland can be a great draw for RVers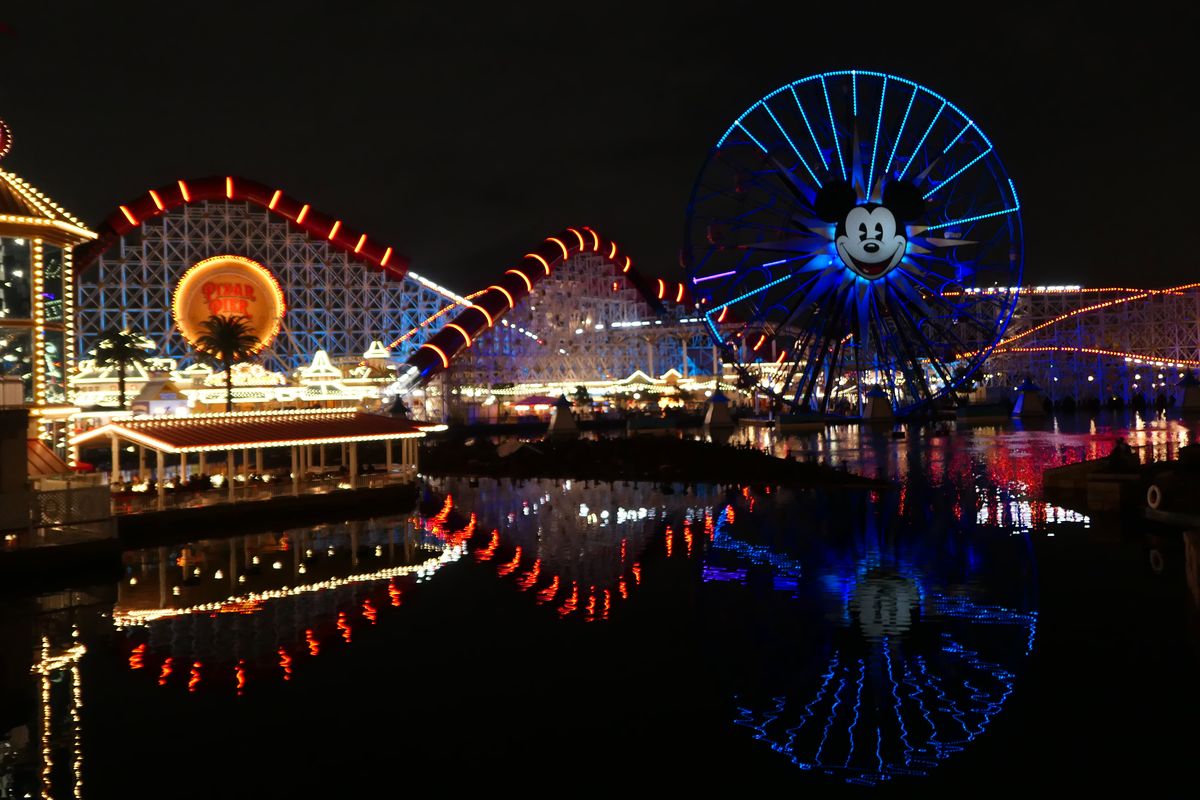 The Pixar Pier at Disney California Adventure Park is a majestic sight at night. (John Nelson)
ANAHEIM -- It was early morning, and the excitement was palpable.
Mom had on her Minnie Mouse skirt. Daughters No. 1 and No. 2 had on their glammed-out Mickey Mouse ears. Dad wore his black Goofy T-shirt.
With a skip in their steps, off they went, through the gates of Anaheim Harbor RV Park to Disneyland, less than a mile away.
We watched this happy scene play out during our visit -- a scene that occurs again and again for RVing families staying near the happiest place on earth.
"We are the closest RV park to Disneyland," said Kristin Jordan, manager at Anaheim Harbor. "That's the biggest reason our customers come here."
Sure, you can stay in a hotel at Disneyland, but staying in your RV has many advantages. For one thing, it's definitely more affordable -- we paid just $50 for our full hookup.
For another, it's nice to have your tiny home on wheels just down the road from the house that Mickey built. You'll find our review of Anaheim Harbor RV Park online at spokesman.com/blogs/going-mobile.
We visited Disneyland on a rare rainy day. That's not a bad thing -- in fact, it made the adventure even more fun.
The crowds were down, so wait times for some attractions were minimal. And the visit to favorites such as the Indiana Jones Adventure and the Jungle Cruise felt much more real as the rain fell around the surroundings.
We spent the day visiting a few old favorites. At the top of the list for us was the Matterhorn Bobsleds, a 147-foot-tall roller coaster that still delivers the thrills. Pro tip: If you're want to shorten your wait time, hop in the "singles line" and you'll likely get right on. It worked for us anyway.
Another fantastic old-school coaster is Space Mountain, hurtling through the deepest, darkest recesses of outer space.
And finally, we came to an old friend, the Pirates of the Caribbean. For John, this ride has some history.
Before it was a movie franchise, Pirates was just a ride. And John, in his high school days, was kicked off said ride.
Yes, kicked off, and thrown out of Disneyland to boot.
One dark night near closing, with nobody around, John thought it would be great idea to jump off the floating boats that travel into the Caribbean wonderland to cavort and sing along with the pirates, then jump back in. Not a good idea.
The ride was stopped (Who knew they had security cameras back then?) and a grumpy guard dressed in a pirate suit tossed him from Disneyland.
Older and wiser now, John had a satisfying return. The pirates have been updated with a few Captain Jack Sparrow references, and it's still a highly entertaining ride.
Today, a visit to Disneyland isn't cheap -- tickets are more than $100 on most days -- but it's an amazing place. And teamed with neighboring Disney California Adventure Park and the shops and restaurants at Downtown Disney District, the visit was more than worth it for the families we saw.
We had an excellent dinner at Ralph Brennan's Jazz Kitchen and then walked through California Adventure, checking out attractions such as the Guardians of the Galaxy ride and Pixar Pier.
Then, instead heading to a cookie cutter hotel room, we returned home -- to our RV, a perfect finish to a day at Disneyland.
This week's Going Mobile question
What's your favorite memory from Disneyland or Disney World? Tell us your story via email at goingmobile@spokesman.com.
---
---