Fri., Feb. 15, 2019
When weather throws wrenches into travel plans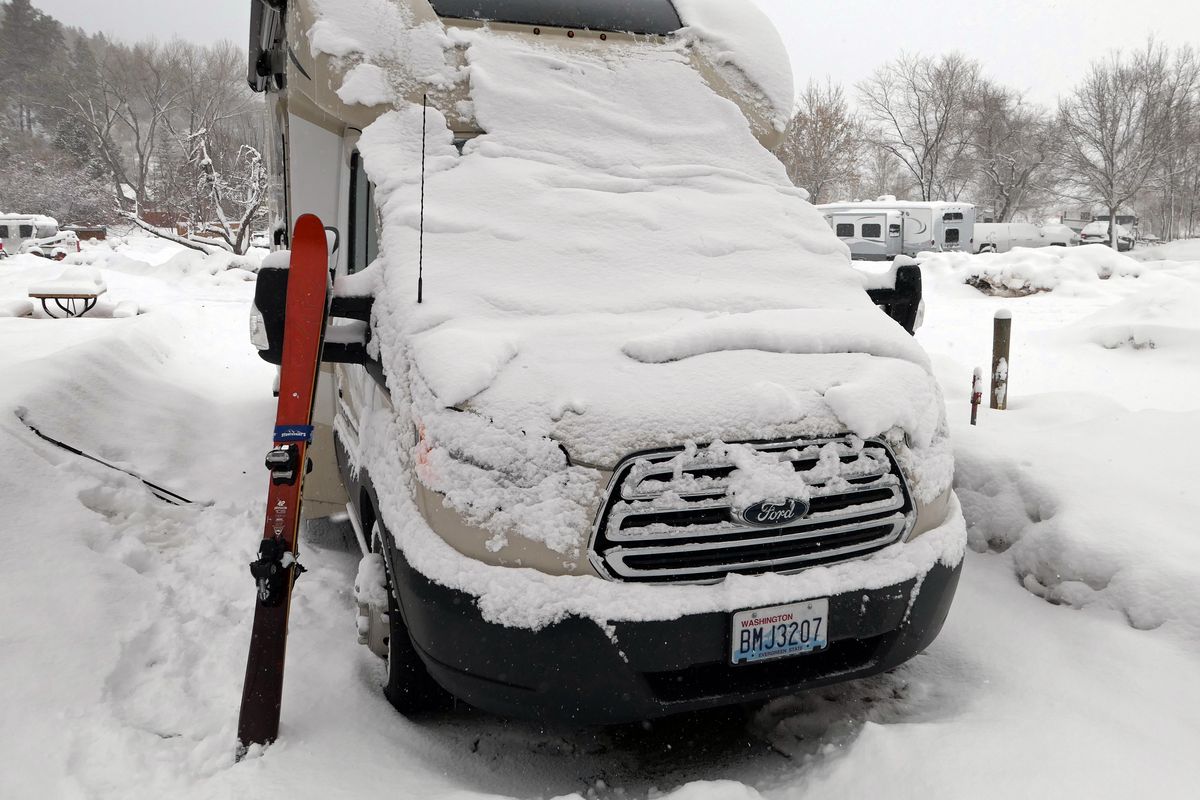 A winter storm piled up snow during a visit to Durango, Colo. (John Nelson)
It sounded good on paper. Why not take our new RV on a ski road-trip through Arizona, Colorado and New Mexico?
But in February, all kinds of things can go wrong:
Snow can pile up on top of the slideout.
Windshield washing liquid can freeze up, as can fresh-water hoses and dump-tank handles.
And your heater -- it can't keep up with the outside chill, leaving much of the living area too cold.
These are some of the things John is learning as he journeys through the snowy Central and Southern Rockies in our tiny home on wheels.
Meanwhile, Leslie is getting some winter reality of her own as she hangs out in Seattle, where cold and snow have all but shut down the Emerald City.
Back in the RV, the dead-of-winter lessons continue.
Snowy roads have been a challenge. A planned journey to Telluride, Colo., was canceled by a 12-inch dump, something John would never worry about if he was traveling in a car.
When there isn't snow, there will be mud. Arriving at the Happy Camper RV Park in Pagosa Springs, Colo., John was indeed happy to pull in off the road. It was time to plug in -- but stepping out of the RV to get that cherished electricity was like falling into a Woodstock-like mud pit -- without the beautiful hippies -- at 35 degrees.
Ah, so now we finally get it: This is why so many snowbirds hang out in Phoenix, San Diego and Yuma.
Not that the trip has been all bad. Winter travel has introduced John to some interesting places such as Black Bart's RV Park in Flagstaff, where an on-site steakhouse has waiters who sing for your entertainment. (Read the review online at spokesman.com/blogs/going-mobile).
And there have been some fun ski adventures at Arizona Snowbowl, Purgatory and Wolf Creek.
After a week on the road, he's also finding a lot to like about off-season travel. Places like the Grand Canyon and Arches National Park are overrun most of the year, but not in winter. These natural wonders are your private playground if you can make the trip in winter.
And all in all, our Class C handles pretty well on snowy roads, as long as they aren't too steep. Hmmm … where can you find flat roads in the Colorado Rockies? That might be another hard lesson to learn as the winter RV experiment continues.
Gulf Coast recommendation
Last week we asked readers to tell us where to stay in the Southeastern United States. We heard from Joe Mann, who wrote this:
"Out of a Pensacola stay on US 98 eastbound. Stops in Destin, Appalachicola, Panama City, Mexico Beach, Cape San Blas, Carabelle, are all worth your time. Lots of RV parks along that route."
Thanks for the tip, Joe -- we'll check it out!
Disneyland memory
We heard from another reader, Robert Hickey, after we we wrote about visiting Disneyland. His tale goes back to the 1960s, when Disneyland would close to the public, then reopen so members of the Navy and their families could explore the park.
As Hickey and his wife were entering, they saw "a tremendous flash of fire inside the park. It lasted about 30 seconds and then was dark," he writes. Later, Hickey learned that the Swiss Family Robinson Treehouse display had caught fire.
"In a sense, this was a miracle that no one was in the park when this happened," he concludes.
This week's Going Mobile Question
What's the most radical drive winter trip you've survived in an RV? What did you learn? We'd love to hear your story -- send email responses to goingmobile@spokesman.com.
---
---