Fri., June 7, 2019
Good times, good tunes await RVers in George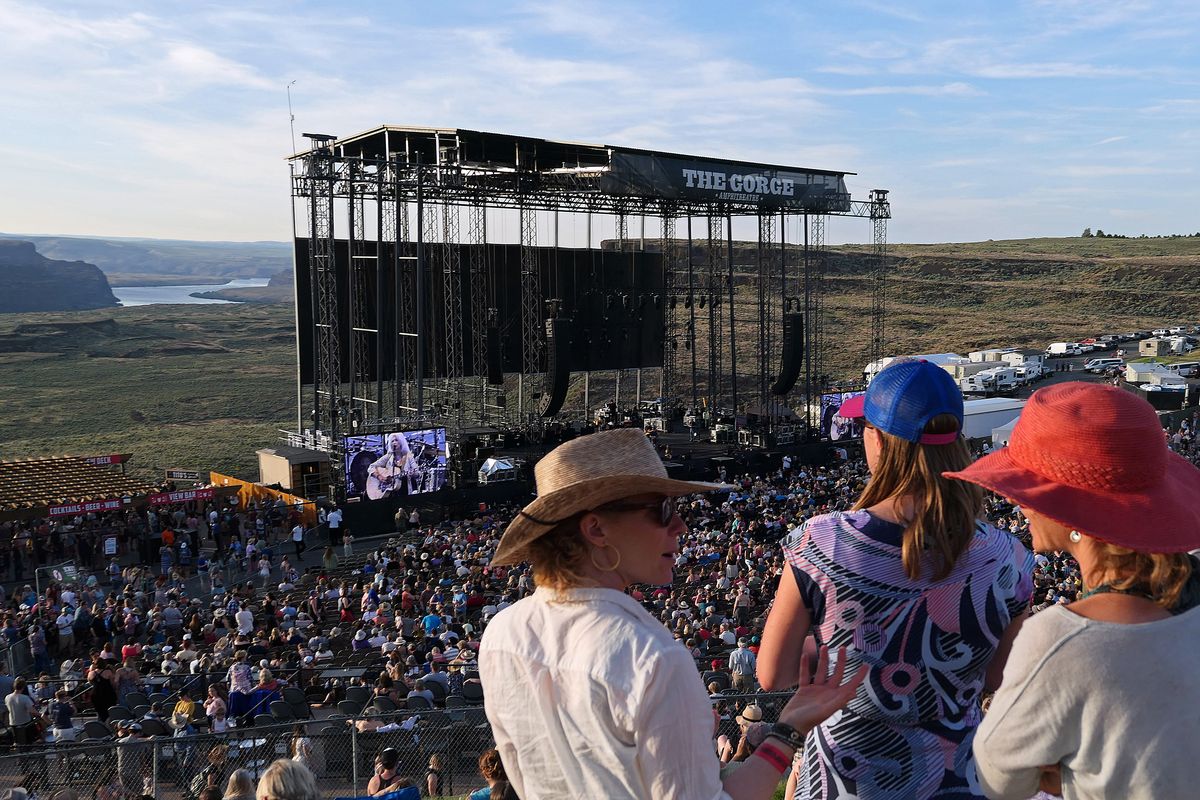 The Gorge Amphitheatre overlooks the Columbia River in Central Washington. (John Nelson)
Everyone loves a good camp sing-along.
And what better place to do it than the Gorge Amphitheatre, where we saw the incredible Brandi Carlile last weekend.
The concert -- which also featured Neko Case and Emmylou Harris -- had the feel of a huge family reunion, with 20,000 people happily coming together to join in with the performers, inspired by one of the most beautiful settings imaginable.
Most people think of RVs as comfortable shelters you can take to beautiful locations, such as our national parks. That's certainly true, but RVs also prove exceptionally useful at major events, where you're thrown together in close quarters with thousands of other people.
After the fun of hanging out in our RV on Willie Nelson's ranch for his Luck Reunion festival last March, we decided the Brandi Carlile show offered another incredible chance to soak in the good vibes with an ardent fan base.
Camping doesn't come cheap at the Gorge. Tickets range from $99 per vehicle for two nights at no-frills standard sites to $599 per vehicle for "Easy Camping" in tents and outfitted by the Gorge.
What's it like to camp at a Gorge concert? After enjoying the Brandi Carlile weekend, we have some advice.
Build in some wine time: We arrived at midday on Friday, a day before the concert, so we could check out Cave B Estate Winery, located next to the Gorge concert venue. We had an excellent lunch at Tendrils Restaurant at the Cave B Inn & Spa Resort, a separate operation, followed by wine tasting on the beautiful grounds at the winery. We loved winemaker Freddy Arredondo's whites, which were refreshing on a hot spring afternoon, and we also enjoyed listening to the music of Boise's Blaze & Kelly, who performed on the estate grounds on Friday night.
Terrace camping advantages: We scored passes to the Terrace area ($549 for two nights), a location that offers the best views, the roomiest sites and extras like fresh coffee and doughnuts in the morning. You also have flush toilets and showers, although no RV hookups are available. The Terrace has a shuttle service that drops you off at its own Gorge entrance gate, shortening the time it takes to get into the venue on concert day.
Alternatives to amphitheatre camping: You don't have to stay on the grounds of the Gorge to attend a concert. Wildhorse Campground is a commercial RV park nearby that offers shuttles to the venue. The Park at Cave B offers RV camping on the grounds of the winery, a short walk to the amphitheatre and a much better choice if you don't want to hang out in the middle of a party. And Crescent Bar on the Columbia River is a short drive away.
Boondocking: If you don't want to pay to camp, that's also possible. Nearby Frenchman Coulee in Columbia Basin Wildlife Area offers primitive sites that are popular with rock climbers. If you're boondocking, a high-clearance vehicle comes in handy on this rugged landscape.
Get in the festival spirit: For some people, the non-stop party of a two-night campout can feel overwhelming. Thankfully, our RV offered a comfortable refuge from the late-night noise. And sure, we also did plenty of partying ourselves, meeting interesting Brandi fans from all over.
Another round of Brandi
We have lots of photos from the Brandi Carlile weekend on our blog. Go to: spokesman.com/blogs/going-mobile, and you'll find even more at instagram.com/ourgrandtour.
---
---