Mon., March 4, 2019
RV Park Review: Riverbend Hot Springs is outstanding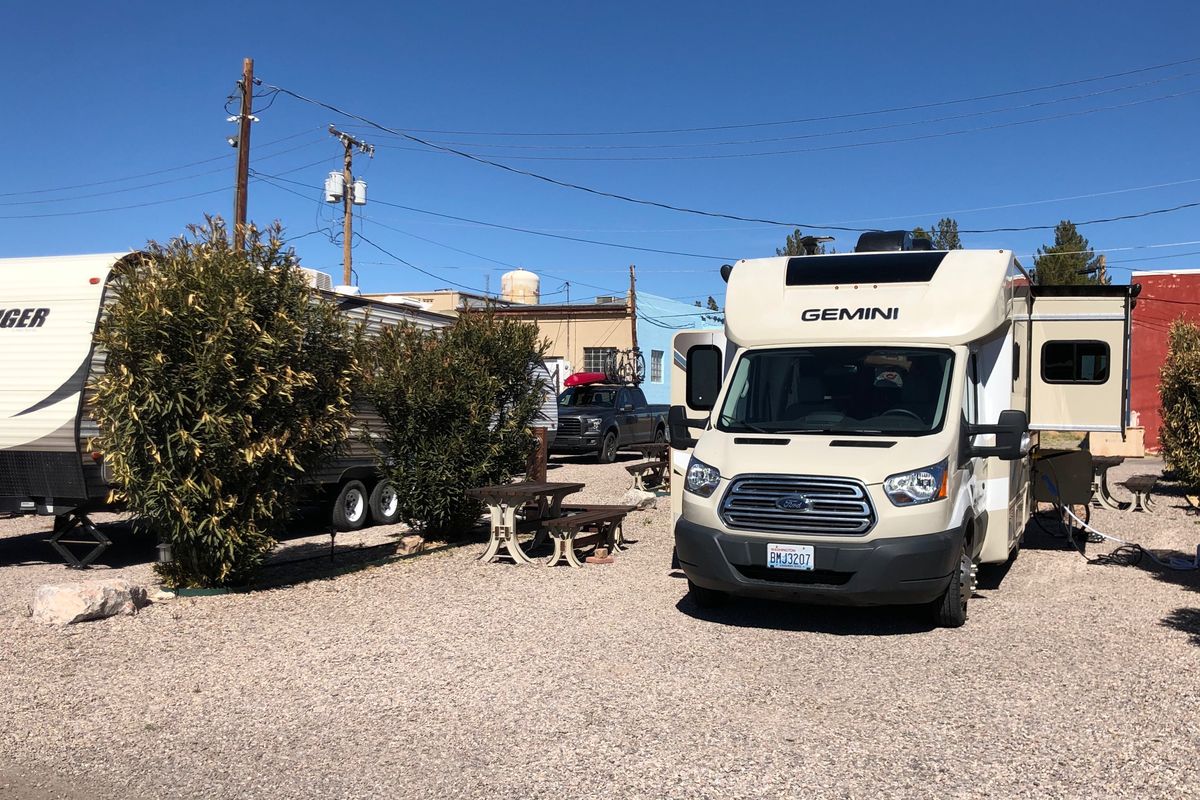 There are just six sites at Riverbend Hot Springs RV park in Truth or Consequences, New Mexico, and it's a popular place, so reservations are essential. (Leslie Kelly)
On Our Grand Tour through New Mexico -- the second swing through the Land of Enchantment since we started this adventure -- we've been having some wonderful experiences. A super relaxing stay at the Riverbend Hot Springs in Truth or Consequences was one of the highlights. The RV park there is tiny, with just six spots, and it's not fancy, but it offers something extra special.
The biggest perk in staying here is unlimited access to the exceptional hot springs, located on the banks of the Rio Grande River. This series of pools are heated to various temperatures, catering to those who like it hot, and those who do not. I'm firmly in the first camp, and John is in the "get-me-out-of-here" frame of mind when it comes to soaking. Fortunately, he was able to find his fun by exploring the beautiful area on his bike.
Back in our little tiny home on wheels, here's what make this RV park experience so satisfying:
Excellent, high-speed WiFi
Level spots on smooth rock surface
Access to the Weber gas grill in the hot springs courtyard, which also had tables and chairs if you wanted to dine there
Tall stands of vegetation between sites, which offered a bit of privacy
Picnic tables
Sites large enough to accommodate Class A vehicles
It's worth noting that these sites are on a fairly busy road, so if you are a light sleeper, you should probably request a spot in the back. We also loved how this place was well-situated, so it was easy to walk to the grocery store or cafe or the brewery downtown, or take a three-mile hike up into some pretty country on the hot springs trail. Because Riverbend Hot Springs is so popular, reservations are essential.
Riverbend also did something no other place we've stayed has done: The general manager sent a followup thanks-for-staying email, asking for any feedback. "We are always remodeling and expanding our services, so please email me back and let me know if you have any feedback that would help us improve our place," wrote Jake Foerstner. Yes, it's a form letter, but it's still a very cool move, customer service-wise.
Read more RV park reviews:
---
---