Fri., March 22, 2019
Why RVers love Willie Nelson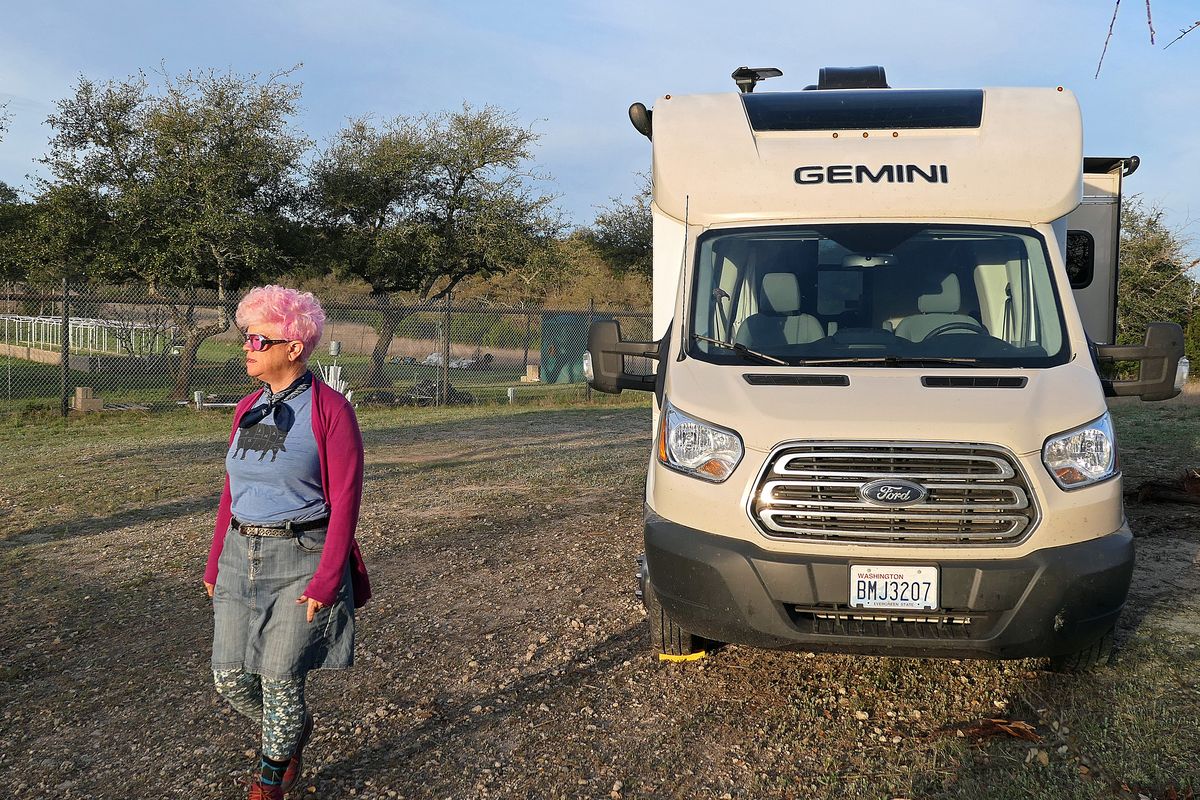 Willie Nelson's ranch near Austin was home for two days while Going Mobile attended the Luck Reunion. (John Nelson )
Willie Nelson is the patron saint of the RV traveler.
After all, Willie sings "On the Road Again," one of the best songs ever written for RV people. And chances are you've sung along to "Whiskey River" or "Mamas, Don't Let Your Babies Grow Up To Be Cowboys" as you headed down the highway a time or two yourself.
But have you ever camped out on his ranch?
We had that once-in-a-lifetime opportunity recently when we attended Willie's Luck Reunion, a day-long music festival near Austin last week.
We could hardly believe it ourselves when we pulled onto the Luck Ranch property.
"Yeah, just park over next to Willie's gate," said the laid-back parking attendant when we arrived on the property for the Chefs' Potluck, a benefit for Farm Aid that Willie hosts every year. We covered that amazing event, then heard Willie play an exclusive concert for about 300 lucky folks after the feast.
The next day, we attended the Luck Reunion for an incredible day of music on six stages. This year's lineup featured soul legend Mavis Staples and country rockers Steve Earle and Hayes Carll to name just a few. The end of the night was capped by Willie and family, with his sister Bobbie on piano and sons Lukas and Micah playing in the band.
We heard so many fantastic acts and were blown away by the good vibes we encountered throughout the day.
"There's just so much love here," said Alan Verhines, a music fan from Indianapolis who was buying merchandise during the event. Verhines has been attending the South by Southwest Festival in Austin for 27 years, but likes the Luck Reunion event even better. (Luck Reunion takes place during SXSW, but has no affiliation with it. Tickets are limited to 3,000, and are extremely hard to score on a lottery system.)
Perhaps best of all, we were able to enjoy the festival while staying on the property for two nights -- an RV camper's dream -- thanks to the generosity of the festival organizers.
Yes, you can definitely call us lucky after our Luck Ranch experience. Check out our extensive slideshow and story from the day at spokesman.com/blogs/goingmobile.
Rendezvous at RendezVan
It has been a great ski season for Inland Northwest. You can keep it going with an RV twist at "RendezVan," a campout and party April 17-21 at Mt. Bachelor Resort near Bend.
Besides skiing and riding, you'll hear a full lineup of music and nosh on food and beer offerings from the Bend area. Camping for the full four-night package is $89.
Lone Star RV reviews
We've enjoyed our swing through Texas. Check out our RV reviews from the Lone Star state and elsewhere on our blog at spokesman.com/blogs/goingmobile.
This week's Going Mobile question
We're trying to come up with the ultimate road playlist. Besides Willie Nelson, which artists provide your favorite road music? Email your suggestions to goingmobile@spokesman.com.
---
---