Fri., March 29, 2019
Fun RV trips made better by tasty treats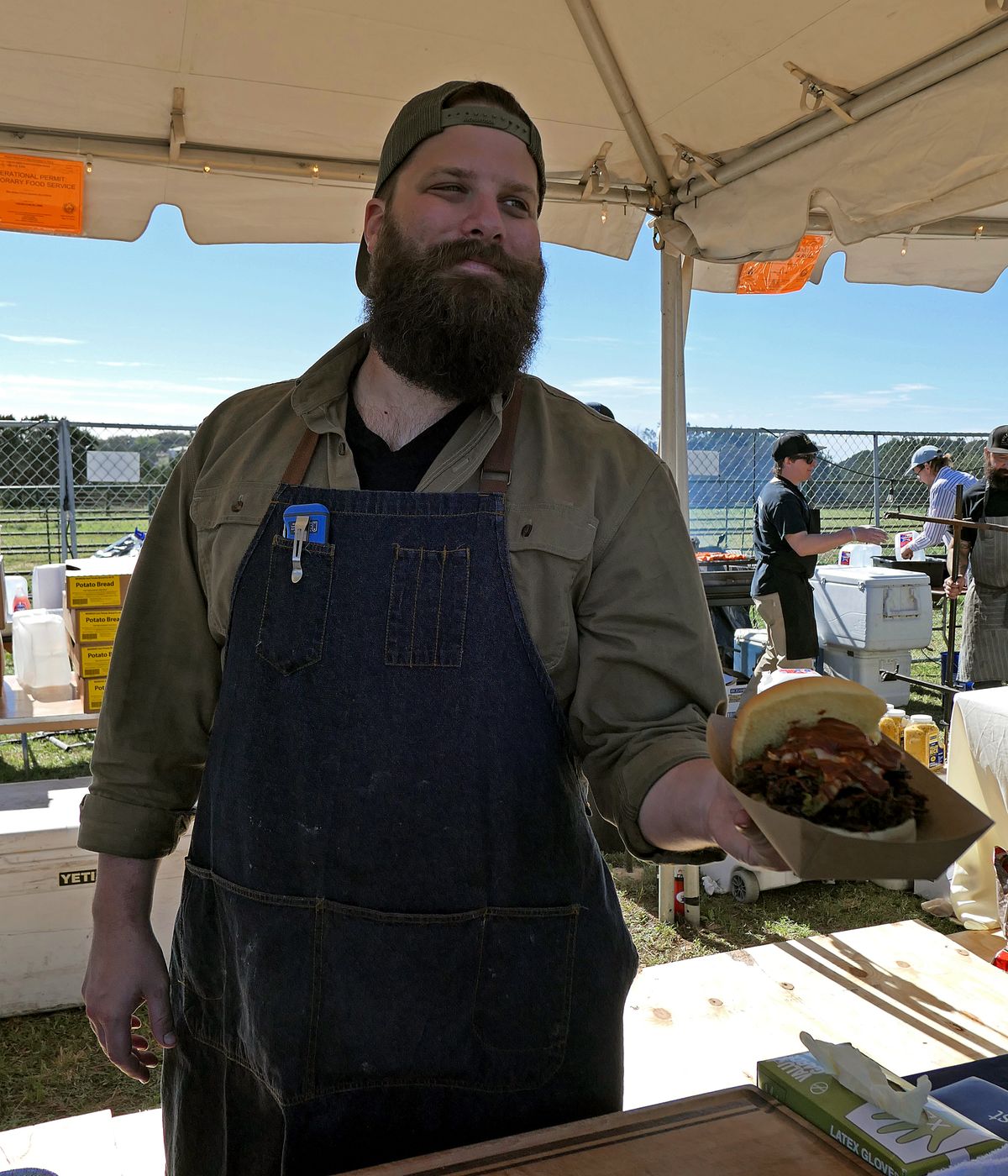 The smoky beef sandwich from LeRoy and Lewis in Austin was the star of the food offerings at the Luck Reunion festival near Austin. (John Nelson)
One of the most fulfilling pleasures of life on the road is making delicious discoveries along the way.
We've had so many incredible adventures on the food front, from the steaming pile of spicy crawfish in Galveston, to a tasty batch of biscuits baked over the fire during our action-packed stay in Big Bend National Park. Here are some of our recent greatest eating hits. Be sure and check our blog on Spokesman.com for recipes and more photos.
Mudbugs: It's crawfish season down south, and we celebrated the opening while staying on the beach in Galveston. But the motherlode of these mini-lobsters can be found in Cajun country, where we enjoyed them in soups, sauces and fried on top of a Caesar. Dive into the boiled version this spicy finger food and do like the locals: Pinch the tails, and suck the head.
Colcannon Hash: For St. Patrick's Day in Galveston, we had the classic Irish mashed potato and cabbage dish with a Northwest twist. Leslie fried the Colcannon and served seared wild Alaska sockeye salmon on top.
Farm-to-Table Barbecue: The team from LeRoy and Lewis from Austin was at the Luck Reunion, and we were blown away by the smoky beef sandwich they served. The big difference is the quality of meat used, with the team working directly with local ranchers. The house-made kimchi on top of the tender meat was a brilliant touch.
CBD oil-infused Ice Cream: We got a kick out of a couple scoops of Couch Potato, a vegan ice cream served up at VanLeeuwen, a Brooklyn-based artisan ice cream mini-chain with locations in Los Angeles. The seasonal special was made using a base of potato chips embellished by chocolate-covered pretzels, swirls of caramel, roasted peanuts and mini-marshmallows. OMG!
Mollettes: Maybe you've jumped on the avocado toast trend, but we experienced something that was much more satisfying at L & J Cafe, a famous Mexican restaurant in El Paso. Molletes are refried beans slathered onto a French roll, topped with cheese and warmed until gooey. It worked perfectly alongside a plate of Huevos Divorciados, eggs with red and green sauce.
Toasty Biscuits: Before searing steaks over a charcoal fire, we warmed up our beloved Lodge Cook-It-All and did some breakfast baking for the next morning. These beauties needed to be flipped half-way through the 20-minute cooking, but that worked out well because we liked the brown finish of the top and bottom when served the next morning on an open-faced egg salad sandwich gobbled after a hike.
Everything in the Bayou State: Louisiana has to be the most flat-out fantastic food state we've visited on this epic road trip. Exceptional shrimp po boys and smoked duck gumbo at Prejean's in Lafayette were accompanied by a trio playing Zydeco. And dinner at Blue Dog Cafe was truly memorable, from the crispy boudin sausage balls appetizer to the butter-tender pork, and blue cornmeal skillet cornbread, dinner was outstanding. We loved the friendly service and the live music in the bar and the artwork of George Rodrigue, father of the restaurant owners, Andre and Jacques, who operate the Blue Dog along with George's long-time friend Steve Santillo.
---
---