Fri., May 17, 2019
Endless seasons a fun part of RV living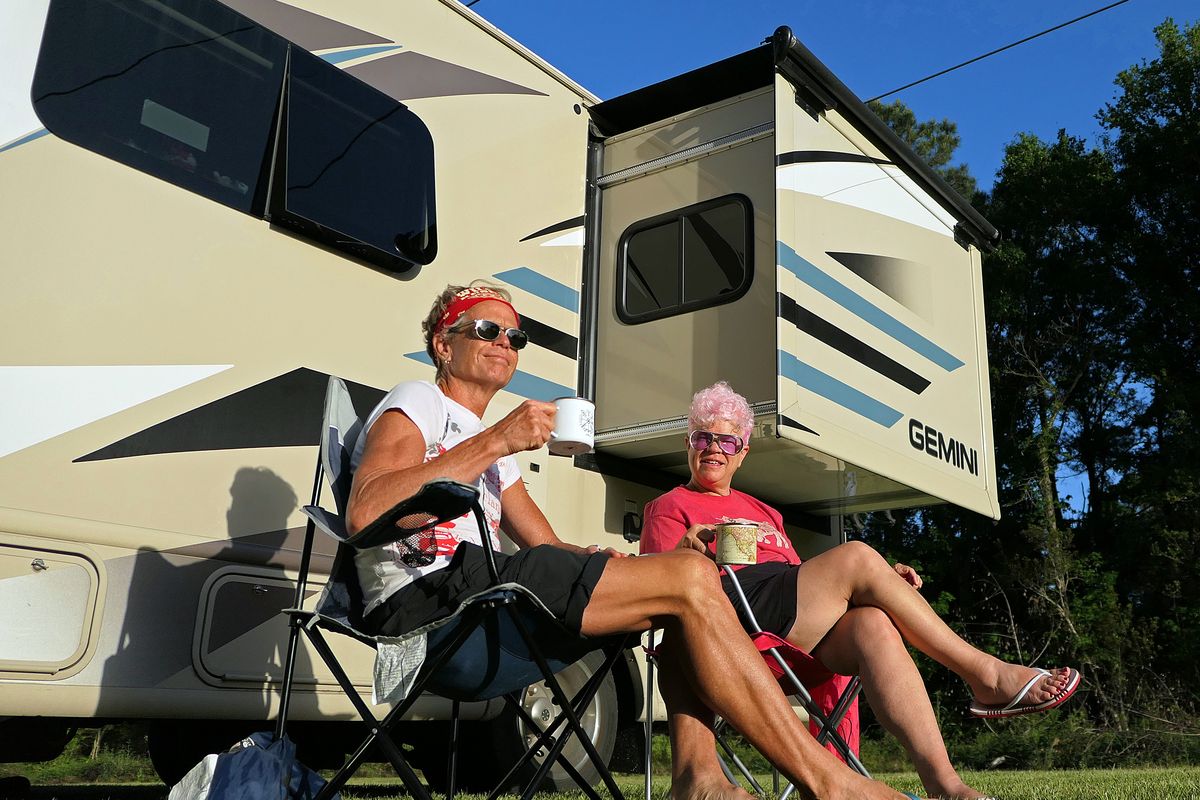 John Nelson and Leslie Kelly enjoy summer-like weather in April at James Island County Park near Charleston, S.C. (Leslie Kelly)
Besides offering a fantastic means to see the country, RVs have magical powers.
You don't believe us? How else can you explain the RV's amazing ability to change the seasons?
We had the longest fall ever, thanks to our RV. Our journey started in September, and as we traveled through the West, we kept reliving the glories of autumn with spectacular colors from Ketchum, Idaho, to the Grand Canyon.
While the rest of the country was suffering through the snow and cold of January -- like magic -- our RV brought us summer-like temperatures in Palm Springs and on the Southern California coast. And in April, it felt like summer again on the Gulf Coast, with barefoot days on the beach.
Now we're into the wonders of spring, something we keep seeing again and again across the country.
For us, spring started months ago in New Mexico and Texas, where cactus and wildflowers bloomed. Then as we traveled north along the Atlantic Coast, we kept relieving emerging spring, with chirping birds, budding trees and fresh green growth.
Those fresh spring flavors continued through the Shenandoah Valley of Virginia and the flooding Mississippi region of Illinois and Iowa.
The RV even treated us to a dose of winter again in South Dakota. A May storm dropped snow and 25-degree temperatures upon us in the Black Hills, and it remained frigid as we traveled into Yellowstone National Park.
These seasonal shape-shifts are one of the wonderful things about RV travel, our tiny home on wheels offering a pathway to great weather when we can find it and when we can't, shelter from the storms.
Early season Yellowstone
While Spokane was getting its first taste of spring, we hit Yellowstone with sub-freezing temps and snow. Only two campgrounds were open and most of the roads were still closed.
That didn't matter. In many ways, being in Yellowstone in the early season was the best way to see the park.
The top attractions such as Old Faithful and Geyser Basin were wonderfully uncrowded. And when we pulled into often-busy Madison Campground, we had no trouble scoring a spot.
After a couple of chilly days, we warmed up in the glorious waters of Chico Hot Springs, Mont. More than being way wonderful place to stay and eat, Chico reminded us that we're almost home.
After nearly nine months on the road, it's good to be back.
More on South Dakota
After our last column, reader Howard Braham chimed in with another South Dakota recommendation, Wind Cave National Park near Custer State Park.
Wind Cave has the nation's second largest herd of genetically pure bison. "It's a must see for animal lovers and history buffs," Howard writes.
If you're heading to San Diego anytime soon, Howard has an under-the-radar tip for you: "Anza- Borrego Desert State Park after a good spell of early spring rain." We'll check out next year, Howard.
This week's Going Mobile question
As we head toward summer, where do you go to magically change the season in your RV? What coastal getaways or mountain destinations do you visit to escape the heat? Share your recommendations with us at goingmobile@spokesman.com and we'll include them in the next column.
---
---