Fri., May 31, 2019
Putting together a must-see list for NW sights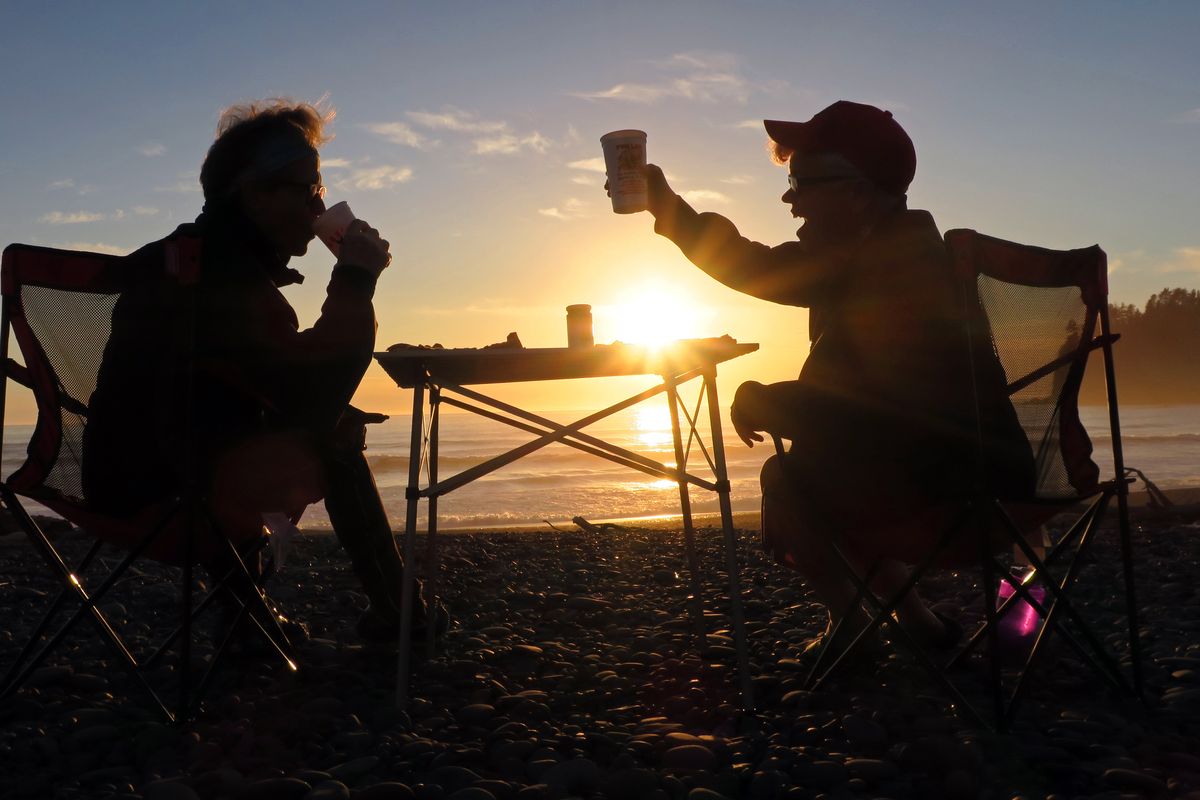 The sun sets over the Washington coast at LaPush on the Olympic Peninsula. (John Nelson )
We're back home after nine months on the road seeing America in our RV.
Time to take a break, right?
Not on your life. If anything, traveling around the country has given us a new appreciation for the beauty of the Pacific Northwest, and we're itching to get back out there immediately.
Our summer travel wish list includes trips to the Olympic Peninsula, Vancouver Island, the Columbia Basin and the North Cascades Highway. And we'd love to get back to Mount Rainier National Park, the Long Beach Peninsula and the Oregon Coast.
So much for us. What's on your travel wish list?
We heard from a number of readers who wrote to Going Mobile with some ambitious travel plans themselves in the upcoming months.
Bob and Helen Fisher are traveling to Napa, Calif., around Father's Day, camping in the redwoods of Humboldt County along the way, a family tradition.
"Every year there seems to be one less tent and one more RV!" Bob writes. He'll also do a 200-mile bike ride out of Santa Rosa on that trip, (an event aptly named "The Terrible Two"), and the Fishers are also planning trips to Libby, Mont., and the high desert to attend the Oregon Star Party in the region's famously dark skies.
Seabury Blair Jr. is lying low for most of the summer, but plans a short trip to Bumblebee Campground on the Coeur d'Alene River in June. In the fall, Seabury is heading out for a major trip.
"We're either driving the Blue Ridge Parkway next fall, or doing a one-month tour of lakes in Montana, Wyoming and Oregon," he writes. Both trips sound great -- bravo!
Doris Butler also is staying put for the summer, but hopes to travel in the fall.
"We would like to go south for the winter and go birding in California, Arizona, New Mexico and then get to Texas and Florida someday," she writes.
Howard Braham dreams of RV travel, but it's not happening this year.
"We had a trip mapped out for May-June to Yellowstone and upper Montana. But life has gotten in the way," he writes, adding "we'll hunker down in Spokane Valley surrounded by eight grandkids." Family time sounds nice, Howard.
And reader Jennifer Ferrero is still in the fantasizing phase when it comes to RV adventures.
"We don't currently have an RV, although my parents and siblings have them. I have a dream of visiting all of the national parks in my own RV sometime," she writes. "My husband isn't quite ready to get one, but I can't wait for my little home on wheels."
Thanks for sharing. Now let's hit the road.
Are we RV people?
"Hell yeah!" That's John's conclusion in a story he wrote for The Los Angeles Times. If you have a moment, go online to read about the good, the bad and the ugly of our recent RV travels. You'll find it this way in a Google search: "John Nelson: Are we RV people?"
This week's Going Mobile question
Hey you snowbirds: Is it better to store your RV down south for winter use, or drive it home? Send your email responses to goingmobile@spokesman.com and we'll share what we learn.
---
---