Fri., Nov. 1, 2019
Brookings a lovely warm spot along Oregon's Coast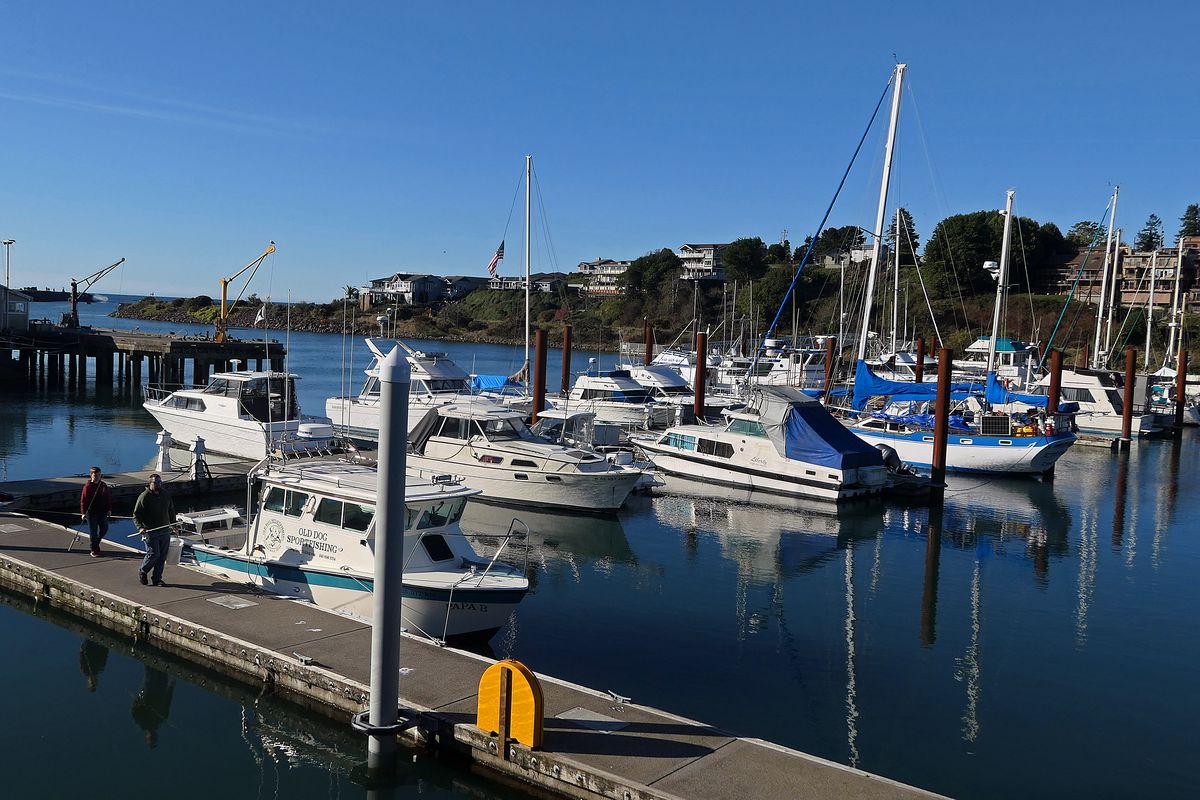 Brookings Harbor is home to recreational and commercial fishing, and also has restaurants and shops. (John Nelson)
BROOKINGS, Ore. — Excuse us for gloating, but it was 80 degrees when we pulled onto this warm stretch of sand on Oregon's southern coast.
The October temperature in Spokane at the time was a damp 50 degrees.
Welcome to Oregon's banana belt. Even though it's situated on the coast, Brookings often has the highest temperatures in the state, and that pleasant beach weather makes it attractive for RV travelers, many of whom stay for months at a time.
From the looks of things, more than a few snowbirds never leave this part of southern Oregon.
Brookings is chock full of commercial RV parks, with eight listed on ParkAdvisor.com. We tried out the Driftwood RV Park on Brookings Harbor, just a five-minute walk to the beach and a short bike ride away from a decent pizza joint (Zola's) and a fresh seafood market (Pacific Ocean Harvesters), where we scored some excellent rockfish one day.
"People come here because of the weather," said Debbie Epperson, owner of the Driftwood. Many of the residents at the Driftwood are full-time, Epperson said, and many more are staying in the park while they shop for housing in town.
"A lot of people are moving here from California," she said, noting that Brookings is just a few miles from the state line. "We also get a lot of people who come to fish. (Brookings is a favorite recreational ocean-fishing haven.) They'll stay for a month or longer every year."
Besides the commercial RV parks, Brookings also offers the fantastic Harris Beach State Park, with 65 full hookup sites and 25 sites with electric and water. Harris Beach is just a mile north of town, easily accessed on a pedestrian and bike-friendly path.
The state park was home to us for three days, where the pleasant temperatures felt more like summer than fall. Bird Island, Oregon's largest off-shore land feature, stood watch over us as we explored the rugged coastline for walks, but mostly we just hung out on the beach for picnics and sunsets.
Not a bad way to ease into November.
Cape Blanco then and now
Back in 1982, we were working at a newspaper in Colorado (yo Grand Junction Daily Sentinel — how you doin'?) and we decided to take a camping trip to the Oregon Coast. We weren't even married then — just spunky kids looking for adventure on a road trip
We bee-lined it to the West Coast, then made our way northward, where we battled wet weather and finally stopped one night at Cape Blanco State Park, the western-most point in the Continental United States.
We emerged from our tent the next day to an enchanted setting that looked like something out of "The Lord of the Rings." The skies were a brilliant blue and the hillsides emerald green, creating the kind of perfect memory that you aren't sure is real as time goes on.
It turns out Cape Blanco is every bit as perfect as we remember it.
We pulled in 37 years later to a striking headlands and beach area, spending two days hiking and gazing at the 1870-era lighthouse, crossing paths with only a few humans — mostly just seabirds and sheep. Maybe this place really is the Shire after all.
Thanks RV lifestyle. Once again, you've given us the means to rediscover a beautiful memory — and provided some sparkling new ones.
This week's Going Mobile question
Who drives the RV more, you or your partner? Why? Send us your stories at goingmobile@spokesman.com and we'll share them in the next column.
---
---