Enjoying Yosemite's great beauty means dealing with bigger crowds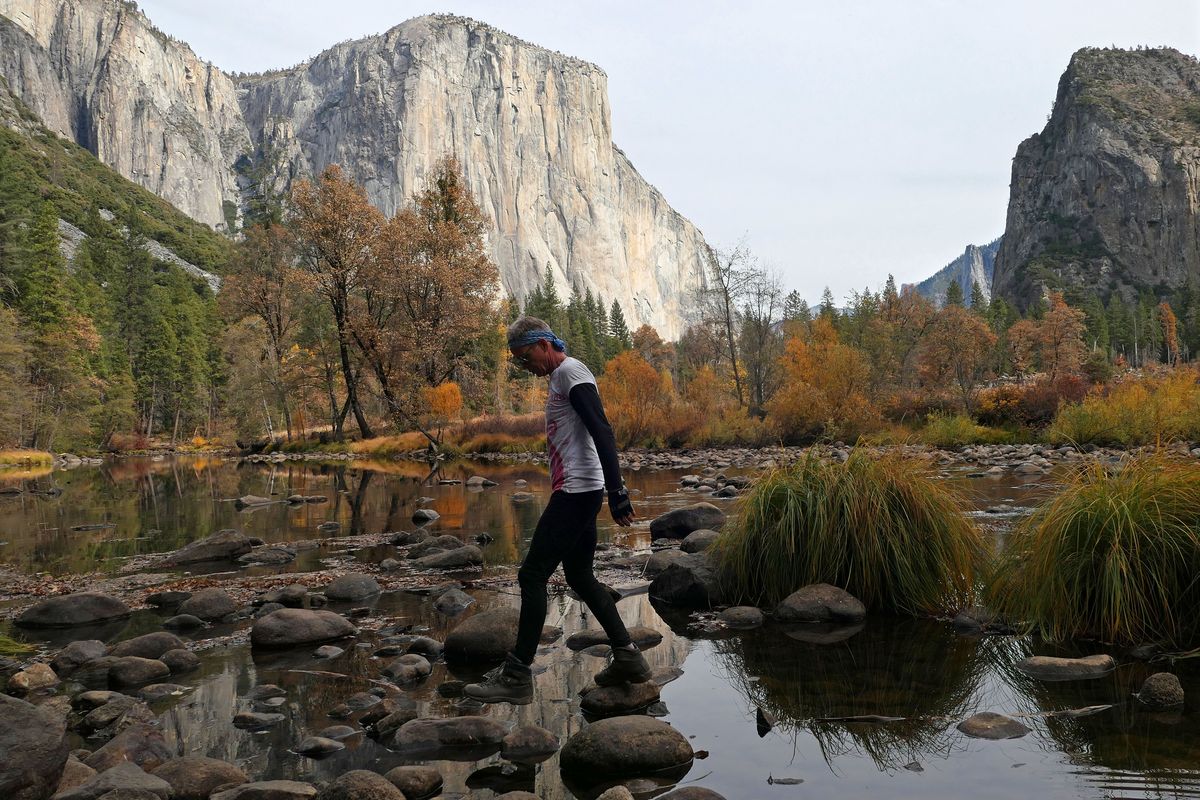 YOSEMITE VALLEY, Calif. — We're huge fans of America's national parks, but Yosemite will never make our favorites list.
It's impossible not to be impressed by Yosemite's dramatic granite faces, made famous by photographer Ansel Adams. The problem is that 4 million people a year also find these striking rocks impressive, so visiting Yosemite Valley comes with a huge caveat.
Sure, it's beautiful but it's also overrun.
We found this out during our RV camping stay in early November. Thinking we were hitting Yosemite Valley in the off-season, we instead found it to be busy, its rivers dry and its hillsides showing devastating signs of climate change.
Our four-day stay was still fun, but if you ask us, "Will you ever go back?" the answer is probably not. Been there and done that.
We loved gazing at El Capitan and Half Dome as much as anyone. It's just the crowds that we don't like.
What did we love about Yosemite?
Fantastic hikes: Upper Yosemite Falls and the Mist Trail offered big-time vertical challenges, taking John high above the Valley for jaw-dropping views.
Fantastic cycling: The Yosemite Valley has many trails and roads that are closed to vehicles, making the bicycle an excellent way to get around. Riding on roads is a little trickier.
Interesting history: Yosemite was first set aside for protection in 1864 by Abraham Lincoln, and eventually became a national park in 1890. Historic buildings and lodges are scattered throughout the park. We loved visiting the opulent Ahwahnee, built in 1927, for a (decidedly expensive) drink.
Sense of community: It takes a lot of workers to keep Yosemite going. The Valley has more than 2,000 permanent residents, most of whom are friendly and helpful. Even the guy at the store who couldn't help John find polenta because he had no clue what it was.
So much for the good stuff. Here's what we didn't love so much.
Burns and beetles: Like a lot of federal lands, Yosemite is suffering from climate change. Many of the park's forests have burned in recent years, the evidence plain to see when you drive through the park. And bark beetles have also decimated forests, prompting the parks service to remove them with some fairly major logging operations.
Crowded camping: We stayed at Upper Pines Campground, with more than 200 sites, filled with visitors even in November. It wasn't the worst place we've ever camped, but it felt dusty and cramped. And who was that running their generator well into the midnight hour? We've never before experienced fellow RVers blatantly ignoring the rules.
Aggressive animals: The squirrels and chipmunks of Yosemite are fat and sassy, feasting on tidbits given to them by the hordes of tourists. They aren't cute or charming — they are pests. Signs warn that they carry plague diseases, yet visitors who should know better continue to feed them. One critter tried to crawl into our cabin, but we chased it off. Yikes!
Fast drivers: The roads into the Yosemite Valley are posted with signs that read, "Speeding Kills Bears," presumably because California's famously reckless drivers won't slow down for people, but they might for a cute bear cub. We never saw any bears, but we did see more than a few people driving too fast, including one guy in a pickup with Nevada plates who nearly clipped John during a cycle tour around the Valley one day.
Congestion: Yosemite National Park is 1,169 square miles, but most people spend their time in the 7.5-mile section of Yosemite Valley, where the park's main attractions are located. When you concentrate 4 million visitors into this one tiny section of the park, it's bound to feel crowded.
This week's Going Mobile question
Washington State takes on Washington in the Apple Cup next Friday at Husky Stadium. Are you going? What are your Apple Cup tailgating plans? Send us a note at goingmobile@spokesman.com and we'll spread the word in the next column.
---
---