Wed., Nov. 27, 2019
RV Park Review: Pillar Point's location is everything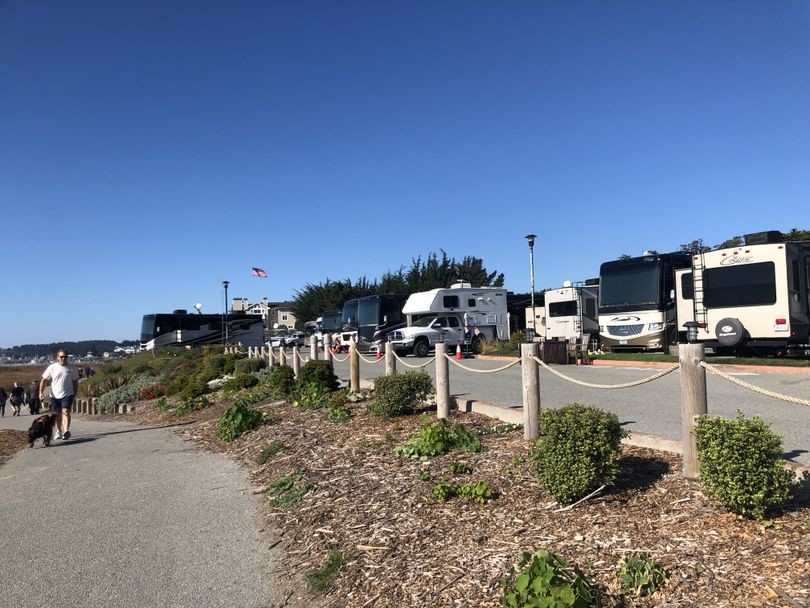 We've never stayed anywhere quite like Pillar Point RV Park near San Francisco.
It's laid out like a parking lot, with spaces right on top of each other. But, the payoff is the exceptional view of the Pacific. We're talking surfers riding waves, fisherfolk casting for crab, boats bobbing in the picturesque harbor. Pretty cool.
We came to this first-come, first-served park after staying in the lovely state park campground just down the road in Half Moon Bay. We wanted to extend our stay there, but no such luck. It's very popular, especially on weekends. So, we rolled the dice, got in line, waiting for a spot.
The camp hosts, Marty and Mary Bothumb, couldn't have been nicer. That's saying a lot because there are many moving pieces in this park and some of them are massive big rigs, trying to squeeze into those snug spots. We witnessed some seriously stressful parking drama. Yet, moments afterwards, everyone seemed super chill.
That's the power of this place and its stunning view. We enjoyed those vistas from the beautiful garden area, which had several tables that only seemed to fill up around sunset.
Being in such close proximity to your neighbors led to some interesting conversations and one huge score: the fine folks just in front of us gave us a couple crabs they caught. In exchange, I gifted them some smoked salmon and Theo's chocolate. That's the kind of bartering that I'd love to do more of with my RV community.
We took advantage of the proximity to the nearby village, walking into town on a Saturday night to see a Beatles tribute band called Ticket to Ride. John packed up our dirty clothes and hit the nearby laundromat, riding a bike on the Coastal Trail.
We'd definitely recommend Pillar Point RV Park, as long as you come with proper expectations. Partial view sites are $67 a night, $470 for a week, while ocean view sites are $84 a night, $588 per week.
---
---